Out of the Audience and Into the Spotlight
For many years, cosplay has been my outlet for self-expression and embracing different aspects of my identity (I wrote a blog post dedicated to my cosplay journey here!). In the past, creating matching cosplays was something I usually shared between my girlfriend or a friend, but this semester I joined a project bigger than anything I had experienced before.
At the conventions I attend, there is an event called the Masquerade. It's essentially a cosplay contest where participants show off their newest and greatest creations in a skit, performed in front of an audience. The cosplayers are judged by a panel of professional costumers, who rate the entries based on craftsmanship of the costume and the overall performance of the skit.
It has always been a dream of mine to enter one of these competitions in a dance skit, where individuals show off their costumes in a choreographed dance number set to music, often from the show or game they are cosplaying. While I have always enjoyed watching the dance skits performed on stage, I believed that sitting in the audience was the best I could do because of my disability. Due to the health conditions I have, my joint instability and muscle weakness makes walking to class a daunting challenge, let alone going through a full choreography routine. I hadn't had the ability to perform onstage since high school.
But during this past fall semester, student and fellow cosplayer Erin Apsokardu '21 messaged me and asked if I knew anyone who would be interested in joining her cosplay dance group for a performance at Katsucon in February. The group planned to perform the song Omoi yo Hitotsu ni Nare, from a Japanese show called Love Live!, about a group of ordinary girls who realize their dreams of becoming a pop idol group. While everything seemed to align perfectly—I loved the dance number, the costume choice, and would be going into this with a peer—I was afraid that my physical challenges would cause me to be the weakest link of the group. But then I remembered the resolution I made for my senior year: "Go beyond your comfort zone and enjoy life more!" With that in mind, I told Erin I would join her and the seven other group members for a performance at the Katsucon Masquerade.
That meant physically challenging training, long practices, and many late nights. From October to the week before Katsucon on Valentine's Day weekend, every Sunday our group members met, rehearsed, and worked on our cosplays. I knew that if I wanted to accomplish this dream of mine, I needed to buckle down on improving my muscles to counteract my weak joints. I started meeting with a physical therapist to improve my stamina and leg strength.
Gradually, long dance rehearsals with the group became less straining and more enjoyable. I discovered that I actually enjoy exercise now that I learned from physical therapy the right kinds of workouts for people with my condition. After we sufficiently ran through the number a few times, we would end the dance portion of practice and begin working on our costumes from scratch. I made many trips to Joann Fabrics with Erin to help pick out the right colors. Erin was tasked with sewing seven out of the nine cosplays! From there, I and other group members helped with detail-oriented work, such as cutting out fabric circles to create the matching polka dot print we all would wear, bedazzling the fabric with crystals, or using glitter and mod-podge to give the hem of our skirts a shimmering flare (we wanted to glimmer onstage as much as possible). Erin spent more than 100 hours sewing costumes for the group! The slow transformation of our apartments into chaotic tailoring shops is evidence that handmade cosplay is a labor of love.
When it came time for the actual convention, I remembered an old phrase from my past life as a high school theater kid—Murphy's Law, "anything that can go wrong will go wrong." Coordinating a group of nine individuals, all wearing intricate costumes with many accessories, and one heavy prop for the performance, is quite a difficult feat during morning dress rehearsal. I spent morning hours leading up to the Masquerade running around the convention hotel in my high heels, shedding a trail of sparkles and glitter behind me, helping my group organize all of the things we needed before our big performance. While doing so, I happened to hurt my ankles—physical therapy can improve my ability to run for longer, but can't fix the genetic deficiencies that cause my joints to easily collapse. By the time we were backstage, waiting to step into the spotlight, I was in pain and terrified of messing up in front of the crowd. I wish I could recount a story of celebration, redemption, and perfection, but that's simply not how reality was. I felt like I had majorly messed up in front of the crowd, and left the stage in tears. But after being consoled by my group mates and reviewing my friend's recording of our performance, I realized my slips weren't that noticeable after all, and that I had managed to keep a smile on my face for the audience the whole time.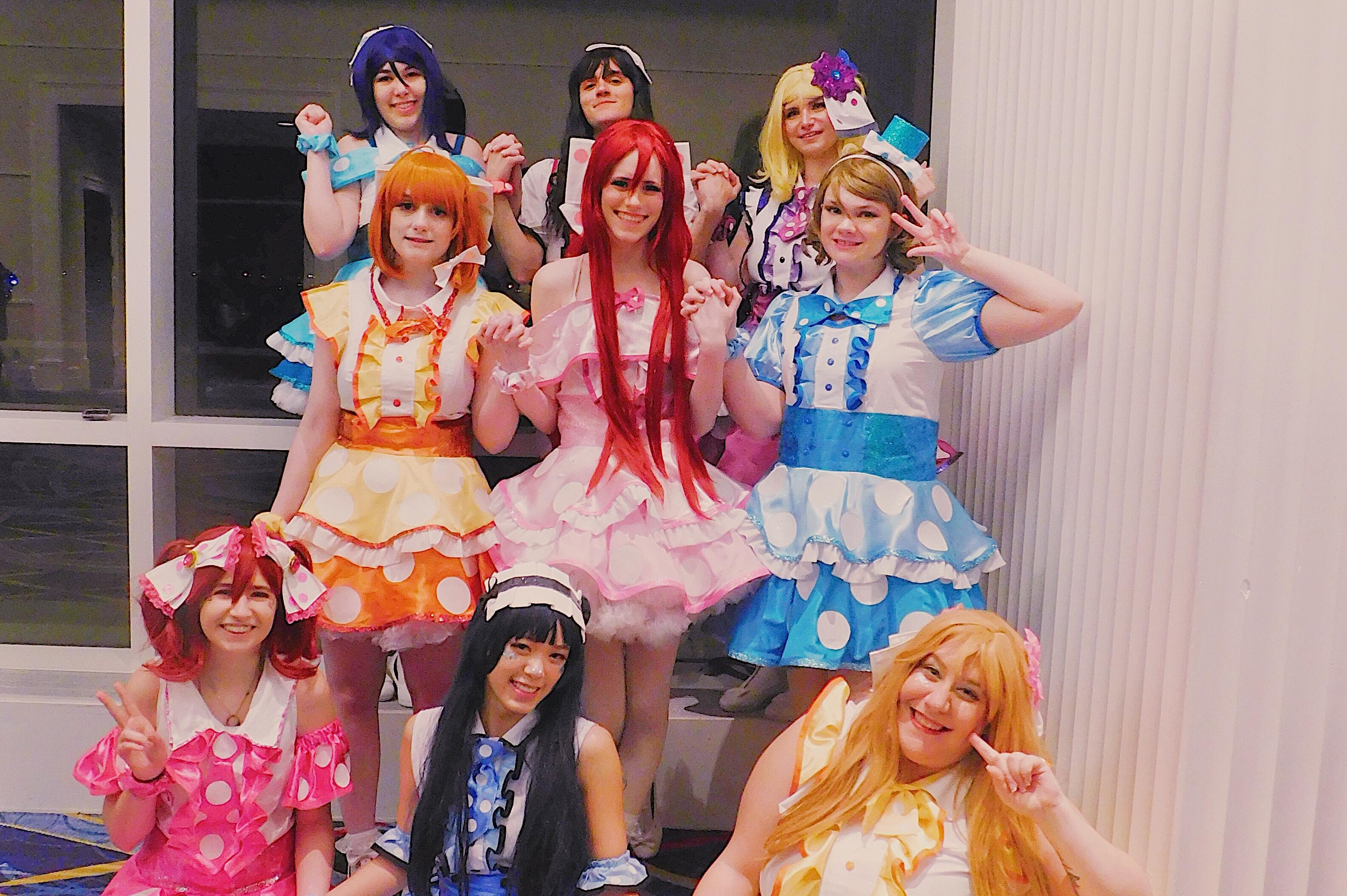 Despite the hours of work and tears, we didn't come home with a prize from the Masquerade. However, while this journey was a rollercoaster, I wouldn't say it was a fruitless effort. My ability to work in a team grew stronger, as we pulled together a dazzling performance that puts to shame any stressful group project I begrudgingly forced myself through. I made new friends with my group mates, which made the process of painting glitter on polka dots for hours a lot more bearable. I became closer friends with Erin, as our car rides to rehearsal were filled with conversations that made me smile so much that the hour-long journey seemed to breeze by.
What stands out the most to me, however, is that I did something that I always yearned to do, but thought would be beyond me. For many years, I thought that my physical condition would never get better, and I would live getting progressively weaker due to my disability. Even though my performance wasn't nearly pain-free or perfect, I was able to latch onto a dream that once seemed so far away to me. The fabric of the costumes, the blinding lights of the stage, and the outreached hands of newfound friends are waiting for me—I just need to reach back and take them.