La Dolce Vita
A big part of my study abroad experience that I've brought home with me is hosting what I call "family" dinners. Food and family are huge in Italian culture, and naturally, they're often put together. Italians take pride in enjoying good food with good company, and while in Italy last year, that is just what my friends and I did.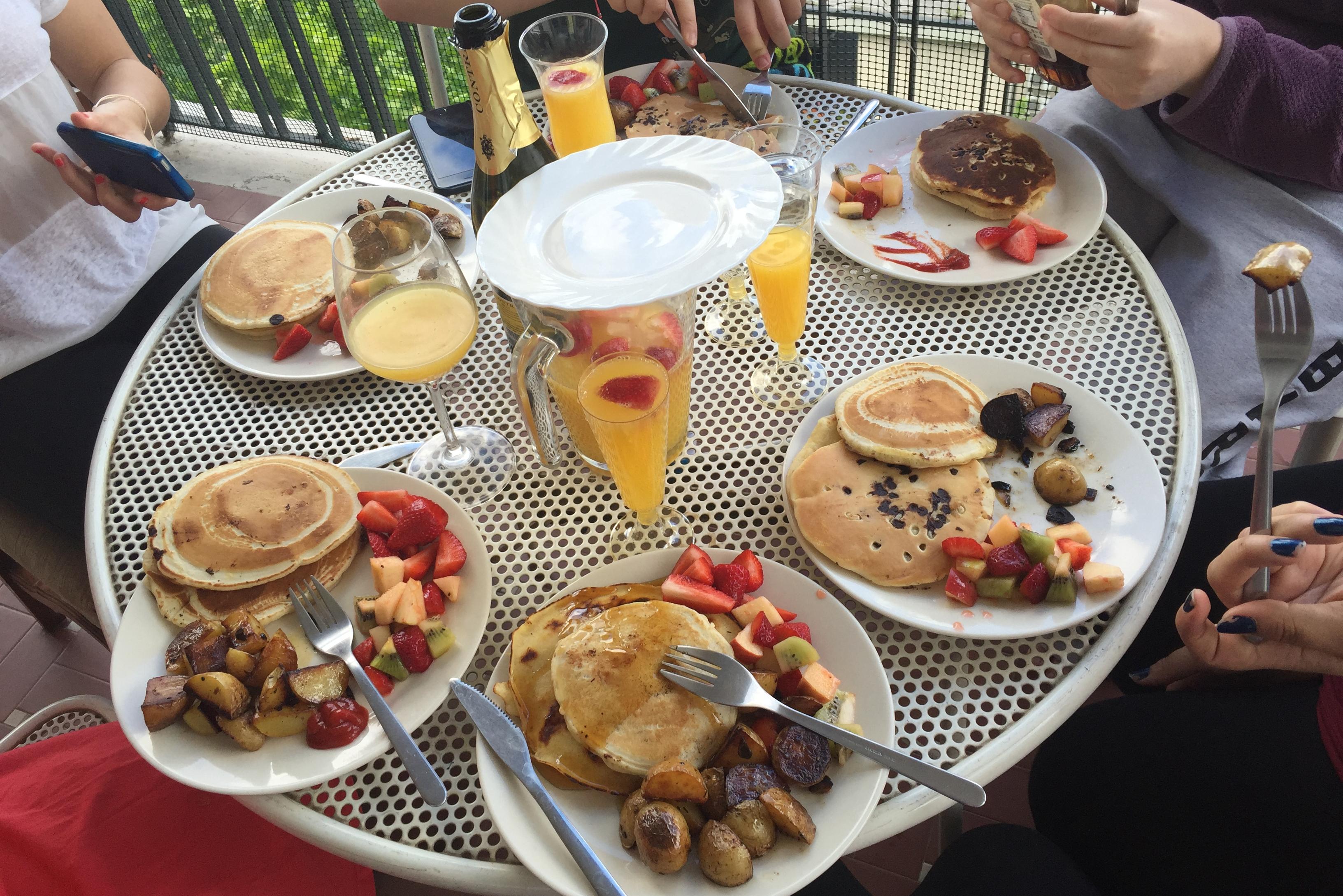 American brunch on our Roman balcony.
It all started in Perugia last fall. My two good friends, Matt and Jared, invited a group of us over for dinner. We knew we were in for a treat since the two — cooking aficionados — were enrolled in the food studies program. What we didn't expect, however, was that this would be the first of many weekly "family" dinners.
That first dinner was small and cozy, only 8 of us. As the semester progressed, we found ourselves cramming into one tiny medieval Italian apartment after another, our numbers growing from 10 to 15 people. And as the saying goes, the more, the merrier!
Matt and Jared would treat us to sumptuous gourmet meals: cauliflower rice balls filled with artisanal formagio; herbs and local truffle salt; rich, creamy risotto, and decadent, handmade burgers (complete with vegetarian options). What did we have to do in exchange (besides show up, of course)? Bring a dish, or chip in €2 ($2.20). It was a flawless plan, and eventually our program managers found out about our successful dinners and arranged for Matt and Jared to host a program-wide Thanksgiving feast in a restaurant. Talk about a big family dinner!
Of course, the food itself was magnificent, but I think most of us kept coming back for the richer experience of being together and sharing meals under one roof. For Italians, this is a normal occurrence. But for many Americans, these occasions are rare, usually saved for holidays.
The following spring semester in Rome, I decided to introduce the idea to my 5 other housemates; and it was wonderful. We had everything from pizza-making parties, to hand-rolling ravioli nights, to brunches on our balcony. Lots of laughter was shared and lots of friendships were made at my family dinners in Italy. I'm convinced big group dinners are the secret to la dolce vita; the sweet life.
Handmaking pasta and pumpkin muffins.
Since being back on campus, I've already had a handful of dinners with my friends. Dining with some of my new international friends even inspired the idea for hosting an international potluck. The idea of cultural exchanges through food was music to my ears; nothing sounds more perfect.
To you reading this now, I encourage you to gather a group of friends and throw a family dinner. It doesn't have to be big and extravagant; simple is sweet. Good friends, a big pot of pasta, and have dinner all'Italiana. Enjoy!