More Than an ACL Tear
As a former member of the competitive club lacrosse scene, college was something I was forced to consider as early as my freshman year of high school. The idea of college was seldom separate from lacrosse. As a result, I did not always examine the professors, programs, and resources.
Some people attempted to get me to see beyond locker rooms and turf fields. They warned me that if I did not like the college, I'd be stuck.
– Jess Derr
Some people attempted to get me to see beyond locker rooms and turf fields. They warned me that if I did not like the college, I'd be stuck. What if the coach that recruited me left? What if I got hurt?
I shrugged off such worries. But sure enough, the coach that recruited me stepped down to focus on her other commitments at Arcadia, and the coach that replaced her quit after my freshman year.
Fast forward to sophomore year. It was a chilly Wednesday night in early April, with a misting of rain beneath the Jean Lenox West Field lights. In the heart of conference play, the adrenaline from beginning the season wears off. You start to feel the brunt of hard work and hustle, physically and mentally. My mind was miles away from the field, dwelling on academic deadlines and the warm bed I could have been in.
I took solace in the fact that our opponent had yet to win a game. We could go in, get up by 10 goals, get a running clock, and go home. Easy. Quick. Clean. It was a chance to buff up our stats and allowed us to experiment with tactics we might not attempt when the stakes are higher.
That's how I found myself not in my usual place on defense, but on the attacking end of the field.
The scoreboard looming in the background, I was vaguely aware that there were seconds left in the half. If I wanted to shoot, now was the time. I threw a small fake, accelerated. The defender before me drove her stick upward into my side. I heard a deafening crunch. I uttered a single explicative. Down I went.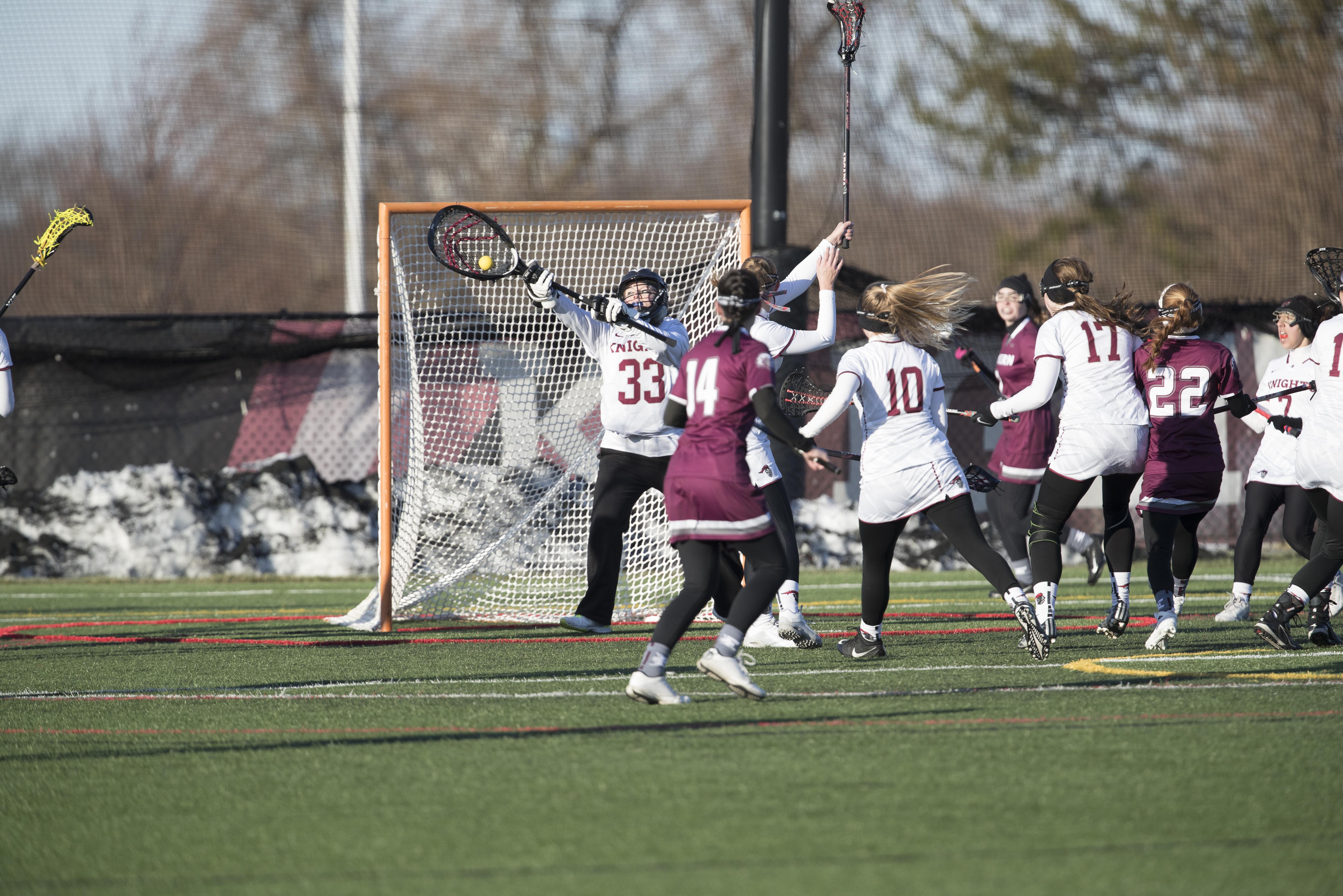 For some reason, people want to know if you cry or scream when you tear your ACL. I did not. But I did the following:
Cursed like a sailor.
Flailed like a fish out of water.
Made a joke that earned an "Oh my God, Derr."
Mildly verbally abused the trainer. (Sorry, Mike.)
Made a Shakespeare reference as I was carried off the field. (It was about Antony and Cleopatra, if you're curious or Dr. Casey.)
Stress-ate a fruit cup on the sidelines.
But if you're thinking, "Jess, you just want people to think you're tough and quirky," know that I did eventually cry. The first practice I attended from the sidelines saw how easily things carried on without me, I limped my way to the bathroom to sob.
In those initial weeks, I felt like I had been handed a death sentence. I was furious that seconds on the wrong end of the field cost me the bulk of what was panning out to be a favorable sophomore season. It was a heavy blow to my mental and emotional health. I sat in class dead-eyed. I didn't sleep at night, laying rigid from the brace. I stood on the sidelines, feeling demoralized whether my team won or lost. A win meant they did not need me, I was replaceable. A loss meant that I could have been the difference, the outcome was my fault.
But tearing my ACL was not a complete detriment. I experienced a great outpouring of support from my friends and teammates. Vee, my roommate and goalie, maintained a positive attitude and retained her leadership role on the team despite recovering from her own ACL tear. Seeing her handle the adversity with grace stopped me from wallowing in misery. She would check in on me, give advice, and allow me to rant. I knew I wasn't alone.
Perhaps most importantly, this injury showed me that I am not just an athlete.
– Jess Derr
I was also forced to begin again from ground zero. My accomplishments during recovery might not have seemed worthy of celebration—bending my leg 90 degrees, sleeping on my side without pain, jumping onto a six-inch platform, running a mile in 12 minutes. But they forced me to appreciate the little things and be more invested in the process than the final product.
Perhaps most importantly, this injury showed me that I am not just an athlete. I threw myself into the English department I love and personal writing projects. I was fulfilled in new and different ways as I explored things I never even considered when I first committed to Arcadia.
Every day, I am putting in time at the gym and physical therapy to pick up my stick and take to the field once more. But lacrosse is not my entire life. This experience helped me understand that I am no less of a person without lacrosse. It is only one of many things that contribute to the multi-faceted being that I am.