'The Nun Is in Over Her Head': A Conversation with Sister Helen Prejean
Growing up Catholic and enduring years of CCD, I had an established view of nuns in my head. They were habit-clad, solemn-faced, steely-eyed women, ever ready to put a finger to their lips and shush if someone even looked like they were about to speak in mass. Also lingering in the back of my mind were stories of the nuns of my mother's schooling, when rulers were yielded as means of carrying out physical discipline. All this considered, I allowed myself to have little more personality than a mannequin in the presence of religious instructors— to the point where I was afraid to correct them when they referred to me not as Jess, but as Jennifer.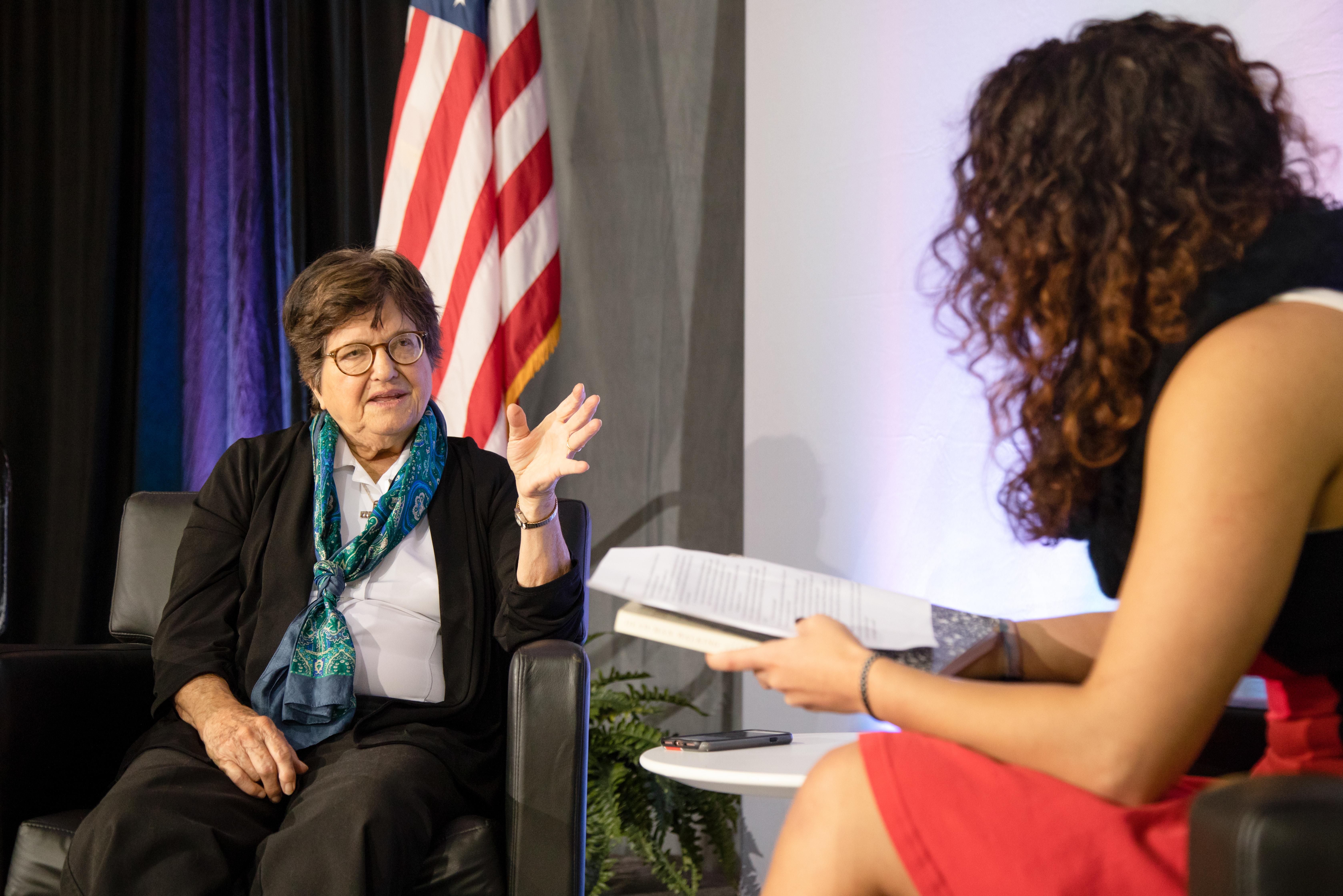 Obviously, I have grown past this narrow mindset. However, there was still a wary part of me when I found myself preparing to interview Sister Helen Prejean, author of this year's Common Read. Perhaps she would be like one of those strict, no-nonsense nuns from my youth. Perhaps she would somehow smell it on me that I was one of those dreaded "Chreaster Catholics."
After what seemed like an eternity— pacing a trench into the Kuch gym floor, sweating through my dress, and babbling nervous incoherence to my University Relations superiors— Sister Helen, a small woman with a spirited Southern drawl that made her seem much larger (and no habit in sight!), smiled at me, clasped my hand, and said, "You must be my interviewer!" Immediately I felt at ease and found my fears to be in vain.
You see, Sister Helen is no ordinary nun, let alone an ordinary woman. A member of the Congregation of St. Joseph, Sister Helen was living with and helping impoverished residents at the St. Thomas Housing Project in New Orleans when she was asked if she wanted to be a pen pal to Pat Sonnier, a convicted killer on death row. What started as epistolary correspondence morphed into something life-changing for Sister Helen, as she became Sonnier's spiritual adviser and accompanied him through every step of the death row process, all the way up to his execution by electric chair.
Affected by the experience, Sister Helen wrote about her time with Sonnier and another advisee, Robert Lee Willie, in her 1993 best-selling book, Dead Man Walking. The book would spur several popular adaptations, including the Academy Award-nominated film of the same name starring Susan Sarandon and Sean Penn. More importantly, Dead Man Walking's success brought the issue of capital punishment into mainstream discussion and helped Sister Helen become one of the country's foremost advocates for its abolishment. Today, at the age of 79, she splits her time between campaigning against the death penalty, advising death-row inmates, and working with murder victims' families like through her group, SURVIVE.
With such a full career, I wanted to know how Sister Helen got her start and what drove her to pledge her life to the Catholic Church and to helping others. She described an upbringing in Baton Rouge rich with education, giving particular praise to the nuns of her high school, St. Joseph's Academy. Under their tutelage, Sister Helen not only learned writing and public speaking, skills integral to her work today, but also that faith or spiritual life should be at the core of everything you do, not just reserved for perusing the Bible or sitting in pews.
I mentioned to Sister Helen that, in her book, she noted being initially wary about casting her faith alongside politics and economics. Her work wasn't cemented in social justice. Did she know how drastically this all would change when she crossed paths with Pat Sonnier?
Tim Robbins liked to say, 'The nun was in over her head,' and it's so true! I knew nothing.
– Sister Helen Prejean
At this, Sister Helen could not help but laugh. "Are you kidding me? I thought I was only going to be writing letters. I didn't know Louisiana was going to execute him because we hadn't had an execution in a long time. Tim Robbins [Dead Man Walking's director] liked to say, 'The nun was in over her head,' and it's so true! I knew nothing."
She went on to describe that, after working mostly in affluent to middle-class areas, she had been blind to the struggles met by those living in poverty. Sister Helen had been forced to compare her life, one she labeled as "privileged, cushioned, and protected," to the lives of inmates who came from instability, broken families, and abuse— inmates who may never get a chance at redemption because they cannot afford sufficient legal defense. She found herself going back to the example set by Jesus himself, a figure known for mingling with the downtrodden. Though her first time on death row was a whirlwind, she said she would have done the same thing (even knowing what she knows now): Letting things unfold and allowing her advisees dignity while the rest of the world was so keen to brand them monsters.
Sister Helen was not above candidly admitting her mistakes, though. One she often reflects on relates to her involvement with the victims' families during the death row process. "The prosecutors gear the victims' families to believe anyone against the execution is against you. They disrespect you. They put you on a seesaw. You're one way or another."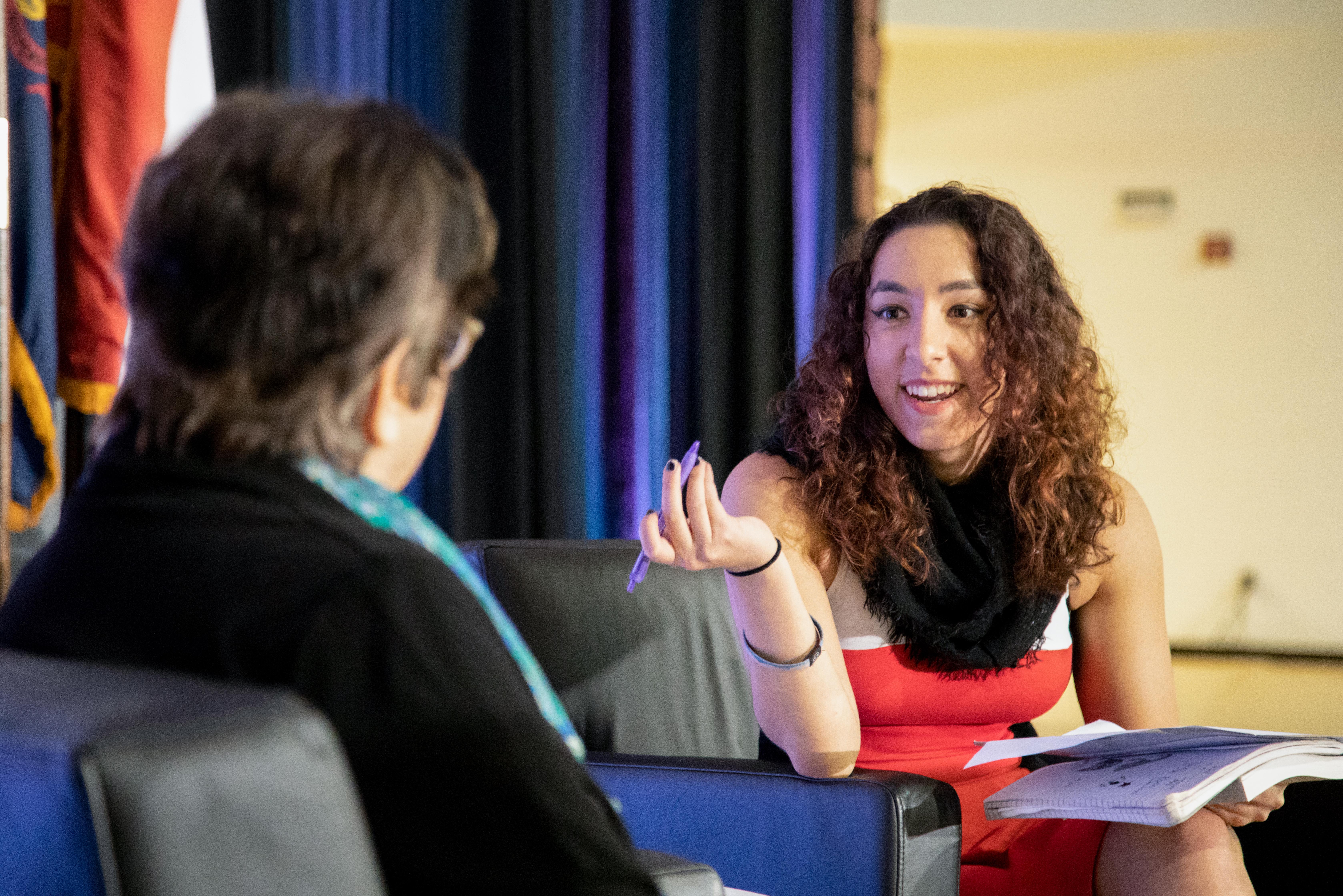 By being on the "opposing side," Sister Helen didn't want to add to the families' already immense pain or start a fight. But it was the father of teenage murder victim David LeBlanc who first approached Sister Helen and got her involved with the families. From Lloyd LeBlanc, Sister Helen learned "forgiveness is a gift you give yourself. It's saving your own life, not being consumed by anger," and that ultimately these resilient people would end up helping her more than anything.
However, I could imagine that not everyone was as gracious as Mr. LeBlanc. Sister Helen's work is not only difficult in that she gets to know a person so deeply, only to see them killed, but that she is met with incredible backlash from those who think she condones the crimes her advisees commit. In truth, her belief is that we imitate and perpetuate a cycle of violence by killing killers. What possibly could keep this from seeming like a Sisyphean task?
When I asked, Sister Helen leaned closer as if to impart with me a secret of the utmost importance, eyes blazing and voice impassioned. She painted a picture her current advisee, Manuel Ortiz, a man who has been on death row longer than I have been alive, a man who she believes is innocent of the charges cast upon him. Even in a situation where most would be crippled with despair, she spoke of Ortiz demonstrating immense courage and faith, things she carries away from his jail cell and takes with her wherever she goes.
Another thing that keeps her going is the public. "You know what I've found? Most people don't think deeply about the death penalty; they have no reason to." Not only does Sister Helen have to bring capital punishment into people's realities, but she constantly works against commonly held misconceptions: that only the worst of the worst crimes go to death row, that housing a prisoner costs more than execution, and that the public defenders many inmates get are enough and just.
Even after doing this work for over 30 years, Sister Helen still spoke of it with a vivacity, like it set her soul on fire. This passion and drive was contagious, and I felt the urge to make tangible change in the world and touch people as she had. As far as advocating for the abolition of the death penalty, she told me that people with similar sentiments should first inform themselves by looking at the Death Penalty Information Center (DPIC). From there, they can get involved with the human rights groups. Witness to Innocence, for example, helps those wrongfully convicted adjust to the real world after being imprisoned. One could even take Sister Helen's route and become a pen pal to an inmate.
After doing this work for over 30 years, Sister Helen still spoke of it with a vivacity, like it set her soul on fire. This passion and drive was contagious.
– Jess Derr
What stuck out to me most, especially as a writer, is the way that Sister Helen has chosen to enact change. She said, at her core, she is a storyteller. "In '93, 80 percent of the people in the American public supported the death penalty. Which means in the deep South, where over 75 percent of the actual executions happened, the support was at 90 percent. I knew I had to bring people close. I had to bring them into situations they knew nothing about. And you do that through story."
These stories may not always be uplifting or comfortable, but it is crucial that they are told and shared. They allow us to walk in the experiences of those different than us. They force us to think deeply and critically, question what we believe to be true. They give us deeper empathy and a clearer understanding of a world not their own. We are only better for these stories. Just as I am better for having the chance to poke around in the mind of a selfless, determined, (and totally not terrifying) social activist like Sister Helen Prejean.