A Guide to Checking Out Arcadia Before You Commit
When I was looking at schools to apply to, what stood out to me about Arcadia were the many events they held for prospective students. Of course these events are designed to persuade students to choose Arcadia, and in my case, they worked. I especially appreciated the different views I got of student life.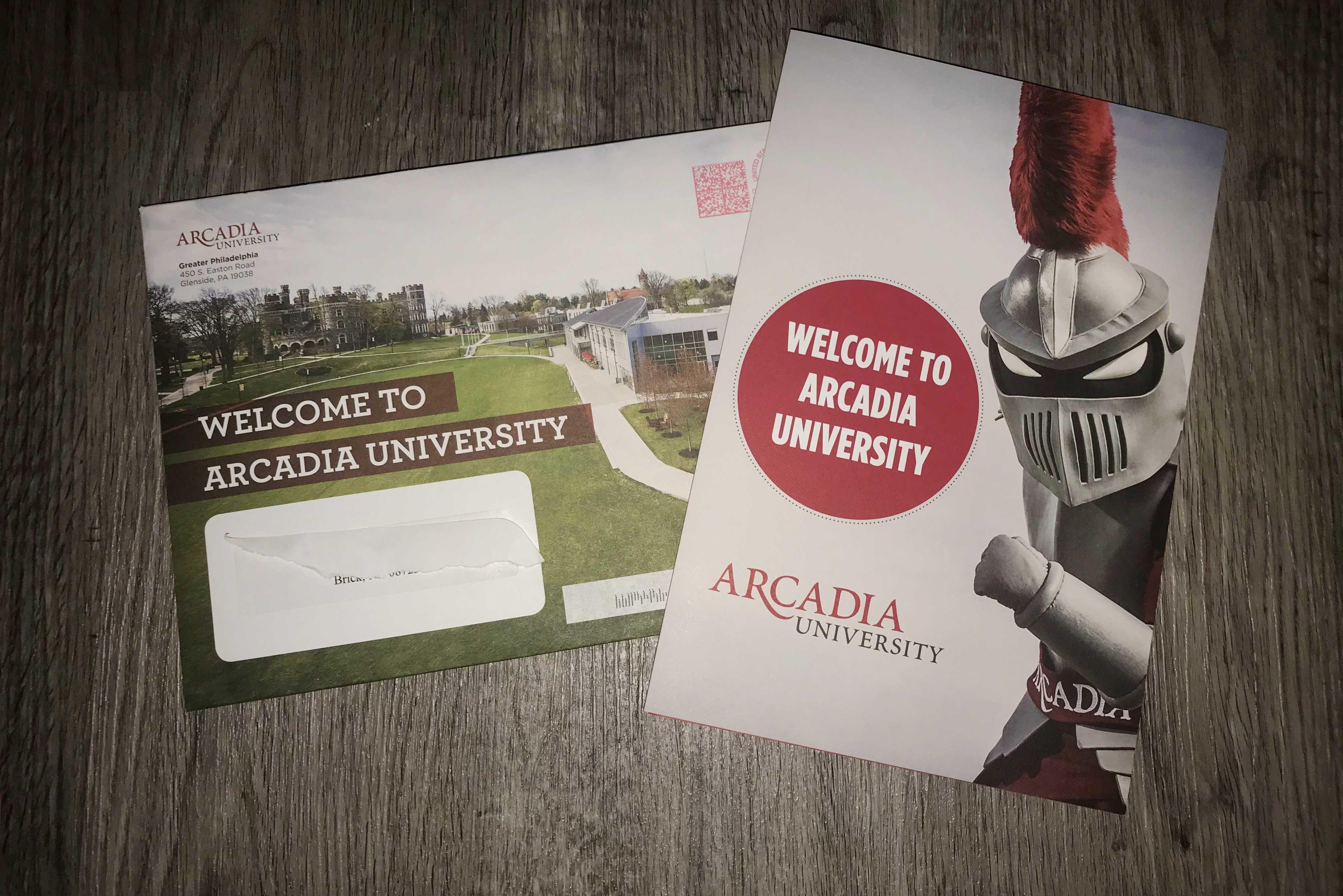 My "Welcome to Arcadia" kit
As far as I could tell, Arcadia hosted more events than other schools. I particularly noticed this compared to my friends who were also transferring to four-year institutions from community college. I feel like I got to experience what being a Knight really means before even committing to it, which was a unique experience compared to other schools.
The most-attended event across campuses nationwide is the Open House, where you will find out the basic information about the school. You get to explore majors you're interested in, tour campus, and get a general feel for the student environment and surrounding area. The great thing about Arcadia is that they provide you with more than meets the eye. When I brought my family along with me to Open House, they were so excited. They loved the writing programs and, of course, who couldn't love the Castle. I think what really sold my parents was the passion that the students and staff had for Arcadia. Hearing about the never-ending study abroad opportunities, the success rate of finding a career in your field after graduation, and the mere size of the school were real selling points.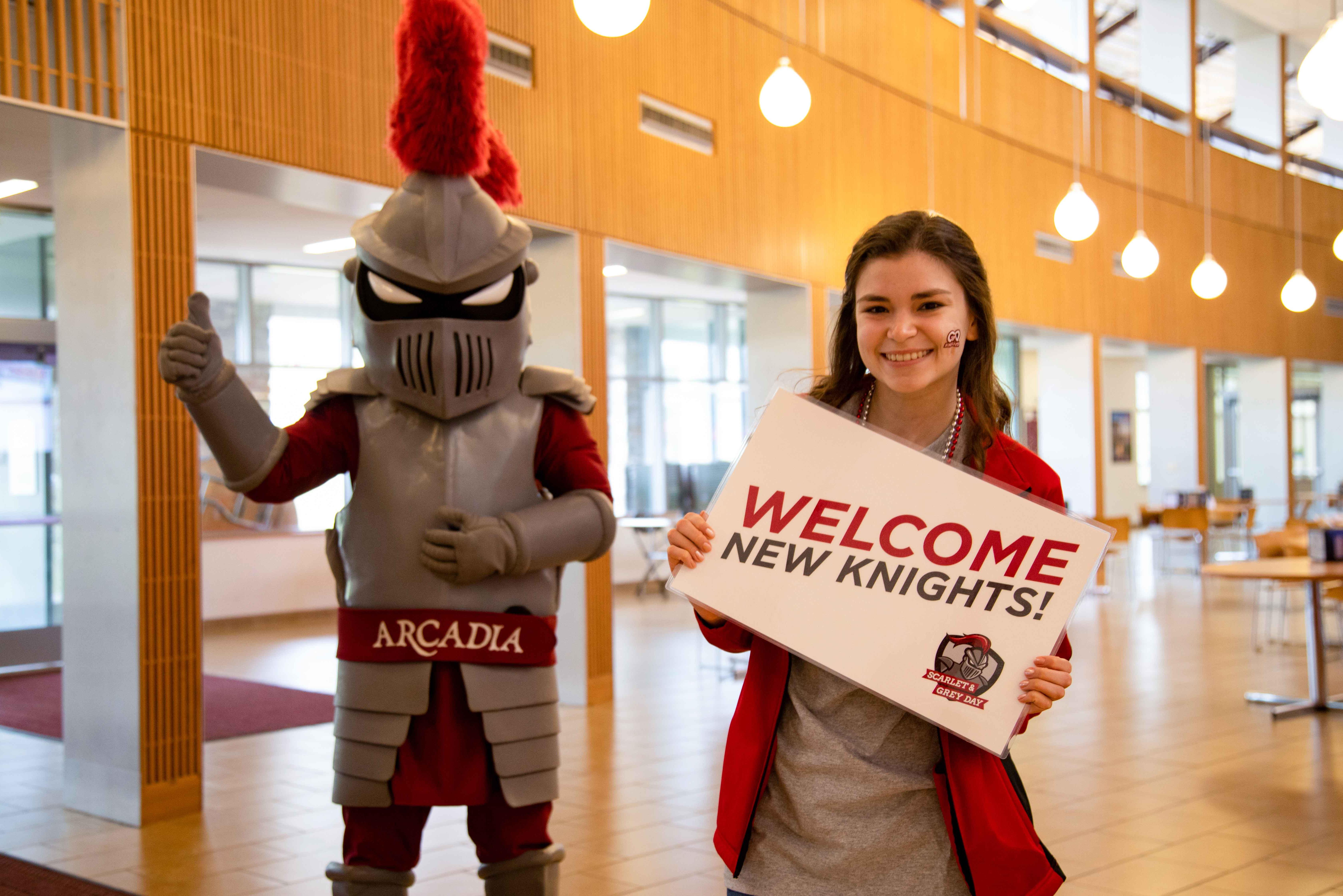 Scarlet and Grey Day
Another standout Arcadia offering is the Day on Campus/OverKnight program. As the name suggests, you can either spend the night with a student in their dorm or spend the day on campus shadowing a student volunteer. The goal of Day on Campus/OverKnight is to get the most realistic student experiences. It's best to experience it on your own with no family present. They try their best to pair you with a student who has the same major as yours. You also might get paired with a student who has a different major, but takes a class in your major interest. 
In my case, I was paired with a Sociology major. At the time, I was interested in Creative Writing, but we both had an interest in Gender Studies. My host even arranged to take me to a Gender Studies class, even though they weren't enrolled in that class. I got the chance to speak with the professor and chair of the program, which made a big difference when I was deciding if pursuing that minor program was right for me. It's important to keep in mind that the students are volunteers, and there aren't always students that fit your interests, but the team really makes the best effort. You will go with the student to their classes, club meetings, and spend time getting to know what being a Knight is really like. This was one of my favorite events. I didn't even mind that the internet was out that day on campus. It was so interesting to be able to sit in on classes and really get a feel for the professors and the overall student experience.
Campus tour at an Open House
The final opportunity, Academic Visit Day, I believe is the most essential. This event is offered to admitted students looking for more information about their major.  It's open to families and students alike, so make a trip out of it. Last year's event was pretty intimate, and I got a lot of one-on-one time with faculty and staff. The faculty break down what the program will entail and what you should expect from your major classes. They had current students from my particular department share their experiences. I attended this event with just my boyfriend since my parents were busy, but don't be afraid to bring your parents along. I recommend coming to this event with some questions about your program. For me, I was interested if the program I was pursuing was the right choice for my interests and aspirations, and I ultimately decided that I should consider other programs after this event.
And I did that more than once. I applied as a Creative Writing major, switched to International Studies, then before classes began I changed to Biology. Within my first semester, I created my own major of Environmental Journalism. If you really don't know what interests you, it never hurts to be an undeclared major—and to take advantage of the events and campus resources at your disposal, like Career Education, the Learning Resource Network, and Counseling Services.
Everyone at Arcadia wants you to be successful. Don't be afraid to ask for help!