David Kettner: Selected Works, 1968–2023
Spruance Gallery
450 S. Easton Rd
Glenside, PA 19038
September 30 – December 17, 2023
Spruance Gallery
Arcadia Exhibitions is pleased to present "David Kettner: Selected Works, 1968-2023." The first career survey for this Philadelphia-based artist (b. 1943), this compact exhibition spans fifty-five years of production distinguished by seemingly incongruous formal approaches that are nonetheless bound by exacting and inventive methods of response and interpretation.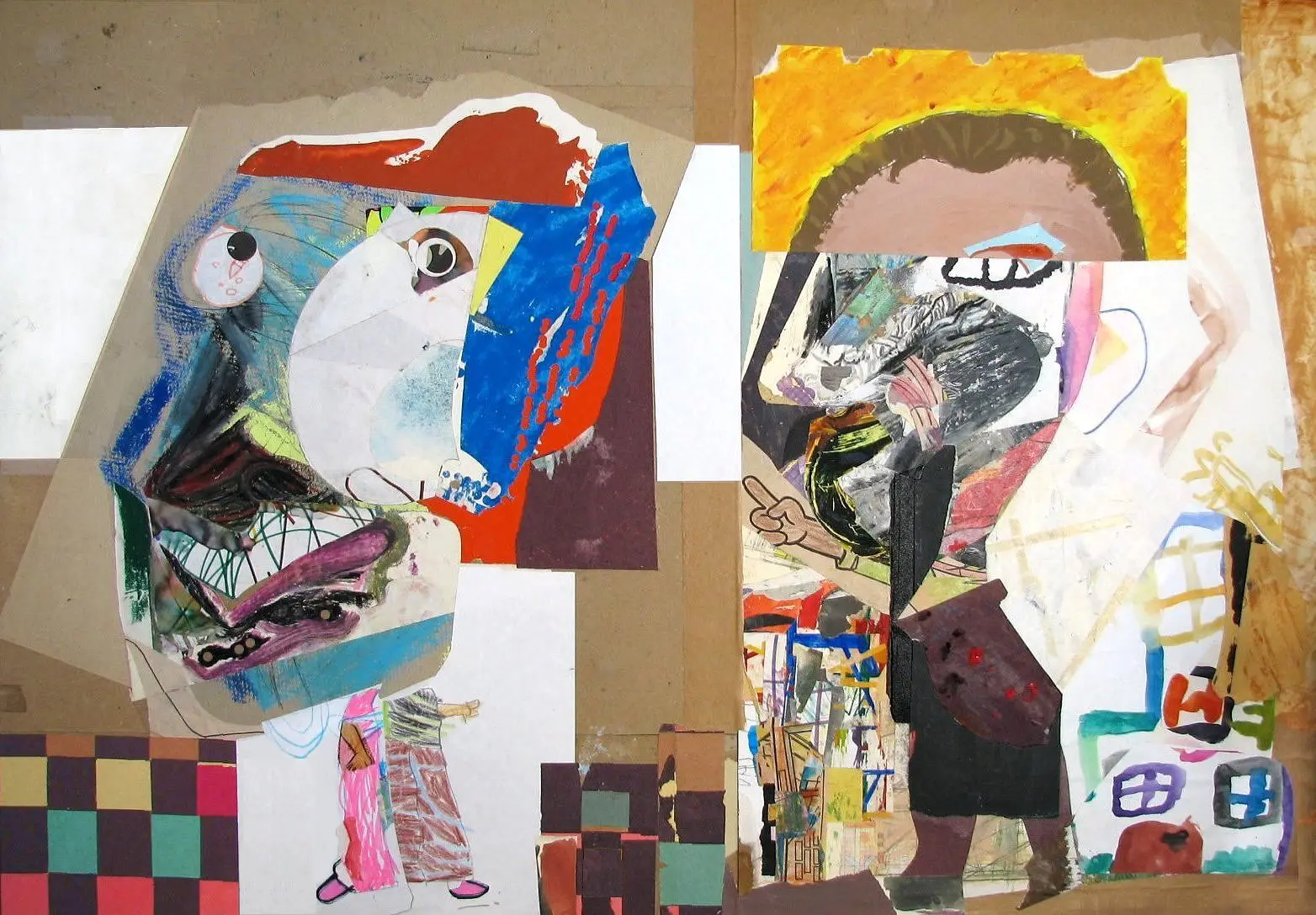 Blame, 2003-07, paper collage with children's artmaking scraps, 24″ x 34″
Panel Discussion with David Kettner, Eileen Neff, Sid Sachs, and Richard Torchia
Thursday, October 12, 6:30 PM
Great Room, University Commons
This event is free and open to the public.
---
David Kettner was born in 1943 in Sunman, Indiana. He received his BFA from Cleveland Institute of Art in 1966 and his MFA from Indiana University in 1968, the same year he joined the faculty at the University of the Arts, teaching with Edna Andrade, Larry Day, Eileen Neff, and Warren Rohrer, among others, until retiring in 2012. Early group shows included two iterations of "Made in Philadelphia" (1974, 1980) at the ICA (Philadelphia). Kettner's first one-person exhibition, "Six Self Portraits," was presented at the Whitney Museum of American Art in 1976, followed the same year by a solo show at the State University of New York (Albany). In the following decade, Kettner's work was featured in one-person exhibitions at the Morris Gallery (Pennsylvania Academy of the Fine Arts, 1981) and Marian Locks (1985). Examples of his analytical drawings were selected by Laura Trippi, Roberta Smith, and James Elaine for three juried "Works on Paper" exhibitions at Arcadia (1990, 1991, 1999, respectively). More recently, Kettner's collages were featured in a two-person exhibition at Gross McLeaf (2015), a three-person show ("Under the Spell of the Image") curated by John Stezaker (The Approach, London, 2019), and "Second Nature," juried by Eileen Neff at the Woodmere Art Museum. His work is included in the permanent collections of the Philadelphia Museum of Art, the Pennsylvania Academy of the Fine Arts, the Art Institute of Chicago, the RISD Museum, and Rutgers University (Camden).
David Kettner Works
1. Piero 1 & Piero 2, 1990, graphite drawing, red stickers, on tracing paper over photocopies, 18" x 24"; Courtesy of Millie Berg
2. Heavy and Light, 2019, coloring-book fragments and coloring-book page fragments with child's paint markings, 16" x 12.5"