September 30 – December 17, 2023
Spruance Gallery
Arcadia Exhibitions is pleased to present "David Kettner: Selected Works, 1968-2023." The first career survey for this Philadelphia-based artist (b. 1943), this compact exhibition spans fifty-five years of production distinguished by seemingly incongruous formal approaches that are nonetheless bound by exacting and inventive methods of response and interpretation.
Representative examples from the first twenty years of Kettner's career include works inspired by the fifteenth-century Sienese panel painters, labor-intensive, hyper-realistic graphite drawings—including a self portrait and mandalas dense with hallucinatory detail—and a monumental, color-coded transcription of Cantata BWV 12 by J. S. Bach. Characterized by their skilled handwork and drive toward predetermined outcomes, these early projects propose a striking contrast to the works that Kettner produced after 1988 following the birth of his first child, most of which are collages incorporating the artwork of children.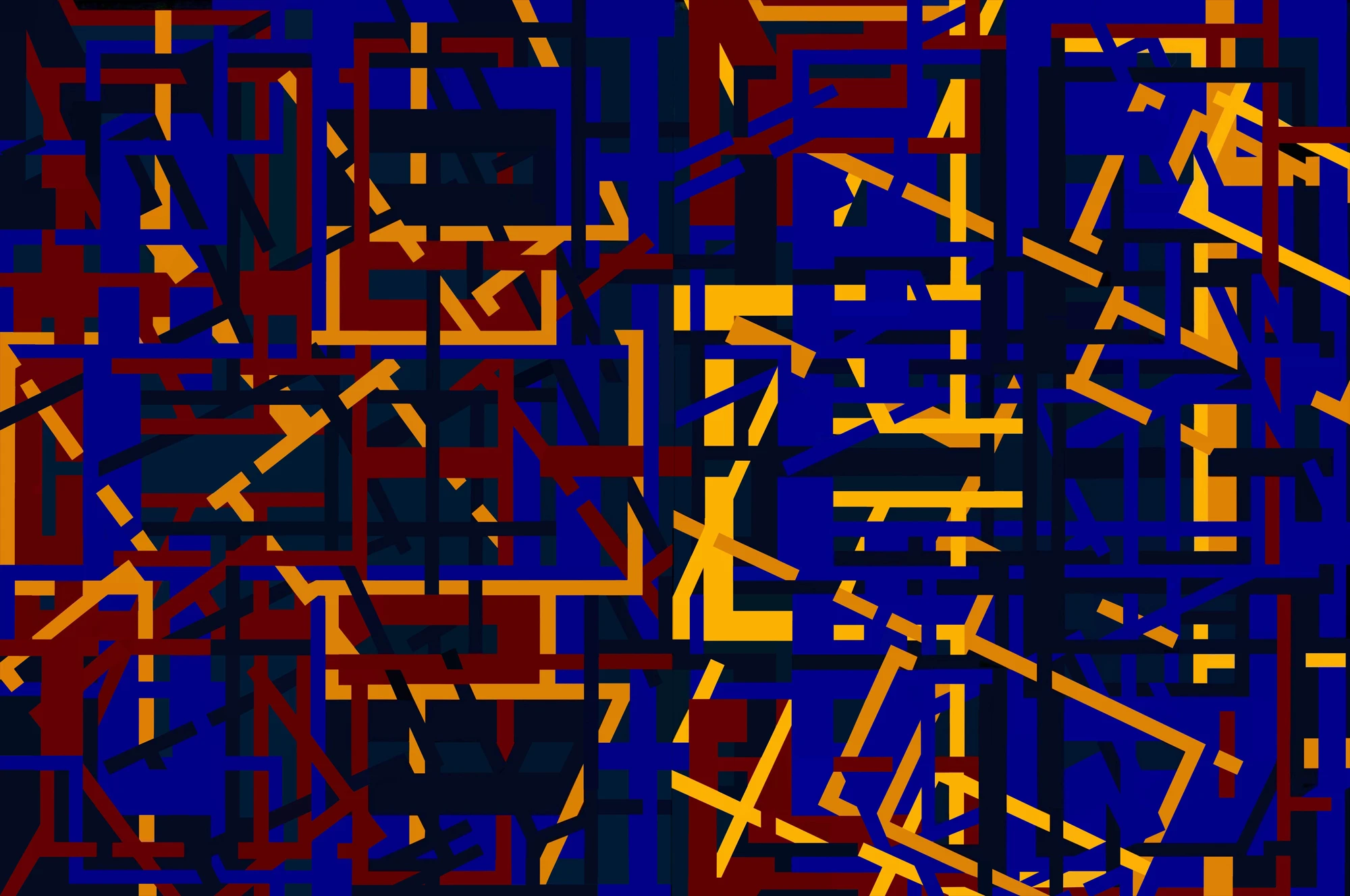 These began with a series of "analytical drawings," each of which commences with a child's drawing onto which Kettner layers tracings that apply the tools of geometry to search for evidence of underlying archetypal structures, including the golden ratio and its spirals. The resulting works, hybrids of spontaneous expression and adult rationality, become inadvertent collaborations characterized by uncanny forms of precision and wit. While sustaining this investigation, throughout the 1990s Kettner began to use multiple fragments from his own children's artworks to produce more complex collages that could feature the handwork of several different children in one piece as well as scraps and by-products from his own earlier work.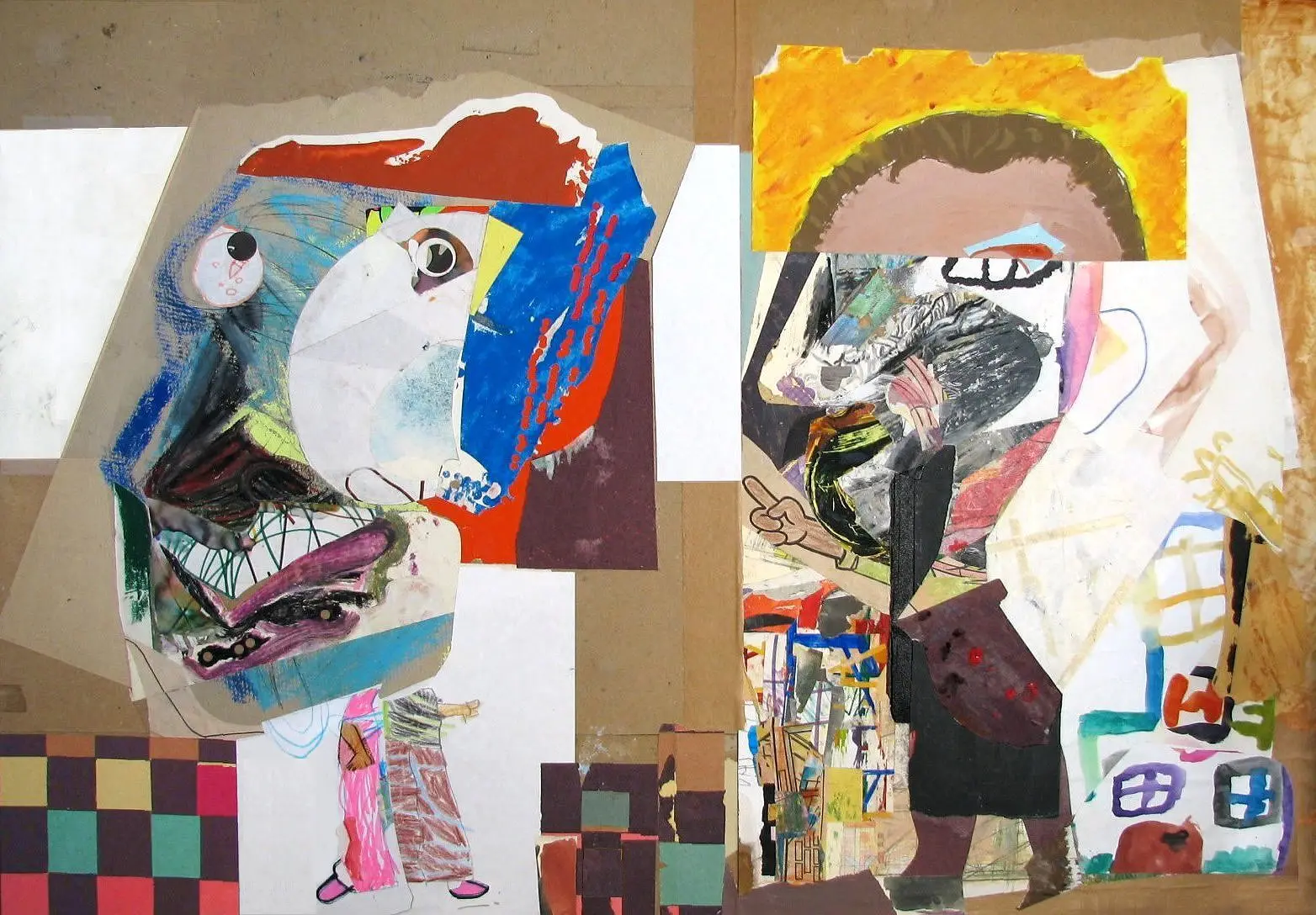 In 2013, shortly after his retirement from 43 years of teaching at University of the Arts, Kettner began to focus his collage production on used coloring books. These more pared-down works, which often bring only two original elements together, are striking in their sensitivity to the child's autographic response to the printed lines of the given coloring-book scenario. Kettner's deft juxtapositions have been described by London-based collage artist John Stezaker as "an unholy marriage between the two Modernist movements that have dominated postwar twentieth-century art in the US: Abstract Expressionism and Pop Art, the expressive gesture and the gesture of appropriation."
Making no marks of his own, Kettner restricts his interventions to selective cuttings and joinery, avoiding all digital mediation to honor the original scale and materiality of his source materials, which recently expanded to include nineteenth-century steel engravings, botanical illustrations, and Japanese prints. Some of these collages are often limited to the use of a single, given picture and the application of one or two incisions that release a portion of the original image, which Kettner then repositions to unlock surprising interpretations.
The exhibition is accompanied by a publication that includes reproductions of 66 collages and features a conversation between Stezaker and Kettner, who has been corresponding with Stezaker since 2013. It also includes seven short texts by Philadelphia-based artist and writer Eileen Neff, whom Kettner has known since 1975 as a teaching colleague, and an introduction by exhibition curator Richard Torchia. Entitled After the Fall, the publication has been generously funded by the Edna W. Andrade Fund of the Philadelphia Foundation.
A panel discussion scheduled for October 12 will feature Kettner, Neff, Torchia, and Sid Sachs, director of the Rosenwald-Wolf Gallery (University of the Arts), whose 2011 solo exhibition of Stezaker's collages there led to the above-mentioned exchange between Stezaker and Kettner.
Major support for this exhibition and accompanying publication has been provided by the Edna W. Andrade Fund of the Philadelphia Foundation.
David Kettner was born in 1943 in Sunman, Indiana. He received his BFA from Cleveland Institute of Art in 1966 and his MFA from Indiana University in 1968, the same year he joined the faculty at the University of the Arts, teaching with Edna Andrade, Larry Day, Eileen Neff, and Warren Rohrer, among others, until retiring in 2012. Early group shows included two iterations of "Made in Philadelphia" (1974, 1980) at the ICA (Philadelphia). Kettner's first one-person exhibition, "Six Self Portraits," was presented at the Whitney Museum of American Art in 1976, followed the same year by a solo show at the State University of New York (Albany). In the following decade, Kettner's work was featured in one-person exhibitions at the Morris Gallery (Pennsylvania Academy of the Fine Arts, 1981) and Marian Locks (1985). Examples of his analytical drawings were selected by Laura Trippi, Roberta Smith, and James Elaine for three juried "Works on Paper" exhibitions at Arcadia (1990, 1991, 1999, respectively). More recently, Kettner's collages were featured in a two-person exhibition at Gross McLeaf (2015), a three-person show ("Under the Spell of the Image") curated by John Stezaker (The Approach, London, 2019), and "Second Nature," juried by Eileen Neff at the Woodmere Art Museum. His work is included in the permanent collections of the Philadelphia Museum of Art, the Pennsylvania Academy of the Fine Arts, the Art Institute of Chicago, the RISD Museum, and Rutgers University (Camden).