Being an Orientation Leader Is More Than Just Icebreakers
As the fall semester approaches its end, so does my first season of working with Student Engagement and Orientation. This past year has been quite the experience. Interested in applying to become an Orientation Leader (OL)? Follow along with me through the process!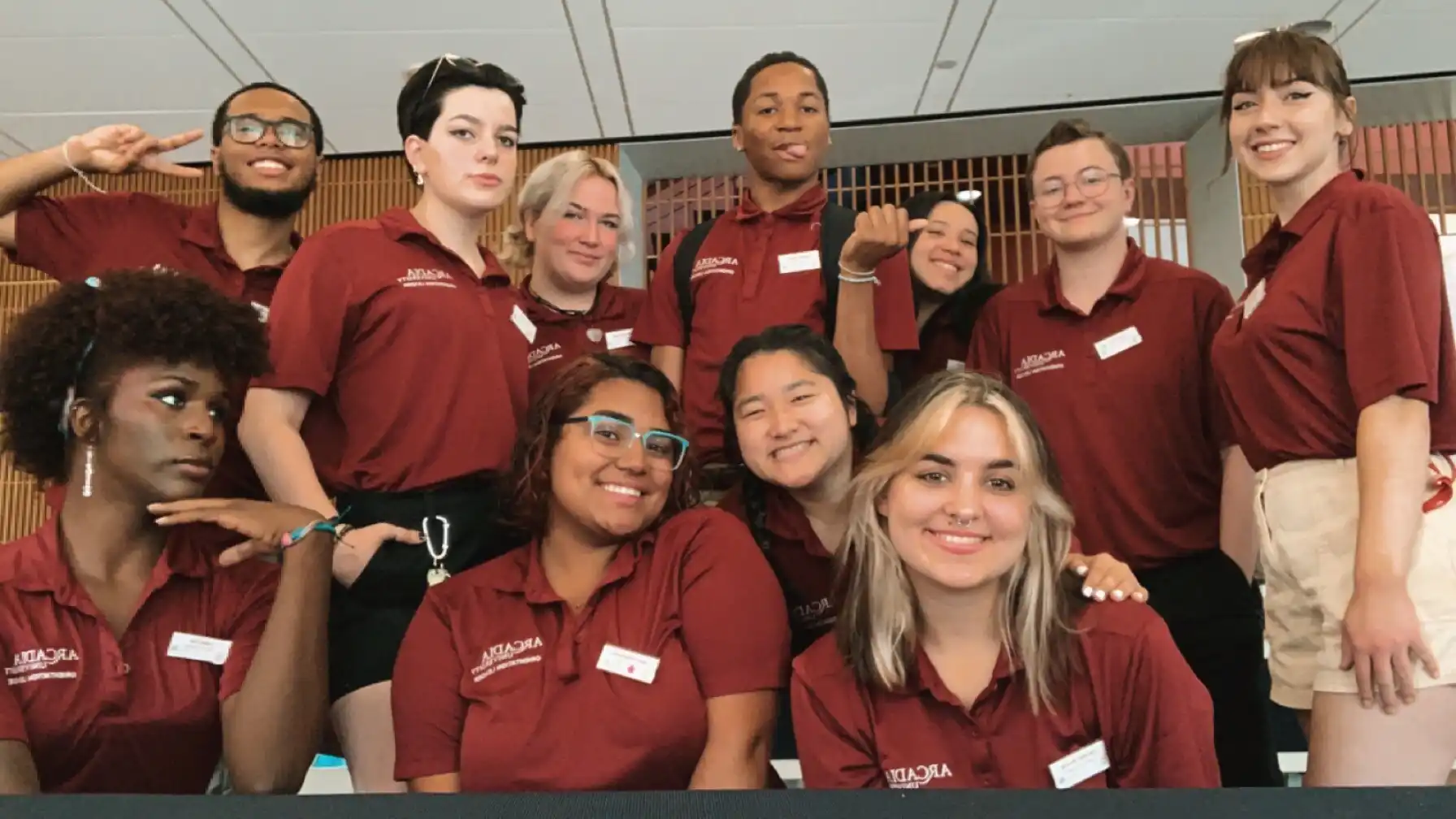 The first step in joining the team is filling out the application. These usually come out toward the end of the fall semester (yes, that far in advance!). Once the actual application is submitted, you'll be prompted to schedule an interview with Staci-Jo Palek, Assistant Director of Student Engagement, and the upcoming Head OLs for the following year.
The interview is a chance to show who you are as a person and what Arcadia means to you, so don't be afraid to be yourself! After the 1:1 interview, you'll be invited to a group interview with the rest of the candidates.
During my group interview, I had a chance to meet the other potential OLs and see how we would all work together. It was important to connect with these individuals since you may be spending a lot of time collaborating with them in the future.
Once I was selected for orientation, I had to go through the proper training. My training for the Summer Welcome Days took place in mid-June. We walked through everything from how to run icebreakers to how to forge genuine bonds with the incoming students.
Training gave me a chance to both get to know my fellow OLs and also reevaluate my role in orientation. I learned a lot about how I can take the experiences that I've had and use them to foster a safe and welcoming environment for others; this knowledge has stood to be one of the most important lessons I've had at Arcadia.
Once we make it through the training process, we are ready to tackle the events themselves! The events that you may be asked to participate in as an Orientation Leader can be boiled down to three main options: Summer Welcome Days, Fall Welcome Week, and After Hours Events.
Summer Welcome Days give new students an opportunity to gain an introduction to the campus on a smaller,more intimate, level. There are a handful of these days a year (this year we had four). We take students through icebreakers, scheduling, and generalized introductions to student life.
Once Summer Welcome Days are complete, we shift all of our attention to Fall Welcome Week. Fall Welcome Week is the main event.Through this week, we get students moved into their dorms, allow them to dive into the Arcadia community, and get them equipped with student conduct, public safety, and other university standards.
Also during Fall Welcome Week and beyond that period, OLs help to run After Hours Events. These include things like glow parties in the Castle, drag bingo, hangouts on the Green, and other super cool, awesome, fun events. These events give students an opportunity to let loose and mingle with their peers after busy days full of information.
Moving forward from the actual on-the-clock duties of being an OL, we settle into the school year with an underlying set of standards and responsibilities. The truth is, students would certainly be able to assimilate into college life academically and in terms of rules, standards, etc. with or without Orientation Leaders.
But our responsibility is to ensure that Arcadia has a community that feels inviting and safe. Orientation Leaders, as well as other student leaders on campus, keep an eye out for those around them and help make the Knight Family special.
This sense of unity and camaraderie became one of the things that I loved most about participating in orientation this year. If this seems like something you may be interested in contributing to, make sure to keep your eye out for an announcement later this semester, when applications open.