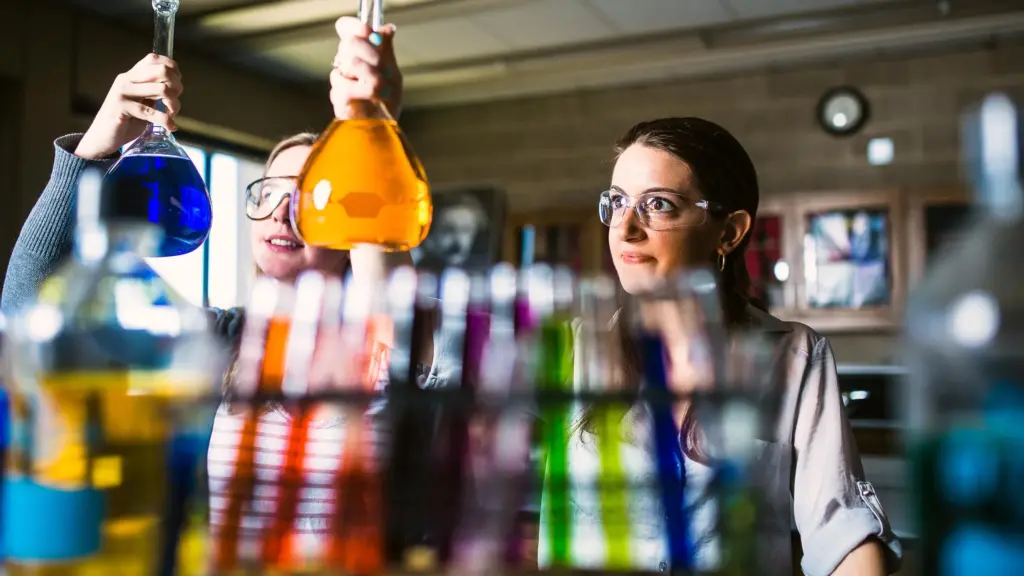 Degree Level

Undergraduate

Degrees Offered

Bachelor of Arts, Bachelor of Science, Minor
Bachelor's Degree in Chemistry
Arcadia University's Chemistry programs provide a working knowledge of the concepts that underlie chemical and physical phenomena. Each course develops the ability to solve real scientific problems quantitatively using structural models, mechanisms and the integrated application of physicochemical principles.
Prepare to Make a Difference
Explore technological and cultural scientific problems, such as environmental pollution, energy resources and conservation of natural resources, along with courses in astronomy, geology, chemistry and physics. In our program, you will prepare for careers in health sciences and the medical field, secondary and post-secondary instruction, information science, and research.
What's the difference between a BA and a BS?
The Bachelor of Arts in Chemistry focuses more on liberal arts courses. You will have more opportunities to explore related elective courses as well as your chosen concentration: Chemical Professions, Health Professions, or Forensic Science.
The Bachelor of Science in Chemistry is oriented toward more math and science courses.
Students who complete this program are certified by the American Chemical Society as having met that society's high standards for an undergraduate degree.
Bachelor of Arts in Chemistry
7 Chemistry courses
2 Physics courses
1 Mathematics course
Choose from 3 concentrations
Bachelor of Science in Chemistry
15 Chemistry courses
2 Physics courses
2 Mathematics courses
Biochemistry concentration
Featured Courses
Organic Chemistry II

Required Course

Survey the properties of organic functional groups: organometallics, conjugated systems, aromatics, aldehydes, ketones, carboxylic acids and their derivatives, amines, and carbohydrates. In the laboratory, your work stresses the synthesis, separation, identification, and analysis of selected organic compounds using both micro- and macro-scale techniques. H-NMR spectra are routinely acquired and analyzed.


Three class hours and three laboratory hours weekly.
Equilibrium and Analysis

Required Course

Examine the principles and theory of chemical equilibrium in the context of quantitative chemical analysis. You will practice traditional analytical laboratory techniques frequently applied to analyses of systems of biological and environmental interest, and you will explore instrumental techniques of analysis.

Three class hours and three laboratory hours weekly.
Biochemistry

Elective Course

Learn principles of weak chemical interactions applied to the structure and function of macromolecules, especially proteins. Non-covalent binding of substrates and enzymic catalysis are treated both conceptually and quantitatively. Mechanisms of metabolic control, including allosterism and covalent modification, are related to protein structure.

Three class hours and four laboratory hours weekly.
Inorganic Chemistry

Elective Course

Survey the representative and transition elements in the context of atomic and molecular structure. Organometallic and solid-state principles are introduced as the foundation of coordination theory and the biochemistry of inorganic cations. Laboratory work emphasizes the preparation, properties and characterization of selected inorganic and bioinorganic compounds. Low and high temperature and vacuum techniques are applied to both aqueous and non-aqueous systems.

Three class hours and three laboratory hours weekly.