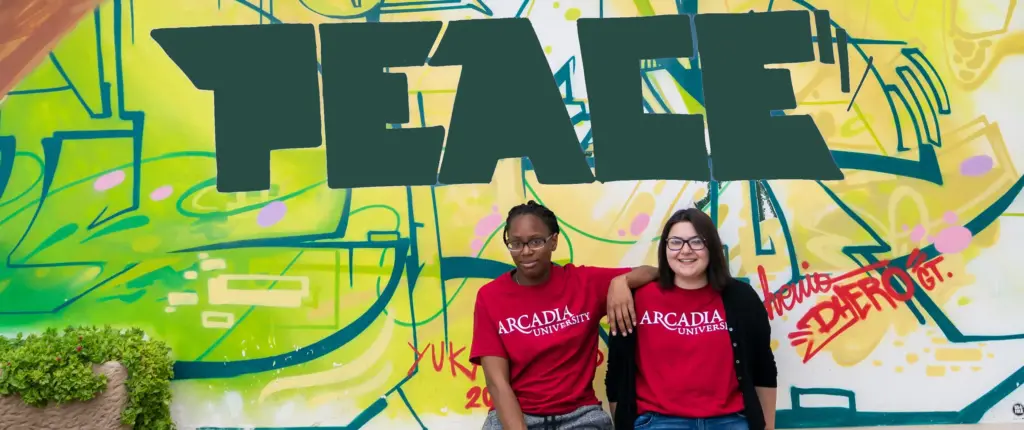 Degree Level

Graduate

Degrees Offered

Master of Arts
Master of Arts in International Peace and Conflict Resolution
Local and Global
Arcadia's International Peace and Conflict Resolution (IPCR) Master of Arts program offers innovative, cohort-based curriculum and experiential learning opportunities. Establish your expertise as a conflict resolution practitioner and build critical, professional networks and collaborative spaces around the world.
Powered by a Passion for Peace
Through foundational courses, embedded international fieldwork, hands-on internships, and the IPCR Master Capstone class, Arcadia's IPCR program will fuel your passions, challenge you academically, and encourage you to connect theory with real-world applications as you prepare to make a positive difference in the world.
Program at a Glance
Four-semester, full-time, cohort-based program; part-time option available.
Small class sizes and experienced faculty.
International fieldwork in Cyprus and Paris embedded in the first-year foundation program.
Certificates in Mediation and Diplomatic Tradecraft as part of the degree.
Dual Degree Options
IPCR/International Relations and Diplomacy (in partnership with AGS): Three-year program in Glenside and Paris leading to dual Master of Arts degrees.
IPCR/Counseling: Three-year program in Glenside leading to dual Master of Arts degrees. Trauma and conflict focus is led by Arcadia's Counseling program.
IPCR/Public Health: Three-year program in Glenside leading to a Master of Public Health and Master of Arts degree.
Scholarships and Financial Aid
Scholarship awards between $6,000 and $15,000 are available. Every student accepted to the program will be considered for a scholarship. No separate application is required. Graduate assistantships may also be available to accepted students who qualify. Please let the IPCR department or Enrollment Management Office know if you are interested in a Graduate Assistantship. For more information, please visit financial aid information.
Undergraduate Pathway
4+1.5 Program: Students pursue a liberal arts undergraduate major in the social sciences or humanities, and then apply for admission to the IPCR program in their senior year.