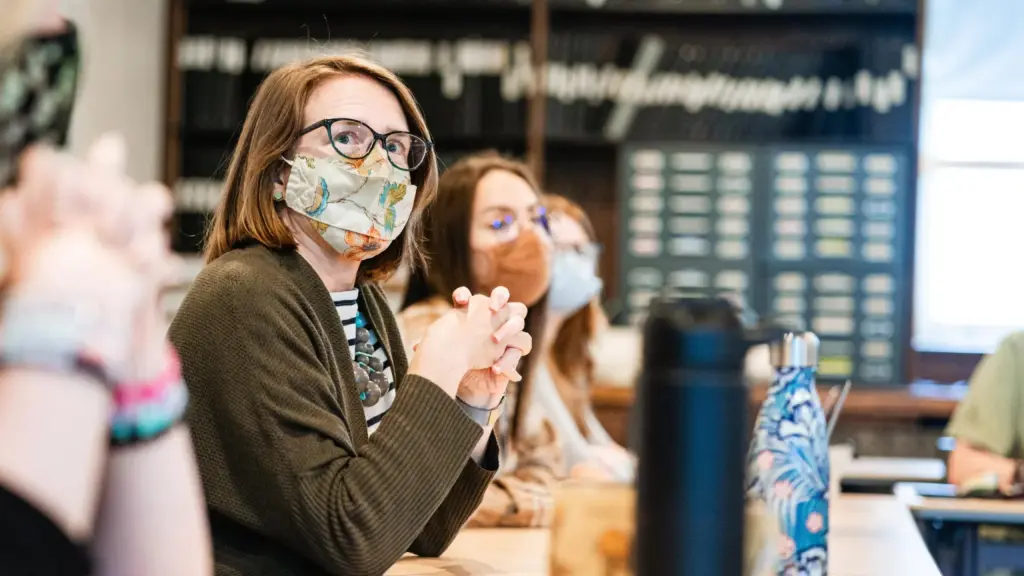 Degree Level

Undergraduate

Degrees Offered

Bachelor of Arts, Minor
Bachelor of Arts in Art History
Studies in Art History prepare you for a variety of careers and graduate studies by developing critical observation and communication skills through extensive discussion and writing about visual form. Arcadia's Art History faculty engage with you on a personal level, whether in the classroom or in Philadelphia's many world-class museums. You also benefit from Arcadia's vast global network of study abroad programs.
The intensive training in analysis, critical thinking, and writing in art history courses prepares you for professions that require high-level problem solving and communications skills. You will gain an understanding of a wide range of cultures and historical periods in introductory courses, while delving deeper into art historical methods and research in more advanced courses. In addition, the art history program's internship requirement provides students with firsthand work experience that appeals to employers both within and outside the art world.
Our students have successfully pursued professions in museums, libraries, cultural institutions, and universities, as well as many other career paths.
Study Abroad and Internships Provide Hands-On Experience
Jeremy Kramer, '15 shares how study abroad impacted his choice to major in Art History.
Featured Courses
Latin American Art

Elective Course

Explore the arts of Latin America from the European conquest to the modern period. In this course, you will experience a brief survey of the ancient cultures of Mesoamerica (Mexico and Central America) and the Andes (Peru and Bolivia), which provides the background for understanding artistic developments in these areas after Spanish and Portuguese colonization. Investigate the post-conquest culture of the Americas through an analysis of works in various media, including codices, paintings, featherwork, sculpture, architecture, murals, and prints. Particular emphasis will be given to the diffusion of European visual culture in the Americas, with a focus on points of cross-cultural contact. Considerations of colonialization, religious conversion, race, and hybridity will deepen our understanding of Latin American visual culture.
Leonardo Da Vinci: Art, Myth, and Innovation

Elective Course

In this seminar you will explore the life and work of Leonardo da Vinci—perhaps one of the best known, but most mysterious artists in the Western tradition. Examine Leonardo's many paintings, drawings, and writings in order to situate him within a broader cultural context. Special attention is given to his voluminous notebooks with their studies of weaponry, machinery, human anatomy, and hydraulics. You will travel to Italy and France to view Leonardo's works in person.
Global Modernisms

Elective Course

Delve into not only "what was modernism?", but also "where and when was modernism?" Following recent scholarship, it expands the scope of modern art to include works made beyond the borders of Europe and the United States in the first half of the 20th century. Explore how these new international parameters test traditional definitions of modern art. Thematic organization of select case-studies encourages you to compare how artists approached similar problems within distinct cultures and under disparate historical circumstances, and to trace how the ideas and styles associated with modernism traveled internationally. Challenge yourself to develop your own definition of modernism, one that considers its global nature.
Make an Exhibition

Elective Course

You will learn through the focused, in-depth study of a seminar with the applied learning of a practicum. Over the semester, you will work with other students to create an exhibition in one of the campus galleries. In the first half of the course, you will learn about the art you are tasked with exhibiting through assigned readings, independent research, field trips, and guest speakers. Explore to best practices in the curation, collections management, educational programming, marketing, and installation of visual art exhibitions. Use your knowledge and skills they have acquired to collaboratively create an art exhibition on campus.