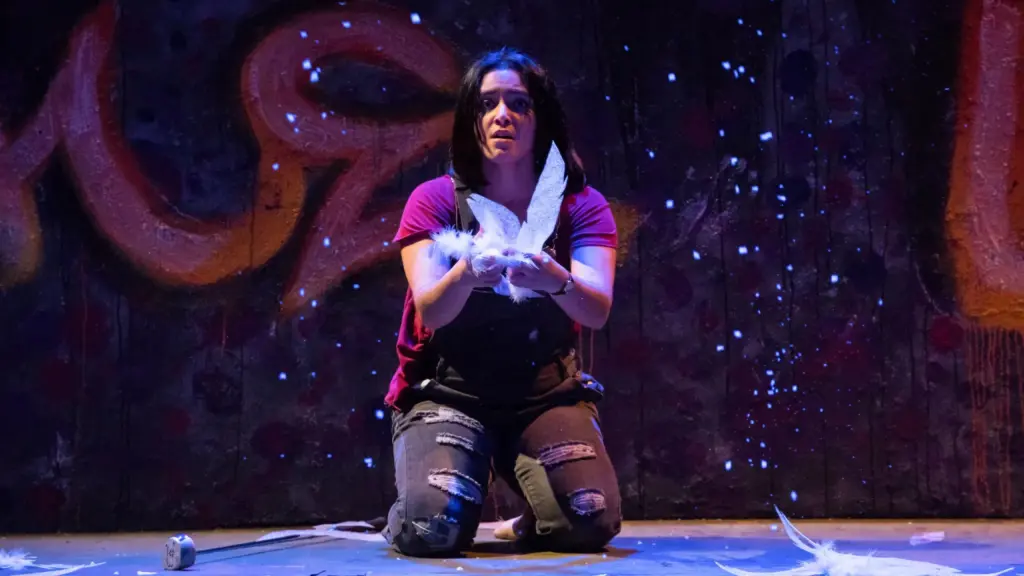 Degree Level

Undergraduate

Degrees Offered

Bachelor of Fine Arts
Bachelor of Fine Arts in Acting
As a BFA Acting student at Arcadia University, you will develop your craft through rigorous voice, movement, acting, and theory courses—all while broadening your understanding of the world with a liberal arts education. Your classes will be small and intimate, allowing you to form strong bonds with fellow students and faculty.
Because of our proximity to Philadelphia's dynamic theater community, you will connect with industry professionals who teach our classes and direct and design our shows.
Arcadia Theater productions offer you regular opportunities to bring your skills to the stage.
Students in the program can also gain performance experience through several student-run performance groups active on campus, including:
Under Siege Student Theater: a student group producing a variety of performances, showcases, workshops and readings.
Improv Club: stages an evening of improv comedy each semester.
Cabaret Club: presents a musical theater variety performance each semester.
Knight Club: a campus-wide dance troupe.
The BFA in Acting is an intensive four-year program of study in acting, the speaking voice, speech, movement, stage combat, dramatic literature and the history of the theater. In a typical week, a student works directly with faculty for 27 to 40 hours in addition to time outside of class for preparation.
The first two years of the program focus on the development of the actor's imagination and an exploration of the inner resources as they relate to the external demands of the craft. During the third and fourth years, classroom work shifts to the elements of style and modes of behavior in various historical periods. BFA candidates are continuously engaged in rehearsal and public performance.
An audition is required for admission to the BFA program.
Featured Courses
Acting in Film and TV (TH345)

Elective Course

Immerse yourself in the basics of acting for the camera. Students learn the fundamentals of acting for film and television through scene work, creating and recording video projects. Recorded scenes are presented in-class for discussion and feedback from the instructor and fellow students.

An opportunity for acting students to branch out beyond theater and learn acting for the camera.
Stage Combat I (TH222)

Elective Course

Learn to create dynamic stage combat scenes: starting with unarmed/hand-to-hand techniques, and then progressing to swords. Instruction focuses on personal safety in the art of stage combat. No previous experience required.

It's a fun, physical, dynamic experience that also teaches a very useful skill for finding professional employment.
Acting I: Foundations (TH150)

Required Course

Through improvisation and ensemble work, you will develop fundamental acting skills such as imagination, concentration, listening, emotional accessibility, honesty and commitment. Develop characters, invest in given circumstances, and invent unscripted stories. Through this course, you will form a bond with classmates and build a foundation for four years of training.

This is a student's first immersion into acting training in their first semester.
Acting 5: Audition Techniques (TH360)

Required Course

This course will help you master the world of the audition. Hone audition skills in a supportive atmosphere, through hands-on workshops. Coursework includes contemporary and classical monologues, commercial voiceovers, dance, and cold-copy commercial. Working professional artists and casting directors visit and provide real insight into what awaits students in the professional world.

It helps actors learn to be more effective auditioners and gives targeted training for professional work post-graduation.