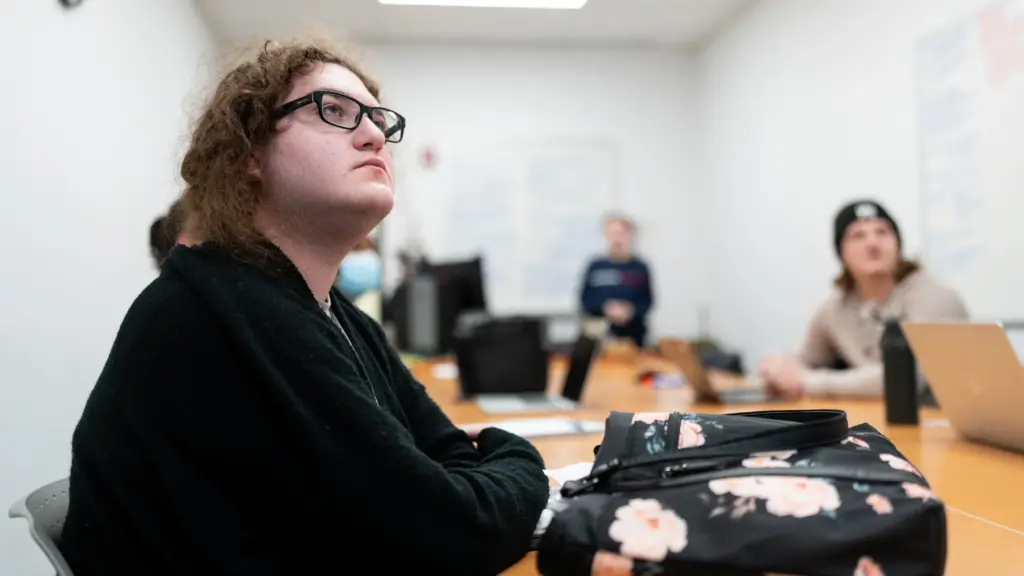 Degree Level

Undergraduate

Degrees Offered

Bachelor of Arts, Minor
Bachelor of Arts in Philosophy
Arcadia's Philosophy degree offers a balanced introduction to philosophy as both a theoretical and applied discipline. Effort is made to show the relationships of philosophical thought to art, education, history, literature, mathematics, politics, religion, science, and current events.
With a variety of philosophical methodologies and interdisciplinary approaches, students study the production and justification of knowledge, theories of reality and human existence, freedom and responsibility, and the status of values.
Philosophy, as a discipline, has traditionally been a steppingstone to graduate school and teaching at the college level. A Philosophy B.A. is also an asset for graduate work and careers in law, journalism, diplomacy, civil service, as well as in industry management positions where complex problem solving and effective communication are valued skills.
Featured Courses
East Asian Philosophy

Elective Course

Explore a selective survey of classical East Asian philosophical traditions. For each tradition we will have two tasks: (1) to situate and unpack the texts in their historical and cultural contexts, and (2) to engage these philosophical perspectives in issues facing the contemporary human condition.

For the first task this semester, we will focus primarily on the philosophical traditions of China and Japan. In particular, we will study classical Confucianism (Analects and Mencius), classical Daoism (Daodejing and Zhuangzi), and Chan/Zen Buddhism. Our studies of these philosophies will involve close textual analysis of primary sources and supporting secondary sources in order to best let these texts speak for themselves. Once we have sufficiently developed these philosophical perspectives, we will take up our second task – to bring these philosophies into dialogue with contemporary issues facing our society. The aim of this two-step methodology is to see these philosophies as living traditions and to identify their philosophical contributions to contemporary, real-world issues, such as the benefits and harms of social media, the ethics of authenticity and conformity, and the importance – if any – of familial relations for living well.
Black Thought & Philosophy

Elective Course

Examine the complexities of the black experience from mutinies on slave ships to race riots in asphalt jungles, from following a woman by moonlight through swamps and woods, to following a man in a suit by day through hostile crowds, blacks have been stepping to freedom. Experience this journey through the eyes of 22 black thinkers.
Queer Ideas

Elective Course

Examine a critical philosophical exploration of queerness while drawing from the rich cultural traditions of global philosophy to answer questions about identity, epistemology, and ethico-political responsibility with regard to non-normative gender and sexuality. With an intersectional and cross-cultural approach, examine how queer identities are constructed, how they are implicated in relations of social and political power, and how they can be liberating.
Introduction to Logic

Required Course

Begin with the basic elements of argumentation, then gradually develop your logic toolkit to address informal fallacies, inductive logic, propositional logic, and finally quantificational logic. This course is well suited to anyone practicing persuasive writing and critical thinking, especially those planning to enter the legal profession.