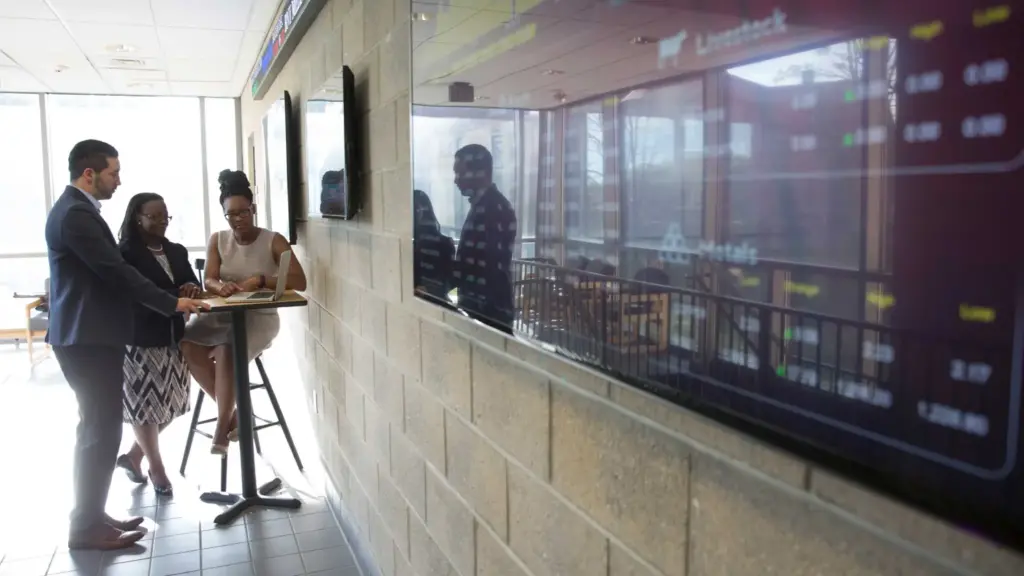 Degree Level

Graduate

Degrees Offered

Master of Business Administration
Arcadia's Business Degree Focuses on High-Growth Industries
Arcadia's Master of Business Administration (MBA) program is 100% online. You'll gain an executive-level understanding of core business areas, then build experience in one of three specific industries.
Choose a concentration in:
Healthcare Finance
Financial Analysis
Organizational Leadership
Why Choose Arcadia's MBA Online Degree Program?
Our MBA degree program is online and offers three concentrations, so you graduate with the specific skills required to meet the needs of top-growth industries in the U.S.
Coursework is hands-on through group projects, simulations, life projects, and real-world applications, so you graduate with real management-level experience. Designed for professionals with full-time commitments, there are no GRE or GMAT scores required, and you'll learn in:
A flexible online format so you can study when it's best for you, full-time or part-time
Small classes that focus on collaboration with your peers and expert faculty
An accredited program — Accreditation Council for Business Schools and Programs (ACBSP)
Learn More Today
Complete the form to learn more about this online program from Arcadia University.
Career and Salary Growth with an MBA Degree
An MBA is your pathway to a salary premium. A recent survey shows that U.S. companies plan to offer new MBA hires a median starting salary of $115,000 – compared to the $95,000 offered to those hired with a Master's in Management degree.1 And while the average salaries for specific roles are impressive on their own, you can earn even more when your employer is in one of the top-paying industries.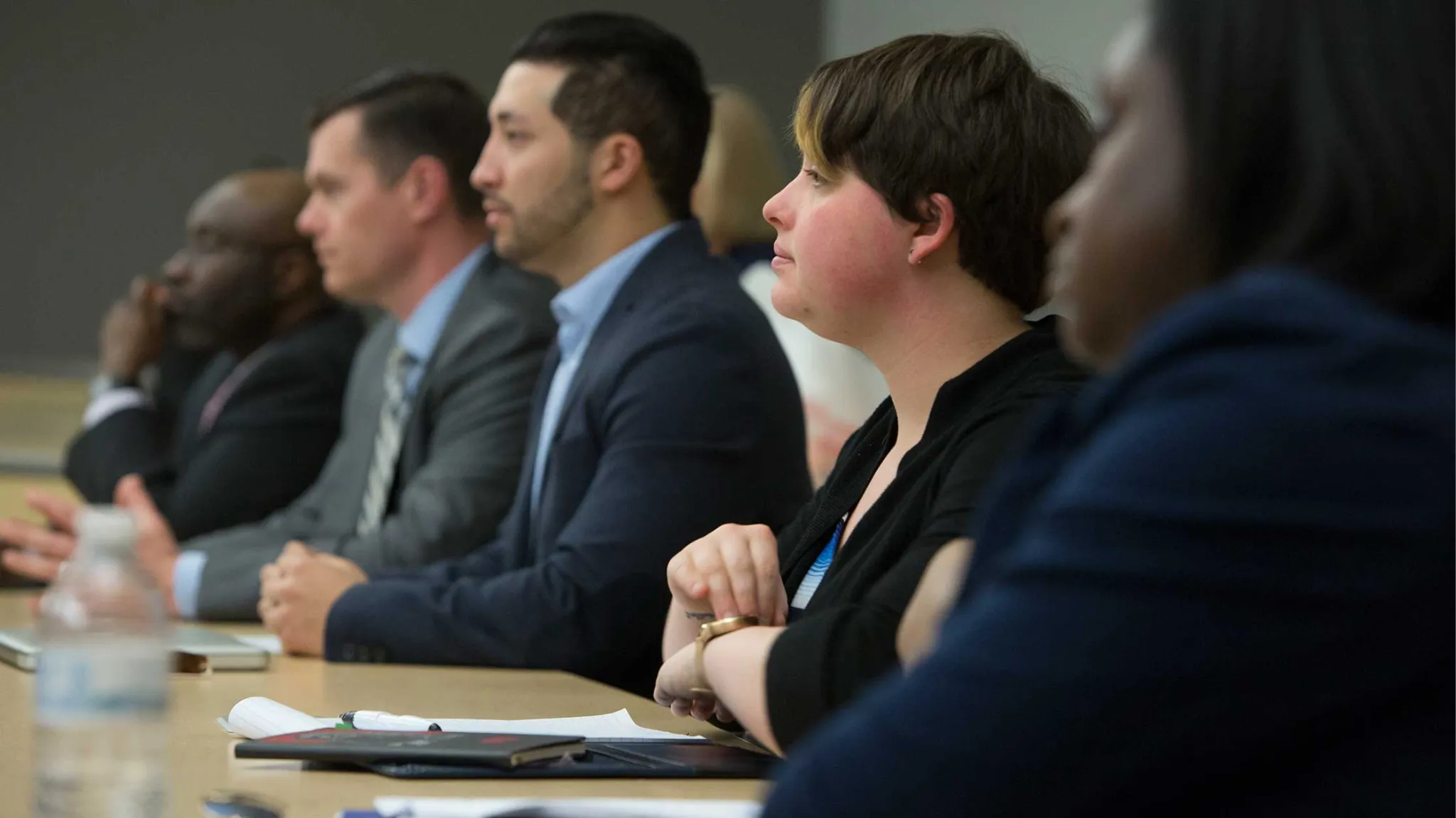 Engaging MBA Curriculum. Flexible Online Format.
Arcadia's MBA is 100% online and accredited by the Accreditation Council for Business Schools and Programs (ACBSP), signaling our faculty's expertise and curriculum's rigor. Learning when and where it's best for you, you'll build management experience in key business areas, including marketing, operations, economics, finance, and global social responsibility. Then you'll build your expertise by choosing a concentration in Financial Analysis, Healthcare Finance, or Organizational Leadership.
Course Highlights:
Marketing Management
Operations Management
Corporate Financial Management
Managerial Economics
Global Issues of Social Responsibility and Law
Strategic Management/Capstone
Admissions Requirements
Arcadia University is here to support you throughout the admissions process. Ready to get started? Here are our admission requirements for applying to the MBA online degree program.
Completed online application—you can apply now (there is NO application fee)
Bachelor's degree with a minimum 2.75 GPA from an accredited institution. If your GPA is under 2.75, a personal statement is required for admission consideration
Official transcripts from each college, university, or professional school attended
Prior coursework or proficiency in Marketing, Economics, Accounting, and Finance demonstrated by completion of undergraduate coursework and/or work experience
Two letters of recommendation
Resume
You can transfer up to six credits to meet part of the MBA online requirements. Students pursuing (or graduating from) the CHS leadership certificate will be able to transfer all of those credits toward the MBA in Healthcare Finance or the MBA in Organizational Leadership.
We welcome applications all year, and you can begin classes in the spring, summer, or fall.
Tuition Details
In Arcadia's MBA online program, you'll complete 10 courses (30 credit hours) to attain your degree with a cost per credit of $825. Without transferring credits, your total tuition is $24,750.*
Be sure to explore your financial aid options. Arcadia University is also a Military Friendly® School, striving to offer quality and cost-effective education for service members and veterans.
What You Will Learn
Arcadia's online Master of Business Administration builds the executive-level knowledge, skills, and strategies you need across business to step into senior management roles with success.
Program Outcomes
Analyze emerging local and global trends affecting businesses today
Develop expertise within a specialized area of business through a concentration
Design and implement more effective strategic plans with enhanced skills associated with data gathering, analysis, and evaluation
Demonstrate critical thinking and multi-disciplinary problem-solving
Improve areas such as management information, communication, and productivity with technology
Lead organizations in achieving their goals and objectives through effective delegating, team-building, and motivating practices
Integrate cultural awareness and diversity in implementing ethical decisions
Learn From Expert Faculty
Our MBA online program is taught by experienced professors who will expand your understanding of coursework and how it applies to real-life situations.
Faculty Spotlight
Thomas M. Brinker, Jr., CPA/PFS, ChFC®, ChSNC®, CGMA, CFE, AEP, Executive Director of the MBA program and Professor of Accounting
Professor Brinker is a tax consultant to the financial services industry and local CPA and law firms. He lectures and writes extensively on the financial and tax planning implications encountered by families with individuals having special needs and is currently Chair for the American College Center for Special Needs at the American College of Financial Services in King of Prussia, Pennsylvania. He has received awards for teaching excellence, including the PICPA's Educator of the Year Award and the Lindback Foundation Award for Distinguished Teaching.
Full Bio

Mr. Brinker is the executive director of the MBA program and a professor of accounting. He's a member of the American, Florida, and Pennsylvania Institutes of Certified Public Accountants and the International Bar Association.

In addition to presenting nationally and internationally on topics that primarily include tax accounting, individual taxation, and taxation for closely held businesses, he has published dozens of articles in numerous journals, including The Journal of Accountancy, The Journal of International Taxation, The Tax Adviser, The CPA Journal, The Journal of Practical Estate Planning, and The Journal of Financial Services Professionals.

Prior to joining the faculty of Arcadia University and the American College of Financial Services, Mr. Brinker was founding partner in a local CPA firm and member of both the audit and tax departments of Coopers & Lybrand and Arthur Young & Company.

Tom graduated cum laude from Saint Joseph's University in Accountancy and holds master's degrees in Taxation and Accounting from Widener University. In addition to earning his J.D. from Columbia Pacific University in International Law, Professor Brinker earned an LL.M. in International Taxation from Regent University School of Law, where he received the distinction of "Outstanding Graduate" in his class.
Online Learning Experience
Arcadia's online programs bring together the best aspects of flexibility and personal guidance. You can study at your pace, accessing the online coursework at convenient times for your schedule. At the same time, we built our online environment to provide seamless engagement with your instructors and classmates. Benefit from a highly flexible experience backed by ongoing support for achieving your career goals.
Frequently Asked Questions
Get answers to common questions about the Master of Business Administration program online. If you have a question not covered here, request more information to connect with an enrollment adviser.