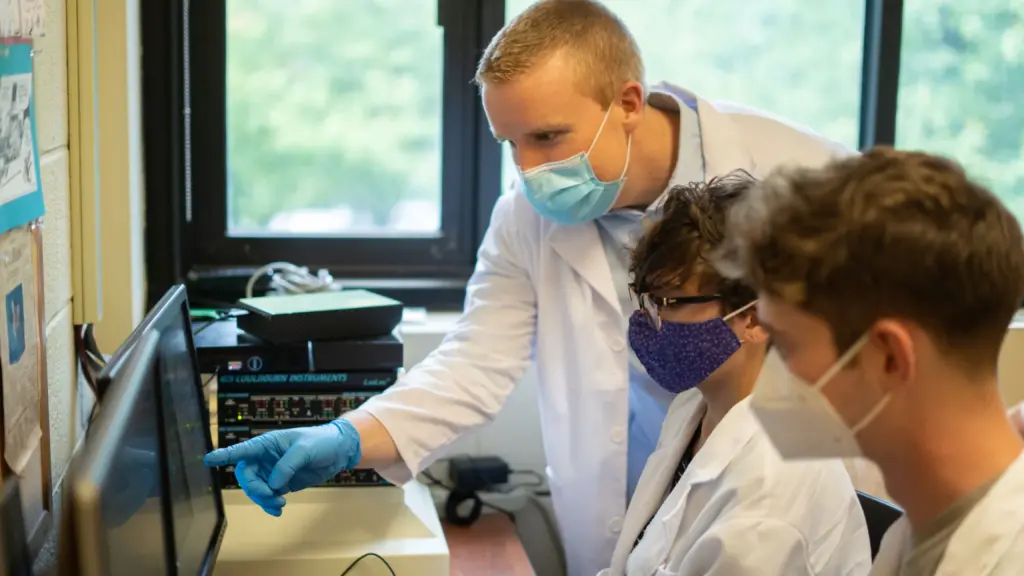 Degree Level

Undergraduate

Degrees Offered

Minor
Minor in Neuroscience
Neuroscience is an interdisciplinary area of study drawing from several scientific fields, including biology, psychology, bioinformatics, biochemistry, pharmacology, and genetics. The inner workings of the brain and other nervous system structures have been described as one of the last true frontiers in the biological sciences and there has been significant growth in terms of our understanding of neural function and disease in recent years.
This minor is an interdisciplinary effort that draws on neuroscience expertise from faculty in the Biology and Psychology departments. Students completing the neuroscience minor will have the opportunity to gain foundational knowledge in the areas of neurobiology, learning and cognition, animal behavior, behavioral neuroscience, sensation and perception, neurodevelopment, neuropharmacology, and neurotoxicology. Skills and knowledge gained from working in faculty-sponsored research programs and course-based laboratories will make students more competitive for graduate programs and careers in related fields.
Requirements
The University policy specifies that a maximum of two courses may double count toward a major and a minor.
Core Courses (10 Credits)
BI 335 Neurobiology
PY 222 Behavioral Neuroscience OR
PY 223 Cognitive Neuroscience
BI 260 Biology Journal Club: Neuroscience (1 credit) Must be taken twice
4 credits each from the biology and psychology options listed below and an additional 4 credits of the student's choice.
BI 332 Animal Behavior
BI 270 Special Topics in Neurobiology (2 or 4 credits) Taken twice
PY 222 Behavioral Neuroscience OR
PY223 Cognitive Neuroscience

(Whichever one you did not take as CORE)

PY 252 Sensation & Perception
PY 280 Evolutionary Psychology
PY 245 Drugs and Behavior
PY 288 What it Means to be Human: Character Strengths and Weaknesses

Or as approved by psychology advisor and chair
Featured Courses
Learning and Memory

Required Course

Study the facts, principles and theories associated with basic learning and cognitive phenomena, including human and animal learning, cognition, and memory.

In the lab part of this course you'll work in pairs or trios to train a rat using the principles of learning from lecture.

 
Behavioral-Cognitive Neuroscience

Elective Course

Study the biological bases of behavior which includes facts, principles, and theories associated with behavioral genetics, the neuron, and the brain.

In the lab, you'll design and conduct original research projects in small groups.
Animal Behavior

Elective Course

Study the ecology of behavior, stressing the links between environmental factors, behavior, and resultant patterns of organismal distribution and abundance, including discussions of group formation, territoriality, dispersion, colonial breeding, and reproductive ecology. 

In the lab, you'll test hypotheses and work on an independent project.