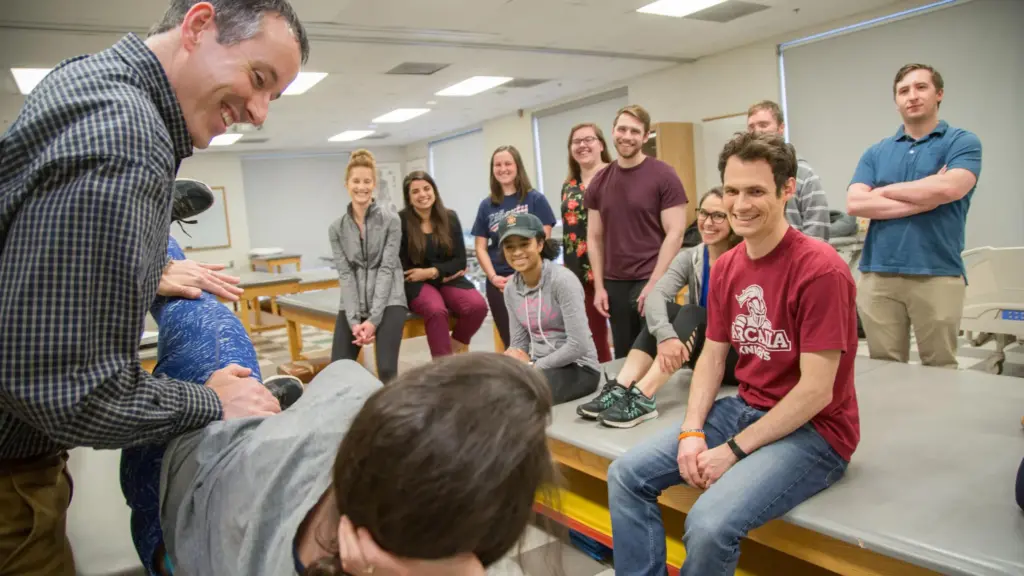 Degree Level

Doctorate
Graduate

Degrees Offered

Doctor of Physical Therapy, Master of Public Health
Dual Degrees of Doctor of Physical Therapy and Master of Public Health
The DPT-MPH is a joint degree consisting of both the Doctor of Physical Therapy (DPT) and Master of Public Health (MPH) degrees. Physical therapy practice has traditionally been seen as rehabilitation or tertiary prevention. In the evolving healthcare environment, physical therapy practice is expanding into primary and secondary prevention activities as well. As physical therapists' roles and responsibilities have increased, so have their educational horizons. The combined DPT-MPH degree will enable future physical therapists to become leaders in health promotion and health policy, and impact healthcare in innovative ways both domestically and internationally.

Dual degree candidates must be accepted into each of the programs in order to pursue dual degrees: Doctor of Physical Therapy (DPT) and Master of Public Health (MPH).
Since it is important that you plan ahead for study abroad, you should consult with your adviser as soon as possible and make your intentions known to the Department Chair and Civic and Global Engagement.
Doctor of Physical Therapy
Arcadia's entry-level Doctor of Physical Therapy program, where students enter with a bachelor's degree and prerequisites, is ranked 24th in the nation by U.S. News & World Report. Arcadia's MPH in Community Health is fully accredited by the Council on Education for Public Health and draws students from across the country who are pursuing various dual degrees. The MPH offers future clinicians the opportunity to fully understand the policy, socio-environmental, and healthcare systems frameworks within which they will be clinical practitioners, enhancing their clinical approach and allowing for transitions into research, advocacy and/or management roles.
Master of Public Health
The Master of Public Health Degree with a concentration in Community Health trains graduates to engage with communities to advance health and empower individuals, families, and communities to improve their health. It provides training in foundations of public health and health behavior, health equity, program planning and evaluation, research methods and quantitative approaches in public health (epidemiology and biostatistics.) Students apply this knowledge in their culminating capstone research and internship experiences which emphasize global perspectives and multidisciplinary approaches to social justice, health equity, and community advocacy.
Our Master of Public Health (MPH) has a Community Health Concentration, and is offered through the College of Health Sciences. The MPH degree incorporates broad knowledge and action related to preventing disease and disability and improving individual and population-level outcomes. Public health is centered in achieving health equity and reducing disparities, including understanding and addressing the social and community context of disease, illness, disability and recovery, as well as health promotion and health research. Our MPH trains students to work effectively as public health professionals in local and global communities through a wide variety of health-related organizations.
Public Health Program Highlights

Program planning and evaluation;
Healthcare and broader public health policy;
Epidemiology, research methods, and biostatistics;
Public health communication for the community;
Capstone projects that integrate practice and research;
Internships that give students first-hand experience in public health settings;
Domestic and international service projects and internship opportunities;
Interprofessional education experiences;
Dual Degree Programs: Arcadia's MPH program offers a variety of dual degree options including Physician Assistant; Physical therapy; Counseling; and International Peace and Conflict Resolution;
The MPH program educates future public health professionals to promote the health of individuals, families, communities, and the environment;
Our Program integrates education, research, and practice in a globally-minded environment.
Featured Courses
Health Care Systems and Public Health Policy: An Integrated Approach to Population Health

Required Course

The purpose of this course is to provide an integrated perspective of population health covering both health care systems and broader public health policies. The course will familiarize students with the health care system in the U.S. and provide comparisons to health care systems internationally. Relevant understandings will include population health outcomes, spending on health, and determinants of health and disparities within and across countries as well as stimulate critical thinking about how systems can meet the challenges of cost, quality and access. This course will equally highlight the vital role of public health policies in addressing population health, including the concept of health in all policies. Students will be challenged to develop and evaluate public health policy using the PEEEL framework, which focuses on understandings of politics, economics, ethics, epidemiology/health research, and law/government.
Environmental Health: Impact of Community Health

Required Course

This course is a survey of the basic concepts of community and environmental health issues and how they apply to specific health problems. The course explores the impact of the environment on public health. The goal of the course is to help students understand the range of environmental health issues and explore their impact on communities as well as their effects on one's well-being. Topics covered include the effects of air, water, and the built environment explored from the global to local perspective and environmental justice.
Movement System Foundations I: Motion

Required Course

This course will focus on movement system impairments associated with motion, namely, acute musculoskeletal injury. The course uses cases to integrate foundational and clinical sciences across diverse areas (such as physiology, pharmacology, pathology, epidemiology, neuroscience, imaging, etc.). The examination content will include the introduction to differential diagnosis within a musculoskeletal exam. The intervention content will include methods to reduce inflammation and physical stress or load to the injured tissues. The relevant anatomy for this course is the knee. The nervous system pathways for interpreting pain and other sensations will be introduced. We will discuss the physical therapist practice act, the collaborative model between patients and therapists, and begin to analyze reliability in PT measurements. Students will have many opportunities to apply the content in labs, class discussions, and simulations within the course. We will synthesize content across courses in the case experience week.
Exposure to PT in a Health Care System

Required Course

This course is a part-time Integrated Clinical Education (ICE) experience designed to expose first-year physical therapy students to current physical therapy practice in a given health care system. This is not designed to be a full-time clinical education experience. Students will be exposed to physical therapy practice and clinical decision making in inpatient and outpatient settings. This course provides the student an opportunity for a practicing clinician to evaluate the student behavior in areas such as safety, personal and interpersonal professional demeanor, ethical and legal standards, communication, and responsibility for self-learning. Students are assigned to a clinical site 4 hours every other week for 10 weeks in the fall.  A clinical activity will be assigned for each clinical week and will coincide with the current academic learning unit. Assignments will be completed in response to each clinical activity, and in the "off week" students will meet in small groups to complete and share assignments in a problem based, collaborative experience.
Differential Diagnosis and Intervention IV: Spine II

Required Course

This course will focus on differential diagnosis and management of neck pain and related problems. The course uses cases to integrate foundational and clinical sciences across diverse areas (such as physiology, pathology, motor control, pharmacology, neuroscience, and imagining). Examination content will include classification systems for neck pain and vestibular disorders and the exam of patients with temporomandibular joint dysfunction. Interventions will focus on manual therapy and various exercise approaches for the various pathologies. The relevant anatomy and biomechanics for this course is the cervical spine, and the temporo-mandibular joint, with a review of the vestibular system. We will discuss communication with patients experiencing chronic pain. Students will have many opportunities to apply the content in labs, class discussions, and simulations.
Enhancing Activity and Participation

Required Course

This course will focus on the integration of advanced patient management concepts in order to enhance activity and participation across the lifespan. This course will help to develop the clinical skills, reasoning and decision making to progress patients back to sports, work, or community participation within the context of temporary or chronic musculoskeletal or neurological conditions. Additional topics will include an introduction to additional manual therapy approaches, treatment considerations for patients with communication disorders, and vestibulo-ocular function.