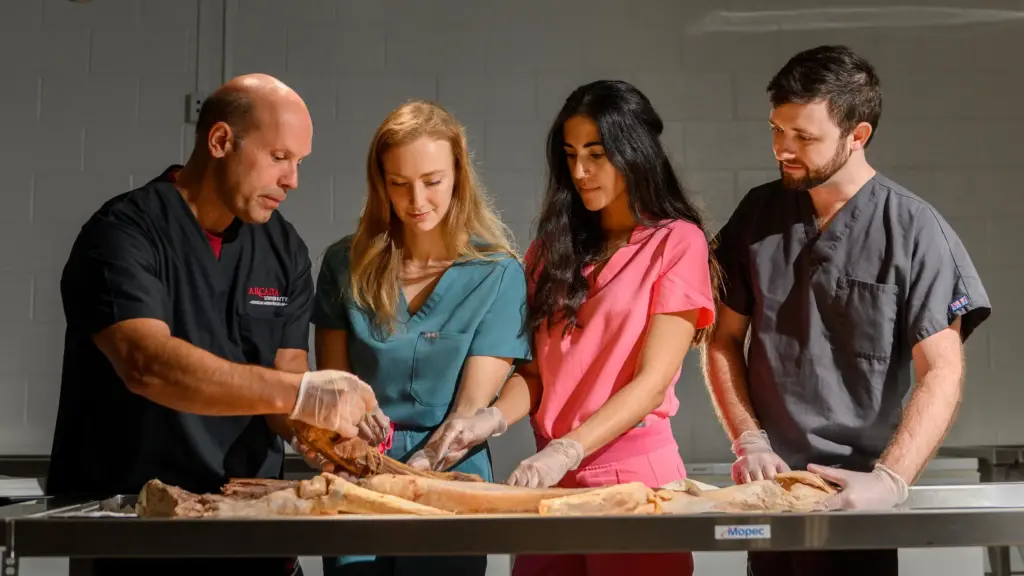 Degree Level

Undergraduate

Degrees Offered

Bachelor of Science
Your Pathway to Becoming a Physician Assistant
This is an Arcadia University undergraduate pathway that is specially designed to prepare students to apply to the Arcadia University Master of Medical Science (Physician Assistant) program.
The Master of Medical Science (Physician Assistant) degree is designed to produce graduates who will be well equipped to deliver high- quality, cost-effective health care in a wide variety of settings, including hospitals, clinics, outpatient offices and community settings. The physician assistant is trained to take medical histories, perform physical examinations, order and interpret diagnostic tests, diagnose, and treat illness, determine treatment, and educate patients regarding their health and medical concerns.
The Pre-Physician Assistant program pathway is four years of undergraduate study that prepares students to apply to the two year graduate Physician Assistant program. A student interested in becoming part of the Physician Assistant program must first earn a bachelor's degree in a major such as Biology, Chemistry, Public Health, Healthcare Administration, or Psychology that enables completion of the prerequisite courses. Arcadia University undergraduates whose academic records meet the entrance requirements are granted assured admission into the graduate program at the end of their senior year. Transfer students are also eligible for assured admission to the graduate program in Physician Assistant studies if all established criteria are met. However, students that do not meet assured admissions criteria are still welcome and encouraged to submit applications as a general applicant.
Students are strongly urged to work closely with the advisers from their chosen majors. They should take prerequisite courses that will prepare them for the graduate-level professional work that will be expected of them upon entering the PA program. 
Upon completion of the junior year, students apply to the PA program through CASPA, the Central Application Service for Physician Assistants. The CASPA application opens in April. Given admissions occur on a rolling basis, it is recommended applicants apply early in the admissions cycle (by August 1). If students do not meet the assured admission criteria, they are encouraged to apply through the general applicant pool. To maintain the ongoing quality of the PA program, the University reserves the right to limit the enrollment in all its offerings.
About the Physician Assistant Program
The 24-month graduate portion of the Physician Assistant program combines classroom instruction with extensive clinical experience in a variety of medical specialties. The mission of the program is to train highly competent, globally aware physician assistants who are prepared to be life-long learners. The program is committed to fostering excellence in patient care and promoting professionalism, leadership, cultural competency, scholarship, and service.
Featured Courses
Human Anatomy

Elective Course

Study the structure of the human body at cellular, tissue, organ, and system levels with emphasis on the primary structural components of the skeletal, muscular, circulatory and nervous systems. Laboratory exercises include a detailed dissection of the cat as a representative organism for the study of mammalian musculature and vasculature.
Microbiology

Elective Course

Examine microorganisms in their structure, function and relationship to their environment, both physical and human. Modules on immunology and genetic engineering are included.
Organic Chemistry I

Elective Course

Explore the correlation of acid-base theory, reaction mechanisms, molecular structure, chemical energetics, stereochemistry, and spectroscopy, applied to organic functional groups, specifically alkanes, alkenes, alkynes, alky halides, alcohols and ethers.

Laboratory work stresses the synthesis, separation, identification and analysis of selected organic compounds using both micro- and macro-scale techniques. 
Behavioral Neuroscience

Elective Course

Study the biological bases of behavior. Includes facts, principles, and theories associated with behavioral genetics, the neuron, and the brain. Offers practical experience in both classical and contemporary research methods. Includes lectures, laboratory exercises and an independent project.