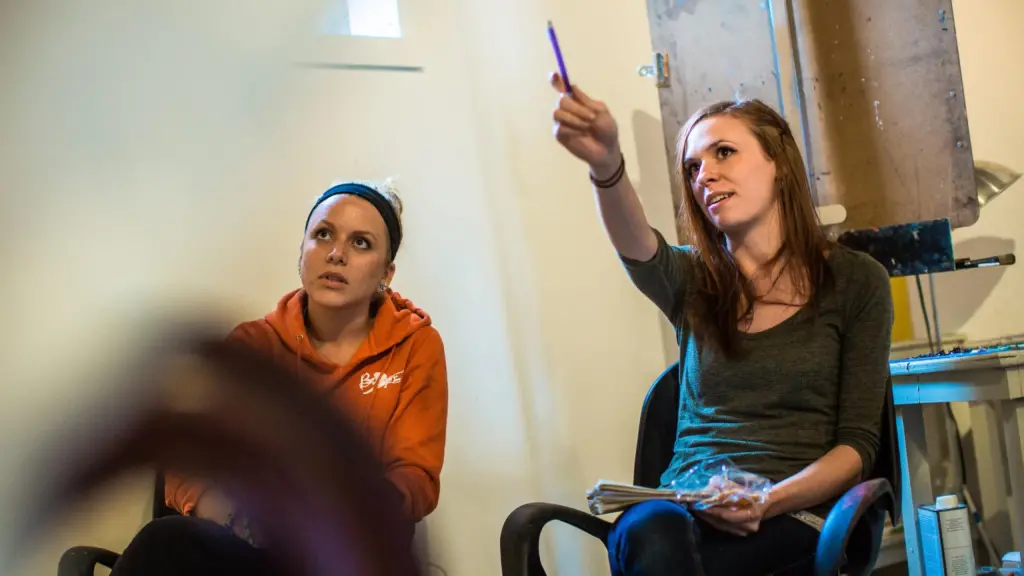 Degree Level

Undergraduate

Degrees Offered

Bachelor of Arts, Bachelor of Fine Arts
Bachelor's Degree in Art Therapy
A degree in Art Therapy at Arcadia University prepares you for graduate study in art therapy. You will become familiar with principles of psychological theories as they relate to art therapy practice, and you will be able to demonstrate familiarity with the working properties of various media and design principles.
Develop a strong portfolio, wide variety of knowledge, experience, and expertise to successfully apply for graduate school for Art Therapy or your chosen studio concentration after you finish your degree.
What can I expect?
Develop studio art skills.
Pre-professional studies in the behavioral and social sciences.
Meet the requirements of the American Art Therapy Association for graduate school entrance prerequisites.
First-hand observation in the clinical setting.
What's the difference between a BA and a BFA
The Art Therapy major can be elected as a Bachelor of Arts or Bachelor of Fine Arts.
If you choose to obtain the BFA, you will earn a minimum of 20 credits above the usual 128 credits needed for graduation in order to fulfill requirements for the BFA in Art Therapy major.
BA in Art Therapy
3 Studio 

Art

courses: Studio 

Art

Foundations and Drawing
4 Studio 

Art

courses: Painting, Printmaking, Ceramics, and Metals and Jewelry, plus 3 advanced courses in a chosen studio concentration
2 Art History courses
4 Art Therapy courses
4 Psychology courses
2 Sociology and Anthropology courses
4 Senior Capstone Experience courses
BFA in Art Therapy
4 Studio Art courses
4 Studio Art Courses in a chosen studio concentration, plus additional studio electives
3 Art History courses
4 Psychology courses
4 Art Therapy courses
2 Sociology and Anthropology courses
6 Senior Capstone Experience courses
Grow as an Individual and an Artist
Pre-Art Therapy and Painting major Yael Danielle Tsoran discusses connection within the Visual Arts program.
Featured Courses
Studio Art: Foundations I

Required Course

You will study a series of intensive thematic workshops in which all sections of the class will be dealing with the same ideas through a variety of two-dimensional and three-dimensional materials and processes. Investigate themes, including identity, environment, and language. Use acrylic paint, cardboard, water color, wood, plaster, found objects, and paper. The students in each of the sections of this course will meet together once a week as a large lecture session in addition to the twice a week studio component. During lectures students will meet to share project ideas, thematic components of the course, group projects, large critiques, and films.
Color and Design

Required Course for some concentrations/Elective Course

In this studio course, you will explore the behavior and the power of color and consider the diverse applications of this understanding. Study includes the properties of color—chroma, value, intensity, hue, and temperature—as well as study of the interaction of colors and the underlying principles that govern their behavior. Apply theoretical understanding through exercises as well as more formally executed designs.
Photography I

Required Course for some concentrations/ Elective Course

In this course, you will study an introduction to the medium of photography covering the materials, processes, history, and aesthetics of black and white photography. Learn the essentials of 35mm camera operation, meter reading, film processing, paper development, and portfolio preparation. You will be introduced to the photographic image as a means of personal expression through the use of the camera, light sensitive material, technical expertise, and mind's eye. Six critique, lecture and studio hours weekly, plus independent work.
3D Printing/Digital Fabrication

Required Course for some concentrations/ Elective Course

You will learn the technology surrounding computer-aided-design/computer-aided-manufacturing (CAD/CAM) and its creative applications within art practices. Discover how the CAD/CAM process is particularly well-suited for certain tasks, including the creation of multiples, for fabrication of functional/kinetic components, iterative prototyping of complex structures, scalable design, construction of large structures from repeated simple components, and more.