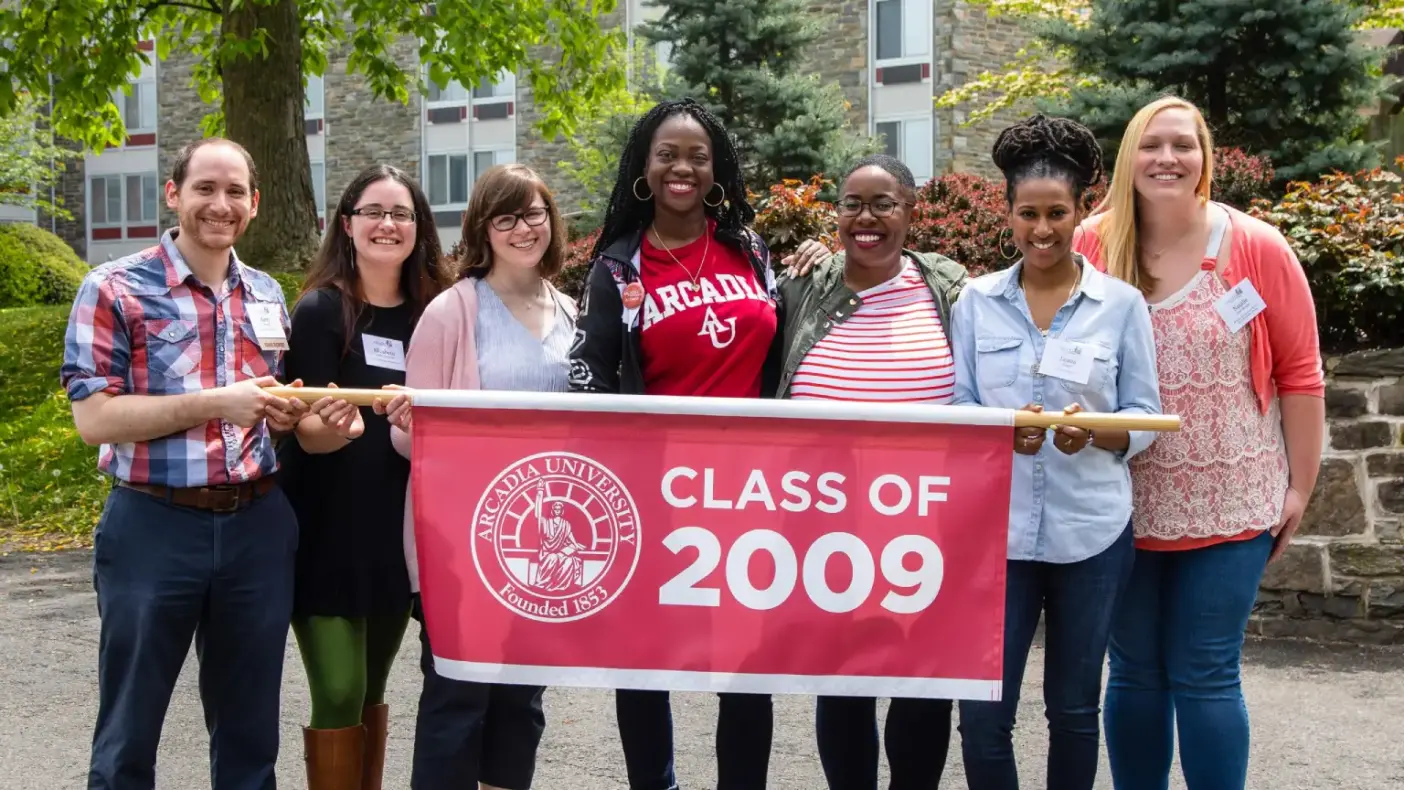 Fling High the Scarlet and the Grey!
As graduates of Beaver College and Arcadia University, you belong to a dynamic network of creators, dreamers, and movers and shakers — an alumni family that is more than 30,000 Arcadians strong.
The Arcadia University Alumni Association serves to strengthen your connection to your fellow alumni and alma mater as you thrive both personally and professionally. Through every stage of your life, we are here to ensure that you have a sense of pride in Arcadia's distinctively global, integrative, and personal learning experience, always.
Engage. Connect. Support!
Attend an Event
From our annual Alumni Reunion Week to our Women Who Lead Forum, Round Table Talks, and more, join the Alumni Association for signature events and alumni programs focused on creating opportunities for you to reconnect with classmates, learn new skills, and celebrate the achievements of alumni everywhere.
Volunteer
Whether you are inspired to volunteer for a one-time opportunity, interested in serving a year-long term on a committee, or looking to make volunteering a regular part of your routine, there's an opportunity for you.
Give the Gift of Arcadia
Arcadia, true to its legacy as Beaver College, has always been known for cultivating leaders who are intellectually fearless and uniquely prepared for life and work. From strong academic programs, scholarship support, and teaching excellence to study abroad opportunities and personalized attention, with your support, Arcadia's institutional trademarks will continue well into the future.
Walk of Pride
Since 1853, Arcadia University has established a rich history, defined by the accomplishments of its students, graduates, and community members. Their journeys of perseverance, discovery, and triumph are the true measures of Arcadia's success.
Today, community members travel along the Walk of Pride, a winding path through campus that features the names of students and graduates. The Walk of Pride is a lasting reminder of their accomplishments at Arcadia.
With a contribution of $250, you can add a name to the Walk of Pride, forever embedding it in the treasured history and beautiful campus of Arcadia University. Your contribution will cover the cost of purchasing, engraving, and installing a paver as well as the long-term maintenance of the Walk of Pride. $50 of your contribution represents a non-refundable, tax-deductible gift to the University.
You may also choose to add a name by contributing a total of $250 over a period of time, up to five years. The name will be engraved on the Walk of Pride after the final installment is complete.
Meet University Advancement
The Division of University Advancement builds meaningful relationships between the University and the alumni, parents, faculty, staff, and friends who support our students and believe in the value of an Arcadia education. Day in and day out, we embody a collective passion to strengthen your Arcadia pride and secure support for an even brighter future for Arcadia University and our students.
Office of the Vice President