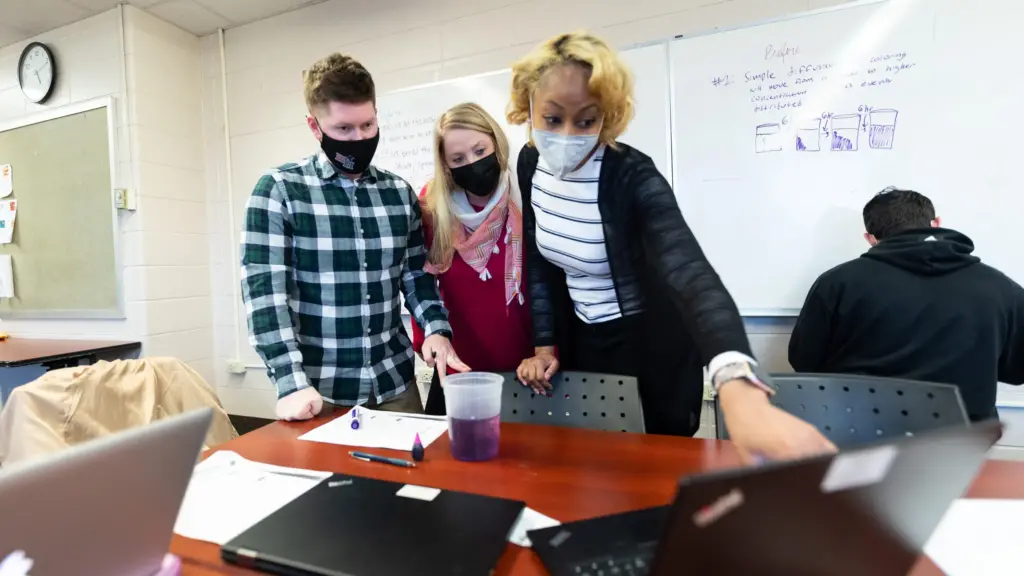 Degree Level

Graduate

Degrees Offered

Certificate, Master of Education, PA Certification
Graduate Programs in Integrative STEM Education
Arcadia's Integrative STEM Education, MEd prepares you to plan, teach, assess, and reflect on integrated STEM instruction inside and outside the classroom. Specifically, you learn to incorporate, develop, and implement units of study and curricula that promote skills such as creativity, innovation, critical thinking, problem solving, and collaboration in Pre K-12 classrooms.
A Master of Education (MEd) in Science, Technology, Engineering, and Mathematics (STEM) integrates concepts that are usually taught as separate subjects in different classes and emphasizes the application of knowledge to real-life situations. A lesson or unit in a STEM class is typically based around finding a solution to a real-world problem and tends to emphasize project-based learning.
PA Department of Education STEM Endorsement
Fully online 12-credit program which will provide you with specialized knowledge of the application of STEM.
STEM Education Graduate Certificate
15-credit program, fully online with the exception of the final course which requires travel to Philadelphia and Sicily, Italy.
Preparing the Next Generation of Science Teachers with Global Perspectives
WebsEdge Science: Arcadia University STEM Education Graduate Certificate Program
Featured Courses
Understanding the Designed World

Required Course

Use the engineering design process and science inquiry to explore concepts and problems in Earth, Space and Environmental Sciences as they relate to PK-12 curriculum and classroom.
STEM Literacies and Technology

Required Course

STEM Literacy is an ability to effectively communicate concepts and content from STEM in a way that demonstrates an understanding of the interconnectedness of the individual STEM fields in solving challenges or problems that cannot be resolved by any one individual approach.
STEM Curriculum and Assessment in Action

Required Course

Conduct curriculum mapping and topic study, learn to develop curriculum and assessments at the district and classroom level, and integrate STEM topics into other subject areas in PK-12 classrooms. The course will develop your abilities to plan project-based assessments, assessment with real-world connections, and authentic applications.
STEM and Society: Global Field Study

Certificate Required Course

This graduate interdisciplinary inquiry- and problem-based course is designed to introduce teachers to the synergistic and symbiotic relationships between society and the environment.
School of Education Graduate Program Information
Teacher Certification Agreements
Pennsylvania has signed the NASDTEC Interstate Agreement that provides for acceptance of state-approved educator preparation programs between certain states to facilitate educator mobility.
Admission Requirements
For working professionals seeking graduate degrees or certifications, we offer full-time, part-time, online and options to build your own degree.
Tuition and Fees
Learn more about the cost differences for part- and full-time students and any specialized School of Education program costs.