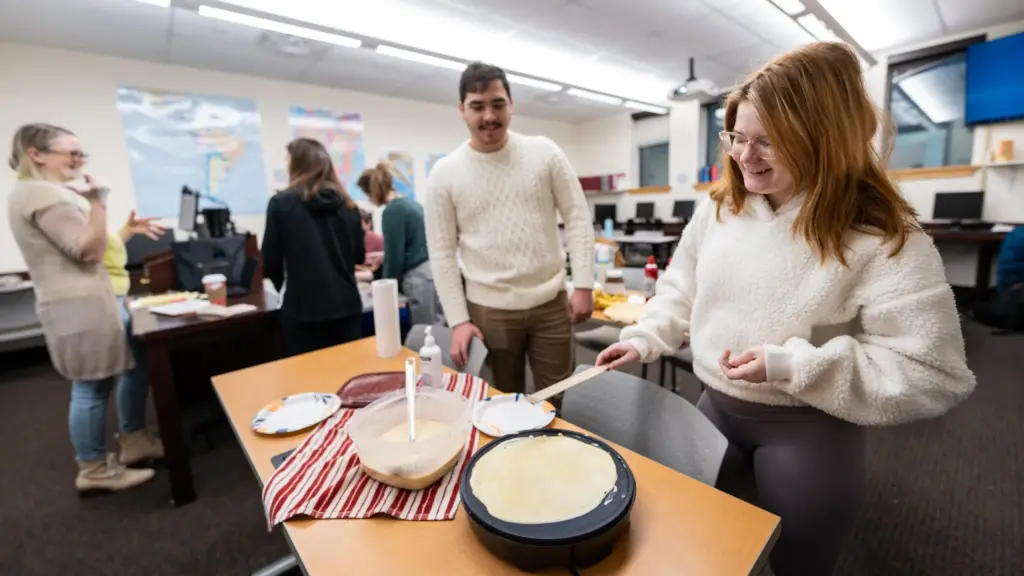 Degree Level

Undergraduate

Degrees Offered

Bachelor of Arts
Bachelor of Arts in French and Francophone Studies
The French and Francophone Studies Major is apart of the Majors Abroad Program (MAP), and has an interdisciplinary focus on politics, history, international relations, and French language and culture.
Continue your language study with a variety of course options in French.
Gain valuable experience from immersion in the life and culture of France.
Boost your resume with a professional internship experience abroad or community work.
Choose from three study abroad locations
Paris, France

Study at the CIEE Global Institute; or at the Université Sorbonne Nouvelle; or at the Université Paris Diderot. Enjoy all that France has to offer as you study in a city that has been home to some of the world's greatest leaders, thinkers, and artists. Improve your French through fascinating courses, excursions, and co-curricular activities that turn Paris into the most inspiring classroom on earth.

Frequent cultural excursions including visits to the Louvre
Weekend study tours of Bordeaux to explore the history of the slave trade and the culture of wine
Weekend excursions to Brittany to discover the musical heritage of this legendary region
Guided walks of the City of Lights
Internship and volunteer programs available.
Toulouse, France

Study at CIEE Toulouse in the historic district of the city, at Toulouse Business School, or at L'institut Catholique de Toulouse. Home to the European aerospace industry, Toulouse combines high-tech industry with the charm of the Old Quarter and its distinctive rose-tinted architecture.

Frequent cultural excursions include overnight study tours to Paris, Sete, or Marseille
Visits to the medieval city of Carcassonne
Hikes in the Pyrenees mountains
Visits to an organic farm, cheese tastings, music festivals, or professional rugby games
Internships and volunteer programs available.
Dakar, Senegal

Study in the Amitié neighborhood close to the Université Cheikh Anta Diop, the largest public university in Senegal.

Frequent cultural excursions include exploring Toubab Dialaw, a fishing village and artist's colony; the historic city of Saint-Louis
Weekend trips to the mangroves of Sine-Saloum or historic Gorée Island, the biggest coast center for slave trade from the 1400s to the 1800s; and sleeping under a Moorish tent and camel riding
Internships and volunteer programs available. 
What to expect
Intermediate level study in French language and Francophone cultures
Courses in French conversation, readings and topics in French, and French/Francophone cultures through cinema
Valuable experience from immersion in the life and culture of France and Francophone countries and regions
Careers for French Majors
With an understanding of French and Francophone cultures, our graduates have pursued careers in international business, art, fashion, design, education, and government.
Featured Courses
Intermediate French Language and Culture

Required Course

At the end of this course, you are expected to advance to an intermediate-high or advanced level by ACTFL standards. You will gain cultural knowledge through more advanced reading, listening, speaking and writing exercises. 
The Culture of French Business

Required Course

This course aims to develop language, vocabulary, and cultural knowledge in preparation for working in an international, French-speaking or bilingual environment using a communicative approach with frequent opportunities for speaking.
Contemporary France

Required Course

Familiarize yourself with all aspects of French political, sociological, technical, and artistic developments in France today.

We will compare the French electoral system, and the educational system with those of the United States. All facets of family and working life will be discussed, such as the social security and health care system, the help given to women with child care and expenses. The technical advances that France has achieved such as the TGV, the fast trains, the Airbus, and the communication system, will be studied in great detail. Cinema is an important art in France, we will cover the history of cinema and its status today in the world.
Francophone Culture and Civilization

Required Course

In this survey course, we explore the diversity of the French-speaking world, including the French Antilles, sub-Saharan and North Africa, and French-speaking Canada. We also examine the role played by French-speaking communities within the United States, analyzing the cultural, political, and societal values that these immigrant communities—both historical and more recent—have brought to this country.
Advanced French Through Cinema

Required Course

Through watching and critical analysis of films, you will improve listening, oral, and writing skills while getting a sense of some of the important features that are particular to French culture.