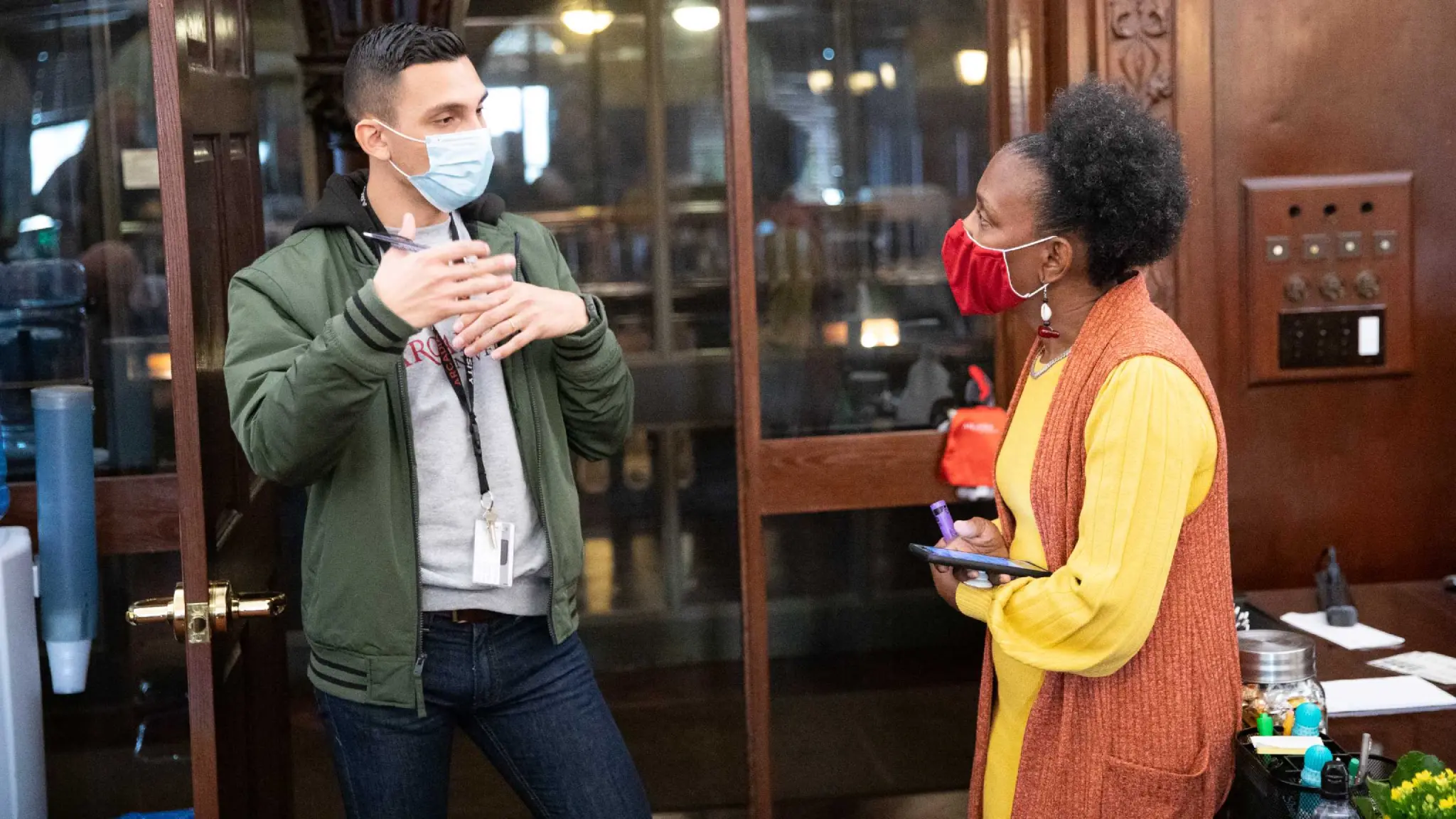 In June 2020, President Nair challenged Arcadia to make a Radical Change as a means to end systemic racism and become a reflection of the world in which we want to live. Prioritizing the experience of Black and other marginalized students, 41 Anti-Black Racism Initiatives (ABRI) were established.
Recognizing that diversity of perspective contributes to a rich, deep educational experience, it is essential that the Arcadia community is vigilant in ensuring that pedagogy, policies, and procedures are fair and equitable. In 2021, the Office of Access, Equity, Diversity, and Inclusion (AEDI) was established to provide leadership for creating an environment of equity and inclusion.
AEDI Liaisons help deliver these crucial changes in our community. Liaisons pay close attention to the pedagogical, programmatic, and practical CABR and Justice, Equity, Diversity, and Inclusion (JEDI) issues at the unit level. This team models Arcadia's lived values and Adaptive Strategy to achieve our efforts.
Expectations and Responsibilities
Commitment to the tenets of CABR, JEDI, and AEDI;
Willing to engage in continued self-reflection and personal growth;
Working with identified department/unit colleagues to establish a short list of priority AEDI goals;
Communicating progress of goals to unit/department and to the larger community;
Serving on the Bias Support Team;
Serving as advocates on campus-wide job search committees;
Engaging in bi-monthly meetings to discuss progress and challenges;
Integrating AEDI efforts across campus.
Liaisons will be identified and approved by the department chairs and supervisors will rotate bi-annually.
2023-25 Liaisons
Allyson M. McCreery, MA

Associate Director, International Peace and Conflict Resolution Program

Catherine M. Mattingly, M.A.

Director of Community Standards and Student Conduct

Dejenaba N. Gordon

Assistant Professor / Internship Coordinator

Holly R. Kirkpatrick

Assistant Vice President, Financial Aid

Shaliyah Braxton

Senior Associate Director, Undergraduate Admissions, Access, Equity, Diversity and Inclusion

Valerie A. Green

Associate Director of Digital Learning Services

Staci-Jo Palek

Assistant Director of Campus Life/Orientation

Jaisy Omollo

Assistant Director of Civic and Global Engagement

Evan T. Cohen

Associate Professor

Gail Lankford

Marketing Operations Coordinator

Dr. Michelle A. Reale

Professor, Library

Office Hours

By Appointment

Anthony A. Reyes

Academic Advisor & Gateway to Success Coordinator

Janet Sheffer

Associate Director, Employer Engagement

Latoya Ferguson

Undergraduate Financial Aid Counselor (Last Names H-P)

Jodi L. Bornstein

Associate Professor

Jullette Wilkins

Senior Administrative Assistant

Margo Maas

Associate Director of Young Alumni & Student Engagement

Kate Hanley

Administrative Director

Amy Henning, MEd

Director, Counseling Services & AOD Pgm.