Rocky Horror is Toucha Toucha Touching Hearts at Arcadia
Celebrating a cult classic film while also raising money for charity, Arcadia's annual shadow cast production of Rocky Horror Picture Show has become a beloved tradition. Aside from being fun and entertaining, the production has come to mean a lot to our student body.
For those who don't know, Rocky Horror Picture Show follows the story of the newly engaged Brad and Janet, as they stumble upon the castle and homestead of the eccentric Dr. Frank-N-Furter. What ensues is an hour and 38 minutes of truly indescribable madness.
So what makes this movie so special? According to student Benjamin Lashbrook, a long-term fan of Rocky Horror and theater arts, the impact of this film lays heavy on the queer community.
"Since the moment Rocky Horror was released, it has been a hit in the queer community," Lashrbook said. "It's over the top, it's camp, it's creative, and it's not afraid to be unique. This film radiates everything that the LGBTQ+ community stands for."
The director for this year's production is senior honors student Ilija Chacon-Flores. They have been a part of the production for the past three years and have walked away from each production with more love and passion for this project than before.
Chacon-Flores shares how this tradition dives deeper than the fun and glamor of the production.
"A really beautiful reason to continue the Rocky tradition is that it's an event that raises money for charity," Chacon-Flores said. "The charity that we've partnered with over the last two years has been The Attic. They focus on helping unhoused queer folk, which I believe would hit home for a lot of our student body."
Cast member JJ Demetrius agrees with this sentiment, noting the importance of finding community in the world and supporting members of your own community.
"Rocky Horror explores gender norms and expression with makeup and drag in a very similar way to how I have come to embrace my own queerness," Demetrius said. "I think that it's so important to see that and use the excitement and revenue that the show brings in to do good in our community."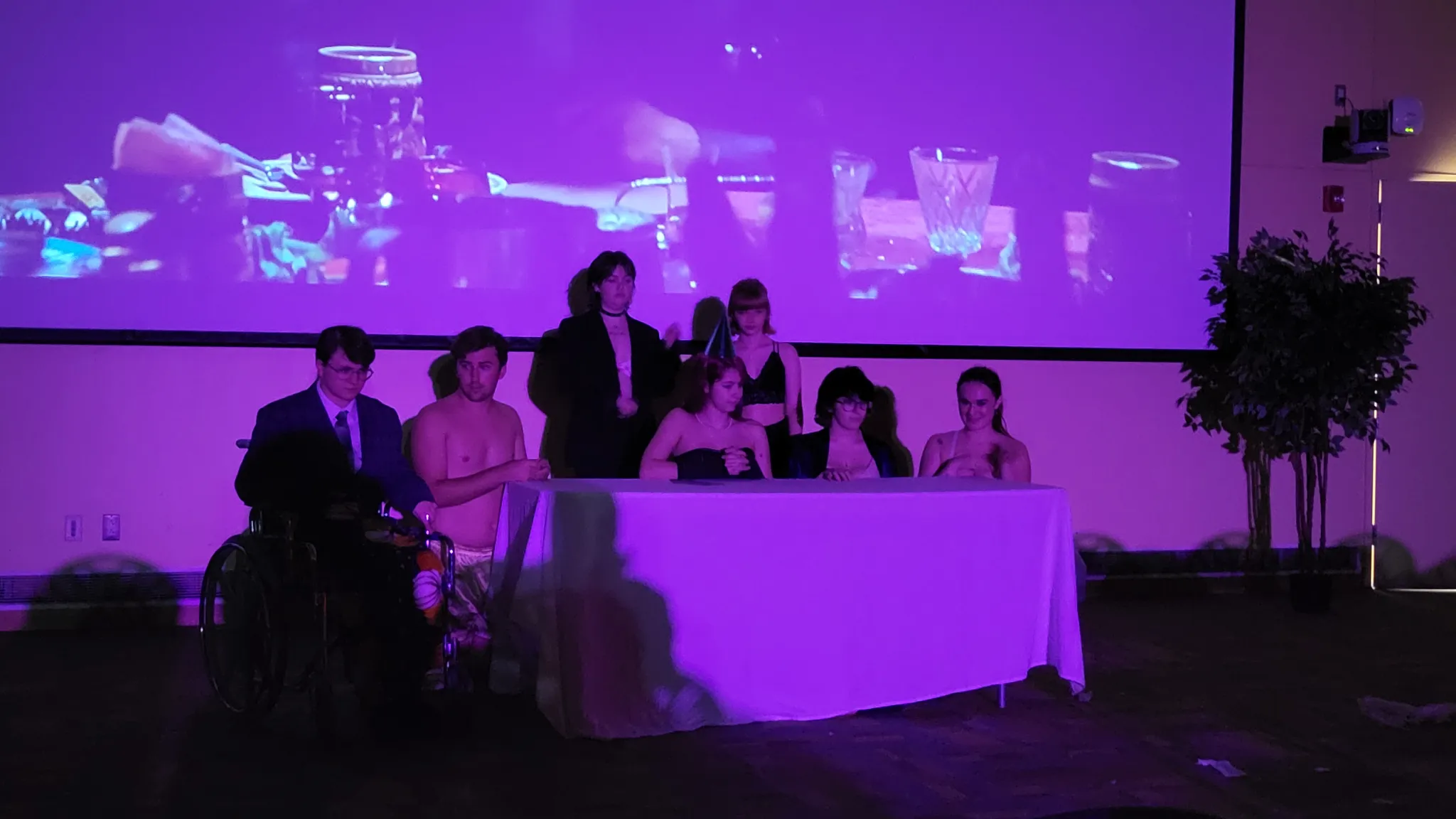 The passion behind this production is evident, as it flows from the cast to the crowd.
"I've come to see the show every year since my sophomore year and it's always been a great time," senior Miracle Ruiz said. "I hope to see this tradition continue for many years to come."
This was Regan Beaton's first time getting to experience the Rocky Horror shadow cast at Arcadia.
"It was crazy," Beaton said. "I've never been to or seen anything like this and I just loved every second of it."
If you haven't taken the time to attend one of these shows, I cannot recommend it enough. It's funny, exciting, visually intriguing, and overall a great time. As Chacon-Flores said, "It is a show you have to see during your time at Arcadia."