About the Program
The Gateway to Success Program provides access and academic support to all students in the program.
Summer Bridge
Our summer bridge program is structured to provide selected Gateway students with a "early start" to the rigors of the college experience.
"[Through Gateway], I learned a lot about myself and the things I needed to be organized and successful in college. Developing time management skills has been key, but also learning the importance of taking one day at a time."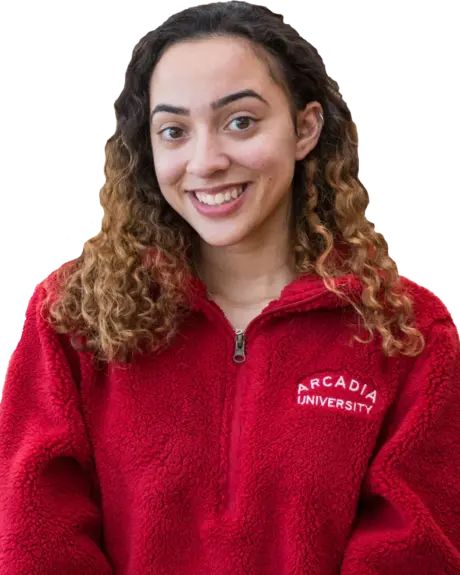 Admissions decisions to the University are on a rolling basis, with applications completed by February 15 receiving priority consideration. Applications completed after February 15 will be considered as program space allows.
If you're admitted to Arcadia University via the Gateway to Success program, you must submit an admissions deposit to reserve your place in the program by May 1. The deposit is $400. Students participating in the summer program will be asked to submit an additional deposit on $100. For more information, contact Admissions at admiss@arcadia.edu or 1-877-272-ARCADIA (1-877-272-2342).
Please find the updated Summer Bridge – Schedule and Requirements and Important Dates Here. In general, the program takes place during five weeks through the month of July. For specific dates, please contact your Admissions Counselor.
Steps To Success
Once you're admitted into Gateway, you will join a cohort of fellow first-year students, meet with your Gateway adviser each semester to discuss your academic progress and goals, engage in academic workshops hosted by Gateway staff, and connect with campus resources (including career education, tutoring, and student affairs).
Objectives First Year and Beyond
Pre-First Year: Summer Bridge
First Year: Transition, Major/Career
Second Year: Major/Career, Study Abroad
Third Year: Internships, Leadership
Fourth Year: Post-graduation Plans
Alumni: Mentoring, Networking
As a Gateway student, you are expected to set goals, use the resources provided, and work independently to make good academic decisions.
Gateway FAQs
What is Gateway?

The Arcadia University Gateway to Success prepares students for collegiate-level academic work, emphasizes academic achievement, and provides personal attention and resources to help students achieve their goals. Known on campus as "Gateway" for short, our program guides students toward greater academic growth in college.

Recruited through the Enrollment Management office, the Gateway to Success staff actively participate in the selection of qualified students. Admission to the program consists of three pathways: Required attendance of the Summer Bridge program, recommended attendance of Summer Bridge, or beginning the Gateway Program in the Fall.

Throughout their tenure, students are part of a cohort, enrolled in an academic skills course, receive academic advising, connect with an upper class student, and have early access to college-level classes in the summer bridge program. Both the Summer Bridge and semester components are structured to provide academic support, designed to facilitate the academic success of Gateway students as they seek to attain their educational goals.

Please Note: The Gateway Program is different than the REAL Certificate Program (for students with intellectual disabilities), please go to arcadia.edu/real or contact Simon Mohr at 215-572-4095 to get more information about the REAL program.
Can any student apply or join Gateway to Success?

Students that enter Gateway are selected by Arcadia Enrollment Management officials. If you want to be considered and you meet the criteria, your application will then be reviewed for consideration. View Admission to Gateway info above for more information.
Summer Bridge FAQs
How long does the summer program last?

The Gateway to Success  Summer Bridge is a five-week summer residential program that typically spans the month of July through the first week of August.
Can I have a summer job while attending the program?

The Gateway Summer Bridge program is extremely rigorous.  Having a summer job while committing to Gateway would be very challenging. We do not recommend working while you are here with us during the summer. Your job as a Gateway student is to be able to focus on classes, workload, and achievement. Gateway takes up a large amount of time during the week and some weekends. You will be enrolled in summer classes that move faster than your classes will in the fall and spring, and your workload is larger. Therefore, we think it is difficult to concentrate and excel at both. You will have plenty of time to work during the fall and spring semesters, so don't worry!
Are students able to bring a car during the Gateway summer session?

Students are not able to have a car during the summer program similar to the University's policy, that states "First-year resident students are not permitted to have a vehicle on campus for any period of time without written permission from the Department of Public Safety,".  There is no need for a car on campus.  Students are on campus and  transportation is provided for any off-campus activities. 
Are there events or activities on campus during the summer for Gateway students?

Yes, activities are available for students each weekend and are hosted by Gateway staff.  The mandatory weekend is filled with team building and solving problem fun activities.  The other weekend activities vary from trips to Philadelphia, amusement parks, bowling, movie nights and others.  Weekday workshops are available as well. 
If I am offered a chance to attend the Gateway summer program but choose not to attend, am I able to still attend Arcadia in the fall?

If you are recommended to attend the Gateway Summer Bridge and you choose not to, yes, you can still attend Arcadia University, join us in the Fall and will still be considered a part of the program. However, if you are required to attend Summer Bridge and choose not to, you will not be able to attend Arcadia University in the fall.
How many students attend the Gateway program in a summer?

The amount varies annually, but we average about 20-25 students per summer.  
Are students able to request roommates or adjust living accommodations?

Students are assigned rooms in summer.  Each student completes a roommate questionnaire form and rooms are assigned by program staff prior to the summer session. 
What if I am homesick? Will I have the option to leave?

Multiple events are happening day and night for Gateway students, so there is little time to feel homesick in a schedule full of opportunities to interact with other students, have fun, try new things, adjust to your independence, and adapt to your college experience. Yet, there are some weekends when students have the option to either stay or go home. Gateway students are also allowed to have visitors, so if you do get homesick, your loved ones can visit!
If I became a member of the Gateway program, will I only have support during the summer?

No, once you become a Gateway student, you will always have Gateway! You will continue to have access to a professional academic adviser.
Academics, Courses, and Credits FAQs
Will I receive credits? How many, and will they transfer to the following semester?

During your Gateway summer session, you will take a total of 3 courses.  An English course titled: Writing for the Academic Conversation worth 4 credits; a one credit, Learning Strategies course and a 4 credit elective course.  All credits transfer in and count toward graduation.  The elective course also fulfills one of the Arcadia Undergraduate Curriculum.  As a first year student in the fall, you will begin with eight semester credits and the GPA earned during your Gateway summer session. Course information will be provided once you are selected and begin your process into Gateway. 
If I attended the summer session will I be able to pick my classes and courses for the fall and/or spring semester?

Your first fall semester classes will be chosen for you, to help with the transition into your first semester. Once the spring semester arrives, you will be able to pick the classes of your choice! Remember, if you ever need help, advisers are here to assist!
What academic resources will I have access to on campus? Will advisors be available for students?

There are many resources on campus for students. The Learning Resource Network is open to helping students study, edit, produce, and or write papers, and peer tutors are available, too.  At Gateway we make sure our students know about sessions offered to learn about even more resources on campus.  Advisers are open to helping students as well. All you have to do is reach out to them via email or phone or by scheduling an office visit. Student Health Services and Counseling Services are not available in the summer, but there are local resources such as Abington Hospital, should a student need to seek care.
Am I able to declare my major for the fall semester if I enter GW?

As a Gateway student, you are required to enter your first summer session and first academic year as an undeclared student. You will be advised by program staff during this time. You will be able to declare a major during your first spring semester at Arcadia.  Each student is enrolled in the introductory course of their intended major in the fall and spring.
Tuition, Fees, and Expenses FAQs
What is the cost of the summer program?

There is an estimated fee of $3,000, which includes housing, meals, activities, and transportation. The exact amount paid out-of-pocket varies from student to student because it is determined by each individual's financial status according to the Free Application for Federal Student Aid (FAFSA). If a student is eligible for the Act 101 program, the fees for the summer program may be waived. Please contact us for more information or questions about Act 101. 
Will I need additional pocket money?

You may want to bring money just in case you would like to do some additional things, like order food, go to the movies, and buy some shirts from the bookstore. Yet, it is up to you to use your judgment. While you are here, all of your necessities are covered.