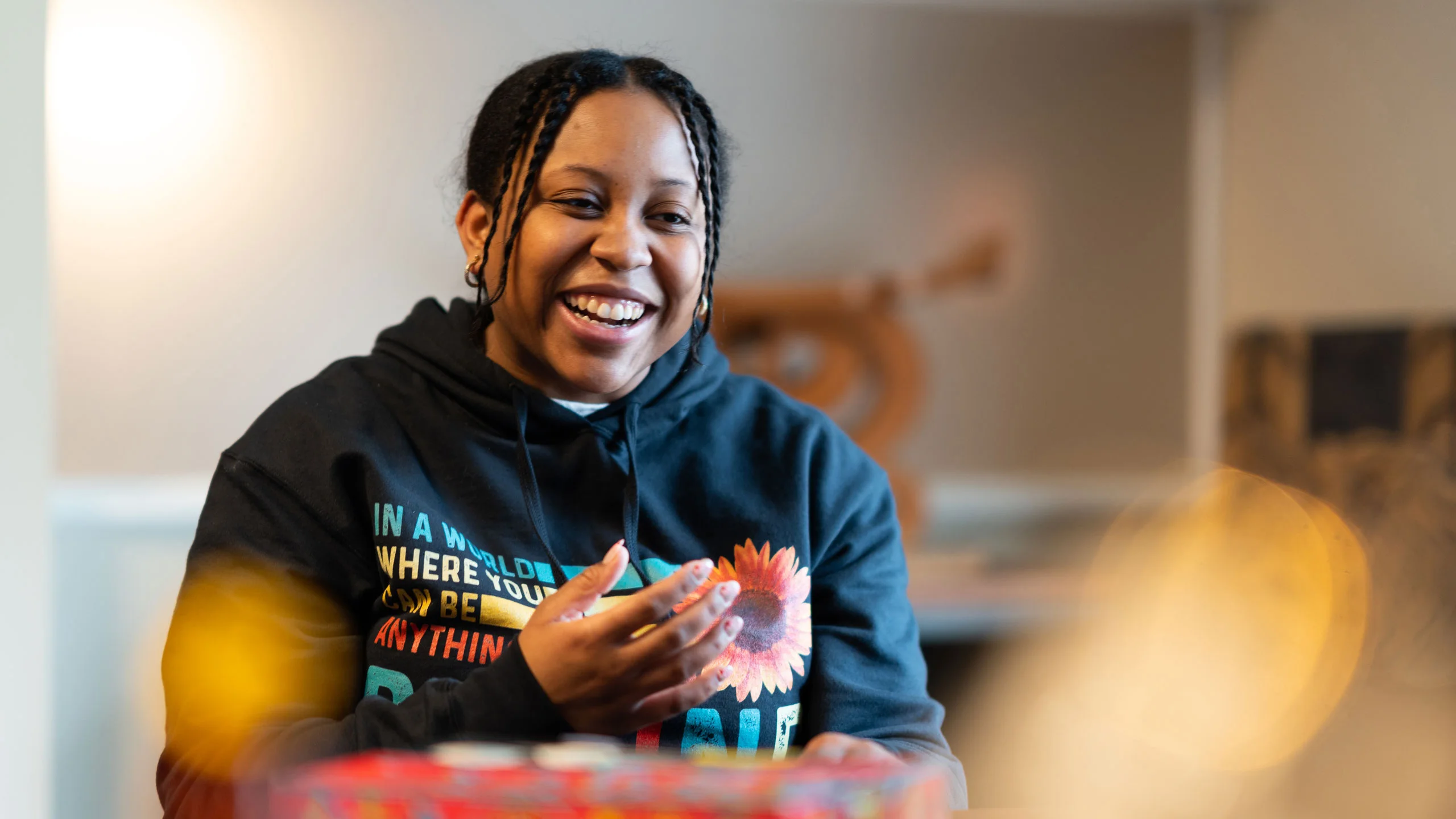 CASAA Symposia
The Center for Antiracist Scholarship, Advocacy, and Action (CASAA), in its effort to increase awareness and engagement with the projects advanced by our CASAA Scholar-Advocates and CASAA Microgrants programs, organizes an annual symposium open to the Arcadia community and general public. These presentations examine issue of race, racism, and social justice in the modern world.
CASAA Lenape Cultural Heritage Symposium (10-12-23)
CASAA Antiracism and Social Justice Symposium (04-10-23 to 04-11-23)
CASAA Conversations Series
The CASAA Conversations Series features moderated discussions on current events related to race and racism in the modern world. The goal is to stimulate critical conversation, elevating the voices of community members, faculty, and students interested in a deeper understanding of these issues and their everyday ramifications. Facilitators include University faculty, staff, and students with guest speakers often invited to participate.
Contributions and Challenges of the Mexican Community (04-18-23)
Racial Inequities in the Democratic Process (11-01-22)

In their 2021 article for the Brennan Center for Justice, Julia Kirschenbaum and Michael Li note that gerrymandering is a tradition that "has been a thorn in the side of democracy for centuries, and with the new round of redistricting it's a bigger threat than ever." Gerrymandering, after all, is a racialized practice, especially in the southern United States, where "[r]esidential segregation and racially polarized voting patterns'' are prominent, thus making gerrymandering a highly "effective tool for creating advantages for the party that controls redistricting." In Florida, for instance, Gov. Ron DeSantis signed into law a new congressional map in April 2022 that not only provided advantages to Republican politicians but also actively dismantled a seat held by a Black Democrat. The redistricting there yielded lawsuits from key voting rights organizations that are concerned about the disenfranchisement of votes of color and other impediments placed to potentially suppress BIPOC voting rights.

Gerrymandering, however, is only one tradition that speaks to the racial inequities that exist in the democratic process today. Limitations to where and when citizens can vote, voter ID laws, and more all serve as forms of vote suppression, according to voting rights advocates across the United States. The Center for Antiracist Scholarship, Advocacy, and Action (CASAA) teamed up with Civic & Global Engagement here at Arcadia to facilitate a conversation on these very issues in the second CASAA Conversations event of the 2022-23 academic year. Titled "Racial Inequities in the Democratic Process," this panel discussion featured scholars and political leaders including Dr. Amy Widestrom (the Department of Historical and Political Studies), Rep. Napoleon Nelson (a PA state representative), Angelique Hinton (Executive Director of PA Youth Vote and President of the Greater Norristown NAACP), and Charles Day (a representative from Fair Districts PA). The panelists engaged the community in dialogue about racial inequities that plague U.S. democracy today as well as those that impacted our society in the past with the goal of increasing our understanding of these sociopolitical obstacles and potential ways that we can get involved toward change.
Access to Reproductive Healthcare for BIPOC Birthing People after Dobbs (09-30-22)

In 1973 with the landmark decision in Roe v. Wade, the U.S. Supreme Court ruled that there was a constitutional right for pregnant people in the nation to receive an abortion. However, on June 24, 2022, in Dobbs v. Jackson Women's Health Organization, the U.S. Supreme Court ruled to overturn that federal right, thus giving states the power to determine their own regulations. Abortion restrictions are now working their way through the legislative process in sites around the United States. This is of particular concern for BIPOC women and birthing people who often have lesser access to contraceptives and face higher risks of maternal mortality, for the decision in Dobbs may have significant impacts on their access to reproductive healthcare. In "Access to Reproductive Healthcare for BIPOC Birthing People after Dobbs," facilitators Ana Maria Garcia (Sociology, Anthropology, and Criminal Justice), Dejenaba Gordon (Public Health), and Comfort Olorunsaiye (Public Health) led the community in discussion about the implications of Dobbs and its potential impact for BIPOC communities, in the process promoting active dialogue and collaborative inquiry on a topic that could affect people nationwide for generationst to come.
CASAA Co-Sponsored Events
In the spirit of building community, the second core goal of the Center, we collaborate with community and institutional partners to offer innovative and timely programming at the University connected to topics of justice, equity, diversity, and inclusion and ongoing efforts to combat the systems of racism worldwide.
Meaningless Citizenship: Iraqi Refugees and the Welfare State (04-20-23)
Screening Out: HIV Testing and the Canadian Immigration Experience (04-17-23)
The African-American Read-In 2023: Elevating Black Women's Voices (02-01-23)
The Color of Care: The Unfreedom of Race-Based Healthcare Discrepancies (10-27-22)
Localization, Decolonization, and the Future of Global Humanitarian Action (10-12-22)
Water Speaks Concert (09-16-2022)
CASAA Creative Scholarship Series
Following the Boyer model, CASAA promotes several kinds of scholarship centered on the issues in our mission. This includes creative scholarship and arts-based inquiry, both invaluable in shaping how we think about complicated issues related to race. This speakers series seeks to elevate the voices of artists, musicians, and writers on and off campus.
Resist is a Womanist Word: A Tribute to Sonia Sanchez (04-29-22)
Elevating the Voices of the Displaced (02-25-22)
CASAA Race Matters Forum
The CASAA Race Matters Forum offers a vital space on the Arcadia University campus for faculty, staff, and administration to engage in dialogue about ongoing research on race, racism, and social justice as well as interrelated issues in higher education. Presenters include University faculty and staff as well as guest speakers with expertise on historic and contemporary issues of race across the globe.
Searching for Chloe: Plantation Ghost Tourism and the Whitewashing of the American South (10-26-23)

In our first Race Matters Forum of the academic year, Drs. Kevin Revier and Favian Martín will present their research, "Searching for Chloe: Plantation Ghost Tourism and the Whitewashing of the American South." In this project, supported by an AY22-23 CASAA Microgrant, they note that ghost tours have become a popular source of entertainment in the United States. In tours, participants are guided through various haunted sites including old houses, prisons, churches, battlefields, mental asylums, and even slave plantations. Take the Myrtles Plantation, considered "one of the most haunted homes located in Louisiana," as an example. On the plantation, an enslaved black woman, Chloe, is said to have killed the plantation overseer's family to protect her placement within the home; it is said that she and the overseer's family haunt the plantation today. Tourists can now spend the night in the House's Chambers or the Caretaker's Quarters (Slave's Quarters) to await ghostly encounters.

Drawing on ghost criminology, Revier and Martin will explore how the Myrtles Plantation tours, both in-person and on their website (which includes Bed & Breakfast menus, reviews, a newsletter, blogs, and numerous images), produce a haunting depiction of slavery, space, and race. Indeed, the website offers a digital vista for a wide audience, with images of food, decorum, and lush Southern greenery. They find that on the website, slavery is rendered invisible while plantation landscape and Southern living are romanticized. The haunting qualities of the landscape, culminating from past slavery, are therefore plotted into a manageable, marketable, and thrilling ghost story. Join us for this highly anticipated event.
Master's Research Challenges & Successes: Black Graduate Students' Experiences of Anti-Blackness (05-05-23)
Decolonizing the Curriculum: A South African Perspective (04-20-23)
JLE Academy: The History and Global Impact of Hip-Hop Culture (03-03-23)

For Stephen Tyson Jr., experiences as an after-school coordinator and summer camp counselor provided critical insight into "how creative outlets [and cultural expression] helped many of our students learn more effectively," increasing their engagement inside and outside the classroom. Therefore, he believes, being very intentional in fostering those connections can transform the learning experience educators provide, especially for students from marginalized communities. JLE Academy emerged from this need. Specifically, JLE Academy examines the history, diversity, and complexity of hip-hop culture and its role in social justice efforts around the world. In this CASAA Race Matters Forum, Tyson--an adjunct professor in the First-Year Seminars Program and Program Director of City Year Philadelphia--used the four primary elements of hip-hop culture (rap, DJ, graffiti, and breaking) to discuss the impact of hip-hop in our global society through mass media, including music, journalism, television, and film. To access the recording of this forum, visit https://www.youtube.com/watch?v=WJZ8kyVJJa0.
Antiracist Immigration Law and Advocacy (02-24-23)

Over the last fifty years, governments in the Global North (the U.S., the UK, the EU, Australia, and Israel, among others) have engaged in a loosely coordinated effort to create far-reaching and extraordinarily brutal immigration enforcement regimes manifested in border walls, prolonged detention, interdiction-at-sea, and biometric surveillance. Policymakers initiated these regimes in direct response to increases in transnational movement out of countries in Latin America, the Caribbean, Africa, and the Middle East, which began in the 1970s. Today, these regimes overwhelmingly and disproportionately affect BIPOC migrants, refugees, and asylum-seekers from these regions; and it is consistently Black and Indigenous people who suffer the most within these regimes, even in comparison to other highly racialized groups. As such, these regimes are part of and dramatically advance the legal (re)production of white supremacy.

In this CASAA Race Matters Forum, Dr. Hilary Parsons Dick--Associate Professor of International Studies in the Department of Historical and Political Studies--discussed a curriculum she created that has two core aims. First is to provide students a critical understanding of the relationship between white supremacy and U.S. immigration law in a global perspective. Second is working with students to cultivate an antiracist practice of the law that resists the racialization of displaced peoples. This curriculum is the basis of an Arcadia Student Legal Clinic for Humanitarian Relief through which students receive credit-bearing training to intern with local immigration attorneys and legal services organizations that focus on asylum, temporary protective status, and other forms of humanitarian relief. To access the recording of this forum, visit https://www.youtube.com/watch?v=NIJe_zycr3s.
Anti-Bias/Anti-Racism Training for NGOs (12-08-22)

In "Anti-Bias/Anti-Racism Training for NGOs," Rachel Kuria, Tyanna Taylor, and Samuel Wragg III of the prestigious International Peace and Conflict Resolution Graduate Program (IPCR) discussed their research and project plans supported by an AY21-22 CASAA Microgrant. The workshop under design by Kuria, Taylor, and Wragg III strives to address the "implicit biases and racism within non-profit, for-profit, and non-governmental organizations whose goals are to provide education to others or engage in efforts to positively impact marginalized communities from local to international levels." As they acknowledge in their proposal CASAA Microgrants Program, "This is an important, valuable opportunity to offer organizations because it will make sure when they implement their educational sessions or programs, [those with or for whom they are working will all] receive the same knowledge and be able to digest it equally despite individuals' cultural background, ethnicity, or upbringing….We are looking to develop this program to encourage teams to confront their implicit biases in order to build better organizations and greatly improve the impact of their work." Supported by Dr. Warren Haffar and Prof. Allyson McCreery of IPCR, the project "was originally conceived after the graduate students participated in a training with an NGO partner whose actions revealed implicit biases." The result of this project will be a workshop that takes important steps toward the dismantling of systemic racism and oppression in organizations around the world.

This event was co-sponsored by the Center for Antiracist Scholarship, Advocacy, and Action (CASAA) and the International Peace and Conflict Resolution Graduate Program (IPCR).
Ghostly Images of Racism: Exploring Dark Tourism through the Lens of Ghost Criminology (10-27-22)

In his book, Lies Across America: What Our Historic Sites Get Wrong, Sociologist James W. Loewen suggests, "[W]hat a community erects on its historical landscape not only sums up its view of the past but also influences its possible futures." More recently, we have seen the dismantling of pro-southern memorials and relics take place in cities such as New Orleans, Baltimore, Richmond, and Charlottesville. Indeed, it appears that the American public is recognizing the historical legacy of slavery and the Civil War. Despite these realities, dark tourism, more specifically ghost tours of Civil War battlefields, may be whitewashing American history in the retelling of ghost stories and folktales. To that end, these tours may be reinforcing the romanticism of the Civil War and diminish the impact of slavery among Blacks. This research seeks to answer, "To what extent, if any, do ghost tours acknowledge the role of slavery and racism?"

In this CASAA Race Matters Forum, "Ghostly Images of Racism: Exploring Dark Tourism through the Lens of Ghost Criminology," Dr. Favian Alejandro Martin and Dr. Kevin Revier of the Department of Sociology, Anthropology, and Criminal Justice present their research supported by an AY21-22 CASAA Microgrant. As part of this project, Revier and Martín traveled to Gettysburg, where the bloodiest battle of the Civil War occurred, and they toured the battlefield, haunted houses, and a haunted museum. They found that ghost tours reinforce common historical narratives about the Civil War. These include a reconciliation narrative, where Unionists and Confederates were able to come together and make amends, thus offering larger Confederate sympathies. They also saw the Lost Cause narrative, which positions the South in a positive light. In tours, guides recounted the ghostly sprawls of Confederate soldiers still haunting the land, representing the haunting and very manifest reality of white supremacy not wholly extinguished with the abolition of slavery. The haunting, they argue, reflects ongoing tensions between Union and Confederate brands of American capitalism and white supremacy.
Defining Our Terminology: Antiracism, Abolition, Reform, and JEDI (09-16-22)

Ashley Lipscomb, MT, MDiv, from the Institute for Anti-Racist Education once declared that "abolition is not DEI," highlighting the need to better define the critical concepts that we engage as antiracist scholars and advocates in the modern world. After all, antiracism, abolition, reform, and JEDI hold different yet intersecting meanings, and it is important to clarify these concepts as we work collectively to envision pathways for achieving racial equity and justice. To facilitate this conversation, the Center for Antiracist Scholarship, Advocacy, and Action (CASAA) at Arcadia University offered its first Race Matters Forum for the Fall 2022 semester, continuing a tradition of scholarly discourse on issues of race and social justice started at the University by the Faculty Senate Work & Welfare Committee. Together, Dr. Hilary Parsons Dick, Dr. Favian Martín, Dr. Michelle Messina Reale, Dr. Graciela Slesaransky-Poe, and Dr. Christopher Allen Varlack lead the community in this discussion, calling attention to the values, the philosophies, and the contexts surrounding these concepts.
CASAA Research Design Workshops
At CASAA, we are dedicated to providing opportunities for members of the Arcadia University community to understand diverse approaches to antiracist scholarship and advocacy. These research design workshops, led by members of the community and beyond, will introduce key terminology, theoretical approaches, and skills while affording participants opportunities to apply that thinking to their own research.
Reckoning with Race: Autoethnography and Poetic Inquiry as Strategies for Change (04-06-23 and 04-13-23)

Organized and facilitated by Dr. Michelle Reale, this workshop, aptly titled "Reckoning with Race: Using Autoethnography and Poetic Inquiry as Strategies for Transformational Change," was a two-part workshop using methodologies that push traditional boundaries. Selected participants learned the fundamentals of two arts-based methodological approaches, specifically autoethnography and poetic inquiry, to begin a personal exploration of race that can connect with the larger societal implications and concerns. According to Hernandez, et al., in Transformative Autoethnography for Practitioners (2022), "[I]nterrogation of self is not simplistic. Rather as complex beings, we all exist in intricate webs of relationships situated in varied social contexts. Hence, the exploration of the self involves the study of the intersecting and combinational implications of inquirers' experiential, relational, and contextual data."

The first workshop consisted of a primer in both methodologies with exemplars, definitions, writing exercises, and discussion since all transformative methods are based upon a dialogic imperative. The second workshop consisted of working with partners and in the larger group to self-assess one's work, to bear witness to the work of others, to contextualize the work within a larger framework, and to discuss how to maintain and apply these methods going forward. Prerequisites were an authentic desire to understand the self and one's historical culture through the lens of racial injustice and the desire for transformational change that will start with the self and move outward.
CASAA Working Group Events
The Center for Antiracist Scholarship, Advocacy, and Action (CASAA) houses the Latinx Working Group and the Indigenous Working Group to facilitate the development of diverse curricula, programming, and resources while building community around common interests/experiences. Each working group co-sponsors events throughout the year related to their central work.
Lenape Nation Group Drumming Circle (04-12-23)
Lenape Story and Science: Food Justice, Dietary Health, and Planting (04-04-23)