Equestrian Team Members Earn Regional, National Recognition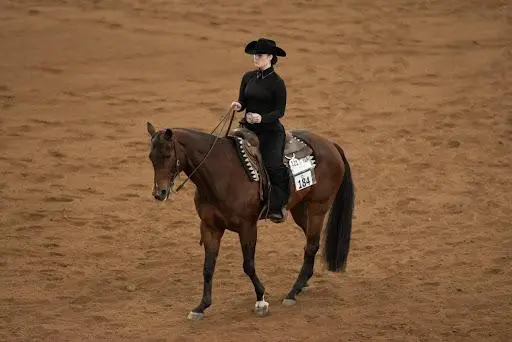 Members of the Arcadia University Equestrian Team recently garnered regional and national honors, competing against the top riders in their divisions. 
The equestrian team is a club sport that competes in shows hosted by the Intercollegiate Horse Show Association (IHSA). The University has both a hunt seat and a Western team. Riders at all levels are welcome and are placed in divisions according to their skills. Riders on each team compete five to 10 times during the regular season against local schools such as Delaware Valley, Westchester, Rowan, Rider, and Millersville universities, and Penn State Berks. The format includes competing on horses the riders have never before ridden.
Mychajla Motuz '24, a Biology major, and Sydney Doll '23, a Business Administration major, earned honorable mentions in their classes at the National Championship, held May 5-8 in Harrisburg, Pa.
Motuz was also named the recipient of the Jon Conyers Memorial Scholarship. Available annually to an undergraduate member of the IHSA competing in the lower-level divisions, the award goes to a nominee who displays a passion for horses and a desire to better himself or herself on and off of the horse. Motuz, who was nominated by hunt seat coach Emily Miller, will receive a $1,000 scholarship from the Intercollegiate Equestrian Foundation.
Tessa Wrice '22, an international business major, was selected as one of two Nationals photography and video interns–a highly sought-after position. The internships go to riders whose work will best showcase the IHSA and its equestrian competition, sportsmanship, and values. Wrice has been doing photography for nearly six years, both for personal/artistic and paid gigs.
"This was a big year for them in a lot of ways," says Miller of the students, adding that there was no season last year due to COVID. "Both of the riders who made it to Nationals were able to keep working and riding last year, and put in a ton of time and energy. They're talented, and both are a pleasure to teach… To make it this far is historic for the Arcadia program."
The national competition represented the pinnacle of the students' competitive seasons–and a great deal of effort.
Riders collect points during the season, and when they accumulate 36 points they qualify for Regionals. Aubrey Lehman '22, a Healthcare Administration major, placed third in Novice Hunter Seat Equitation at Hunt Seat Regionals. Motuz was Regional Champion in Introductory Hunt Seat Equitation, and Doll was Reserve Regional Champion in the same division. Doll also was the Regional Champion in Beginner Western Horsemanship, and Wrice qualified for Western Regionals in Rookie B Western Horsemanship.
The regional hunt seat wins progressed Motuz and Doll to the Zones competition, held in April at Centenary University in Hackettstown, N.J. Motuz was the hunt seat Zone Reserve Champion, which progressed her to Nationals, and Doll placed third in her class. Doll was also the Zone champion in her division for Western, sending her to Nationals as well.
Arcadia's equestrian team is relatively small but competes against large and highly ranked teams that host equestrian programs. Arcadia students ride at Red Wing Farm in Hilltown, Pa. The Western team is coached by Megan Conley '16.