Theater Students Host Special Guest Before Debut of "The Laramie Project"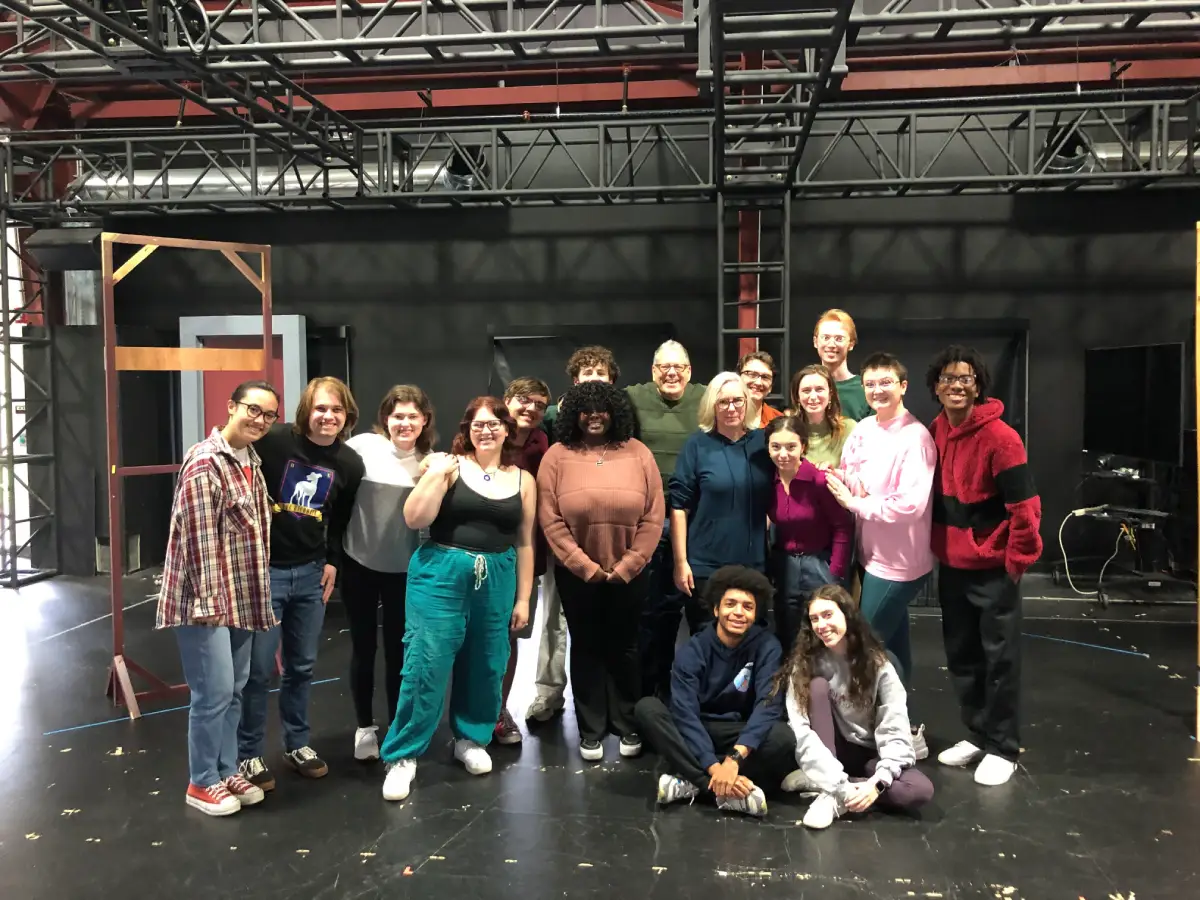 The Arcadia University Theater Arts program will open "The Laramie Project" on Thursday, Nov. 16, in the Little Theater at Spruance Art Center.
In preparation for the opening, students got a surprise from one of the creators and original cast members of the show: Barbara Pitts.
Pitts, a member of the Tectonic Theater Project and motivational speaker, visited campus on Nov. 4 and gave students tips on how to best produce and perform the show.
"We had no idea she was coming, and everyone freaked out," said Julia Sharkey '24, a Theater Arts major. "She was so cool, and it was amazing to be in the presence of someone who wrote the show."
"The Laramie Project" depicts the aftermath of the 1998 death of Matthew Shepard, who was severely beaten and ultimately died in the town of Laramie, Wyoming, because he was gay.
Moisés Kaufman and fellow members of the Tectonic Theater Project, including Pitts, made six trips to Laramie over the course of a year and a half, in the aftermath of the beating and during the trial of the two young men accused of killing Shepard.
They conducted more than 200 interviews with the people of the town. Some were directly connected to the case, while others were citizens of Laramie. The play is a recreation and reciting of these interviews and the creators' own experiences in Laramie.
Pitts told students that this production is different from many others. Instead of a traditional breakdown of scenes, the show relies more on 'moments.'
"The most important advice she gave us is that the show doesn't end once every scene stops," said Sharkey, who is playing eight different roles on stage throughout the show. "This is not a standard play, the moments are very short and roll into each other. Just because one moment ends, doesn't mean you start over."
Rosa Nardo '24, a Theater Arts major, will be performing on stage for the first time in the Arcadia program. Previously, she worked on costumes and other important projects behind the scenes. Now, she will be center stage.
Like other actors in the production, Nardo will be playing several roles including a university professor, doctor, and prosecuting attorney.
"It's an honor to be a part of this play," Nardo said. "As soon as I saw 'The Laramie Project' was going to be part of our season, I jumped out of my body. The play is so important and crucial to how we look at the world. Just getting to work with this and the characters has just been very delightful."
Nardo and Sharkey added that the whole company has been working night and day to make sure they put on the best show possible and honor the memory of Matthew Shepard.
"We were in the theater from 11 a.m. to 11 p.m. on Saturday and Sunday…This week has just been extremely busy," Nardo said. "We've been going through all the cues and the sound cues and all that. It's tedious, but it's really fun because of the people we are working with."
"This has been a very difficult process compared to other productions we have done," Sharkey said. "It's completely different from 'The Wolves,' which we did last. 'The Wolves' was physically intense, but the lines weren't as hard because it was modern speech. For Laramie, the accent and lines are very challenging."
"It's an honor to do this show, especially because it's the 25th anniversary of Matthew Shepherd's death," she added. "We had rehearsal on the day he passed so he's been very much with us and we've tried our best to keep his spirit alive."
The Laramie Project opens this Thursday November, 16th and runs through Sunday November, 19th at the Spruance Little Theatre. Buy Tickets Here