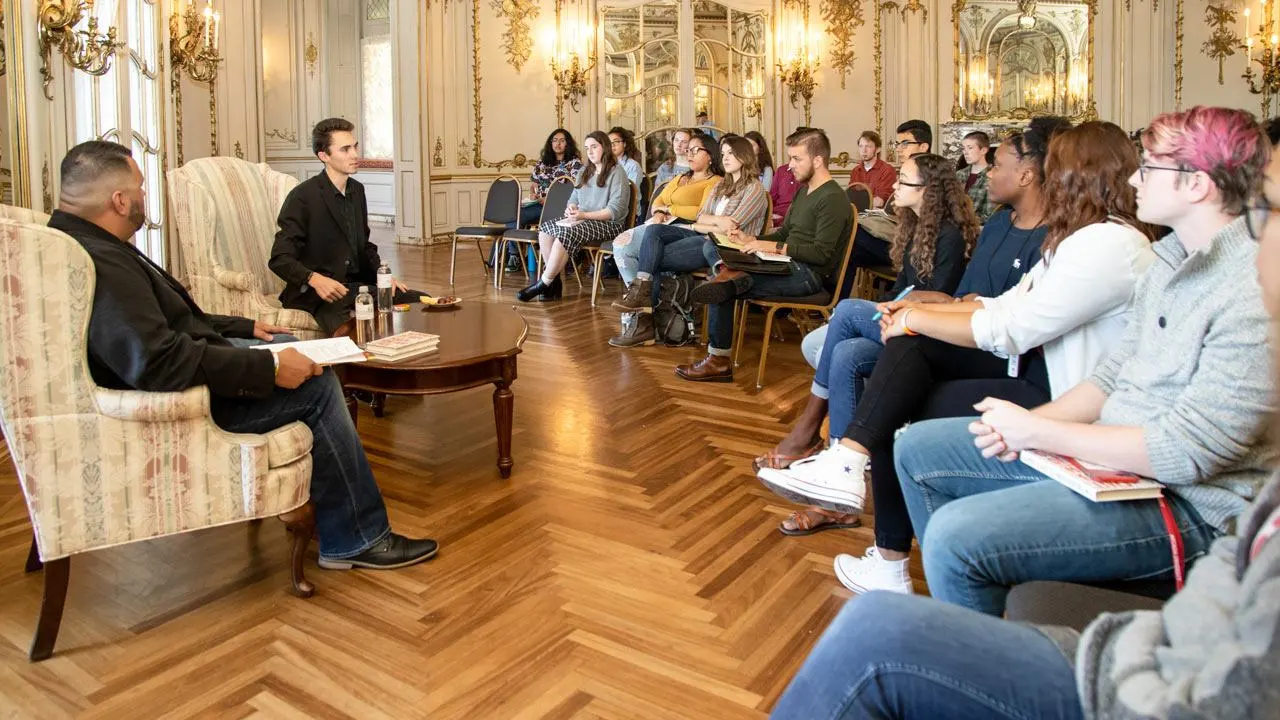 Arcadia University's Office of Conference and Event Services provides year-round reservation services for the amenities and facilities of our 76-acre campus. Located in Glenside, PA, 12 miles north of Center City Philadelphia, Arcadia offers an unparalleled landscape to rent for corporations, communities, organizations, locations, and special events. Home to the Grey Towers Castle, a registered National Historic Landmark, Arcadia's grounds will leave a lasting impression on your guests.
Picturesque Spaces and Locations to Host Events
Historic Landmark
This National Historic Landmark was modeled after the Alnwick Castle. It dates back over 120 years and provides a beautiful setting for any event.
Regional Area
Arcadia University's beautiful and vibrant campus in Glenside is nestled in the Philadelphia suburbs, minutes from Center City Philadelphia and King of Prussia, Pa.
Accessible Space
Conference and Event Services will help with space rentals that would best accommodate accessibility needs.
Reserve Space at Arcadia University
Conferences & Business Meetings

Arcadia University can accommodate your professional conference or business meeting. Think about escaping the city to get your team's brainpower recharged and spark a renewed energy. Hold large sessions and small breakout sessions. Use both indoor and outdoor spaces depending on the activity.

Amenities at Arcadia University campus

Conveniently located 12 miles from Center City Philadelphia
Blocks from the Glenside Train Station - a direct line to the Philadelphia International Airport and 30th Street Station
Dedicated parking
Arcadia will help you with space rentals that would best accommodate accessibility needs
Audio / Visual options to suit your needs
Metz Catering offers a wide variety of menu options
Dine-in at our main dining facility, or have them serve you at your meeting location
Other recommended caterers available or use your favorite vendor

Top campus spaces for conferences and meetings

Great Room - Larger meeting space for up to 400 people with various layout options such as banquet, classroom, boardroom, or theater-style
Smaller Meeting Rooms - 10-60 people in either lecture or board room style configurations
Classrooms - 15-60 people in either lecture style, table, or desk configurations
Stiteler Auditorium seats up to 380
Amphitheaters seat up to 90
Outdoor Space - Our campus is beautiful in any season. We have many locations on campus for team-building activities, breakout sessions, or breaks between meeting sessions
Locations for Productions, Videography and Photography

Arcadia University's landscaped campus offers a variety of idyllic settings that can serve as unique backdrops. Grey Towers Castle has been the location for commercials, videos, and the major motion picture Creed II. Arcadia's campus can support and accommodate the needs of creative professionals and production teams on location. 

Past Photography/Filming Requests:

Small Production and Major Motion Picture sets
National, local, corporate, and professional commercials
Architectural backgrounds
Fashion photography
Larping and Cosplay
Music Videos
Prom photography
Engagement, Bridal, and Wedding Photography
Parties, Proms, and Graduations

Celebrate your special event at Arcadia University. The venue options are ideal for bridal or baby showers, anniversary parties, birthday parties, Bar and Bat Mitzvahs, or even graduation ceremonies. Host an occasion that will be memorable for guests of all ages.

Our Spaces

​​​Grey Towers Castle

The first floor of Grey Towers Castle includes five rooms, including two working fireplaces, a grand staircase and entryway, and outside porch turrets
Rent the entire first floor or individual rooms
Great Hall - Capacity of 120
Dining Room - Capacity of 70
Rose Room - Capacity of 90
Laura Minerva Korman Mirror Room - Capacity of 100
Outdoor Space - Two beautiful outdoor patios on either side

Commons Great Room

Arrangements can be made for smaller intimate events or larger celebrations
Accommodate up to 260 guests banquet style and 400 guests theatre style
Optional spaces: Harrison and Rosedale Galleries, Game Room, Stein Fireplace

Kuch Center Gymnasium

Accommodates up to 2,200 guests
Equipped with floor and bleacher seating
Perfect for graduations, dance-a-thons, corporate team building activities, expos, and more

Outdoor Locations

Haber Green, sports fields, and pavilions for athletic events, cookouts, and picnics
Easton Cafe with outdoor water feature
Many other outdoor locations to suit your event
Summer Camps & Programming

Host both day and residential camps at Arcadia University. Indoor and outdoor locations provide ideal options for exploration, learning, and memory making.

Venue options are equipped with technology. Choose your space based on the number of campers and type of camp or program.

Classroom capacities for 15-60 people
Large spaces for up to 500 people
Outdoor space for camp sessions, lunches, and breaks
Catering and Dining options are available through our in-house caterers, Metz Catering, which offer a wide variety of menu options including energy-boosting snacks and drinks. You also can use your favorite caterer or vendor.
Accommodations

Whether you are meeting and staying with us or simply need housing while visiting the area, Arcadia University offers various options for overnight stays.

Choose from the following:

4 traditional dormitories: Kistler, Thomas, Dilworth, or Heinz Halls (3 being accessible w/elevators)
1 suite-style dormitory, Knight Hall (shared kitchen on the hall)
1 apartment-style dormitory, Oak Summit (a 15-minute walk on Easton Road)

Please note: Availability may be limited during the academic year.
Contact Us
Contact Conference and Event Services to reserve space on Arcadia's campus. Our office ensures quality customer service to clients and ensures all reservations align with the mission and values of Arcadia University.
Arcadia staff, faculty, students booking a University-sponsored or official University event, please book through LibCal.