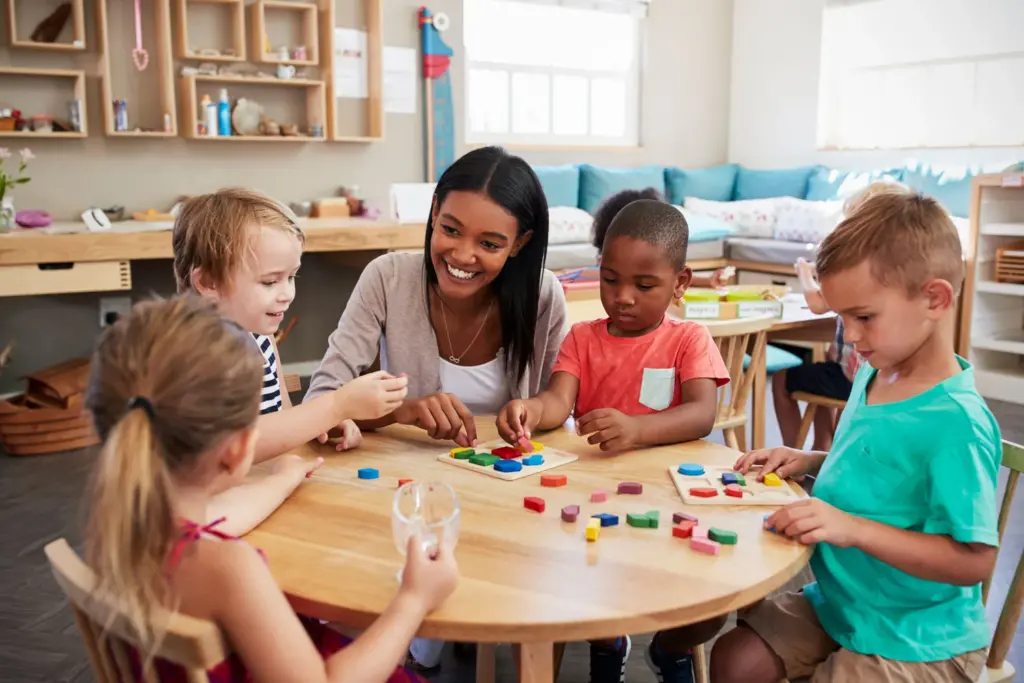 Degree Level

Undergraduate

Degrees Offered

Bachelor of Arts, PA Certification
Bachelor's Degree and PA Certification for Working Early Childhood Professionals
Guided by the School of Education's core mission of fostering inclusion, equity, and social justice through teaching, you will learn how to problem solve, innovate, and design culturally sustaining curricula using inquiry practices.
This fully online program offers the opportunity for those working in early childhood centers to explore a range of electives and earn a comprehensive education. You will develop a broad-based understanding across disciplines through the other elements of Arcadia's Undergraduate Curriculum.
ECE Working Professionals
Program Features
Convenient
Accelerated courses with classes running 8-weeks fully online
Fieldwork completed in your own early childhood setting and a K-4 setting
Course schedule provides you the ability to focus on only one course and the lab at a time
Finish Degree Completion and Certification Preparation program requirements in 2.5 years
Relevant
Courses and fieldwork connect theory with practice
Courses provide a focus on birth-5 and 6-10 years
Supportive
Online meetings with a designated Advisor/Coach
Personalized mentoring integrated into courses and fieldwork
Engage in professional learning community environment
Affordable
Special Tuition Rate
Opportunity to access T.E.A.C.H. scholarship funding
Financial Aid for students who qualify
Working Professionals Program Admissions
Requirements

An undergraduate admission application to be completed on our Apply page
Associate of Arts degree in Early Childhood Education, PreK-4, or related fields from a Community college
Official Transcripts from all colleges/universities attended
A full time employee in an ECE setting
Minimum GPA of 3.0 from all schools attended
Passing Basic Skills scores on SAT/ACT/CORE/PAPA (Meeting Reading, Writing, and Math PAPA requirement through approved coursework may be possible)
6 credits of English (including a course on American Literature), 6 credits of Math
No grade of "C or below" in a required certification course
Transfer and Credit Evaluation

Arcadia University will accept up to 75 credits from regionally accredited two-year institutions.

Transfer credit is granted for college-level work completed at another accredited Institution for course content comparable to that appropriate for the degree program.

Credit will not be granted for courses in which grades below "C-"are earned.

Students may be required to take a placement examination in mathematics and/or Arcadia University Writing Inventory for English composition. Assignment or exemption for English composition is determined by performance on the Arcadia University Writing Inventory or by a transfer credit evaluation.

*Community College Transfer: Specifically for this program, Arcadia University and the School of Education has core-to-core agreements and program-to-program transfer agreements with Bucks County Community College, Delaware Community College, and Montgomery Community College.

**Basic Skills Assessment:

All undergraduate candidates seeking an initial state-approved Pennsylvania educator preparation certificate are required to pass a basic skills assessment as well as the corresponding subject matter test(s) related to the certification area.

There are a variety of tests/scores students can use to pass their Basic Skills Assessment (BSA) requirement:

Options to pass the Basic Skills Assessment:

Minimum scores for each module - math, reading, writing - are noted on the Pennsylvania Department of Education website. Access the website for requirements and test registration links under Certification Tests and Requirements.
You may also combine reading, writing and mathematics module scores from different test providers to meet the basic skills requirements. The composite score is the sum of the passing scores. When using the composite score, each test must meet or exceed the minimum score required. Use the Composite Score Calculator when mixing tests.
For those who elect to use the composite option, students may also use, Arcadia University's courses MA117 and MA118 to meet the math portion of the requirement. Arcadia's MA117 and MA118 are approved by PA Department of Education to be accepted towards meeting the mathematics requirements of basic skills assessment. Students who take and earn a B or better in both MA117 and MA118 will have met the mathematics competency of the basic skills requirement.
Featured Courses
Differentiated Instruction in an Inclusive Classroom

Required Course

This course is designed to help future teachers develop a basic understanding of principles and practices related to effectively addressing academic diversity in contemporary classrooms. The guiding framework for the semester is designed to reinforce the idea that defensible differentiation requires thoughtful and consistent attention to multiple aspects of curriculum, instruction, assessment, and learning environment.
STEAM 2 (Birth to 5)

Required Course

The STEAM 2 course aims to prepare undergraduate students to plan, teach, and assess on integrated Science, Technology, Engineering, Arts and Math (STEAM) instruction in early childhood classrooms (0-5 years). In this course, prospective teachers learn STEAM disciplines and practices through problem-based learning, science and mathematical inquiry, technology and the engineering design process. An integral component to this course is having multiple opportunities for prospective teachers to experience, examine, apply and reflect on components of STEAM teaching and learning through fieldwork experiences
Managing an Inclusive Classroom

Required Course

This course is designed to teach future teachers to manage their classrooms and challenging behaviors including noncompliance, disruption, inattention and aggression. Proactive strategies from the basic (routines, rules, attention, consistency) to the instructional (chunking work, grouping, marking corrects) are taught. Students learn to use a problem-solving approach with an emphasis on using observations, interactions, progress monitoring, and teaching social skills. The basics of pre-referral intervention, instructional support teams, Individualized Education Plans (IEPs) and the use of paraprofessionals in the classroom for behavior management are covered.t century classrooms.