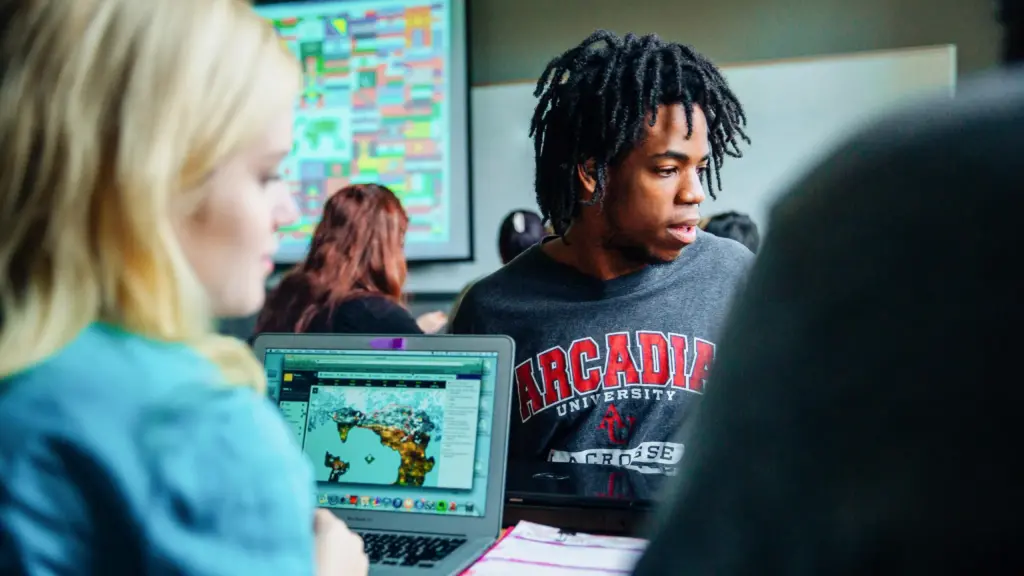 Degree Level

Undergraduate

Degrees Offered

Bachelor of Arts, Minor
Bachelor of Arts in International Studies
Arcadia's International Studies majors examine complex global issues such as the COVID-19 pandemic, environmental injustices, migration, and war. The program provides an interdisciplinary, immersive experience that integrates rigorous, academic learning in the classroom with applied experiences outside of it, both at home and abroad. Whether studying abroad at top universities overseas or engaging in applied, experiential learning with Glenside faculty, International Studies majors combine pragmatic approaches with critical thinking and situate global processes in local contexts. By thinking through innovative solutions to global challenges, students work alongside faculty towards creating a just world. By experiencing the interconnectedness of the world, our students are truly prepared for life in a rapidly changing global society.
Stress is put on the global context and interconnectedness of historical events. Lectures, readings in original and secondary sources, group discussion and presentations, fieldwork, research projects, and seminars provide a variety of techniques for understanding the world's diverse civilizations and the key turning points in their development and interactions.
What to Expect
A supportive, close-knit academic community who share your concerns about the world.
A flexible curriculum that helps you develop and follow your interests.
Interdisciplinary courses with core International Studies faculty.
Focus on key global issues such as forced migration and climate change.
Coursework in anthropology, political science, history, and other disciplines.
Travel abroad and immersive, domestic educational experiences related to global issues.
Learning a language.
Developing excellent research, writing and communications skills and executing an intensive, year-long research project on a topic of your choice.
Featured Courses
Social Life of War

Required Course

Gain a new and eye-opening perspective on war and violent conflict. You will not just learn theories of why human beings keep getting involved in wars, but will also understand how we are all part of these processes.
The Politics of Climate Change

Required Course

Examine case studies on the consequences of species extinction, natural disasters and conflict, and environmental racism in order to assess the possibilities for an intersectional, climate justice movement in this solutions-oriented course.
Migration Politics in the Americas

Required Course

Examine the internal workings of the politics of migration by exploring the historical formation and contemporary realities of migration and its related language practices. "Politics" refers not only to the workings of government; it is also a feature of everyday life that is shaped by language.