My Favorite Spots on Campus
As I prepare to enter my final fall semester at Arcadia, I'm feeling nostalgic toward specific locations on campus that hold special meaning to me. I've always been a creature of habit—I like consistency in my surroundings and get attached to the spaces I frequently visit. Since it's always a challenge for me to strip away the elements that make my apartment "home" at the end of the academic year, I find comfort in knowing that these spaces are always here for me to visit once I return to campus.
While I'm still not sure how I'll feel when I'm not spending every morning in Easton Cafe or cramming in Landman Library after I graduate, I plan on savoring every moment I can in my favorite places on campus during my last two semesters.
Easton Cafe and Water Feature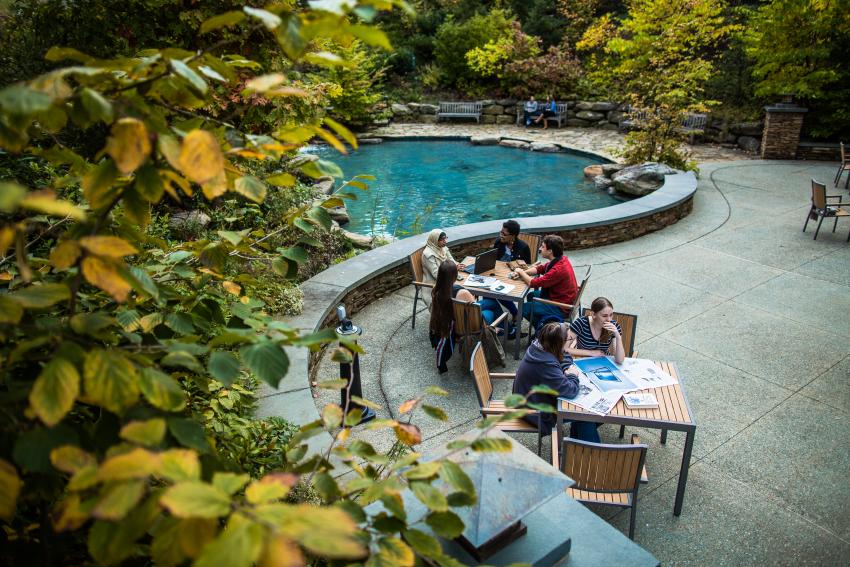 Next May, I will be graduating as a Sociology and Cultural Anthropology double major, with a minor in Gender & Sexuality Studies. Since both of my majors and my minor are within the Department of Sociology, Anthropology, and Criminal Justice, I basically live out of Easton Hall, where our department is located. While staying in the same building all day might be too reminiscent of high school for some, Easton's familiar hallways and classrooms have become a second home for me. The building itself is modern, there's a plethora of interesting pin boards and pictures decorating the walls, my favorite professors are just around the corner, and last but not least—there's a cafe on the ground level! As mentioned in a previous post of mine (Glenside Cafe Crawl), coffee is an essential part of my daily routine. Easy access to a delicious latte, as well as a variety of snacks and lunch foods, is a critical component of making it through my numerous three-hour long lectures. On days where the weather is nice and I have a few minutes to spare, it's calming to sit outside by the water feature and sip on my usual cinnamon latte. It's little moments like this that bring me peace in an otherwise hectic schedule.
Castle Rose Room
It was inevitable that a space in Grey Towers Castle, the iconic crown jewel of Arcadia's beautiful campus, would end up on this list! While everything in the castle is breathtakingly regal—even down to the first floor bathrooms—I feel that the Rose Room is an underrated favorite of mine. Similar to its neighboring Mirror Room, the Rose Room's aesthetic is inspired by French architecture during the era of Louis XV. The Mirror and Rose Rooms both have gorgeous painted ceilings which evoke imagery from the Renaissance era, but ultimately I prefer the Rose Room due to its more intimate atmosphere. It's perfect for hosting events like poster presentations, book readings, and club gatherings. Frankly, I think presenting your project in a ritzy ballroom, in a legitimate castle, is a huge upgrade from your average classroom. It sounds silly, but the regal atmosphere makes me feel rather fancy and gives me a boost in confidence!
Harrison Gallery
The Harrison Gallery is an open exhibition space near the entrance of the Commons and the Chat, so I enjoy getting my daily dose of fine arts and culture on my way to lunch. As I previously mentioned, I rarely leave Easton Hall once the semester gets busier, so I don't often see what my peers in the Department of Art and Design are crafting during their courses. The Harrison Gallery often hosts exhibitions that feature pieces by Arcadia students, alumni, local Philadelphia artists, and sometimes pieces from nearby high schools. Walking through and taking in the stunning artwork created by the hands of people in my community breaks up the humdrum of my schedule.
Library First Floor: Back Corner
Whenever I have a large gap in between classes, I like to hole up in the library for a few hours and get ahead on my homework (or finish some readings last-minute before my next lecture). My freshman and sophomore year, I preferred to sit by the windows on the second floor and enjoy the spanning view of campus. However, those chairs are irresistibly comfy, and with the sunshine radiating through the glass…much like my cats when they sunbathe, I'd suddenly find myself falling asleep in the warmth (which isn't really great in terms of productivity). While I do love hanging out in the upstairs library space, I know my limits, and I simply can't be trusted to get anything done while sitting up there.
I've since relocated my usual study spot to the back corner of the library on the first floor. It's hidden away, across from the rows of computers, and is usually sparsely populated during times when the library is otherwise packed. The tables and chairs are set up in a way where you can quietly work on a project with a classmate or study side-by-side with a friend—preferably someone who doesn't mind shaking you awake when you doze off, instead of doing your homework.