Conservative Wave Rises in Spain
While Americans experience the rise of Trumpism in the United States, I've been able to witness firsthand the rise of a similar conservative movement in Spain.
In December 2018, history was made in Spain when, for the first time in decades, a far-right party won seats in a Spanish regional election. The Vox party won 12 parliamentary seats in Andalusia, far-surpassing the expectation of 5 seats. Vox leader Santiago Abascal is often referred to in the press as the "Trump of Spain," famous for his nationalist ideals, anti-Islamic and anti-immigrant rhetoric, and animosity toward women's rights. The southern region of Andalusia, Spain's most populated region, has high unemployment and is the main point of arrival for migrants crossing the Mediterranean. Because of Andalusia's diversity, there has been a severe backlash against Vox and its supporters.
'Alerta al que camina, la lucha feminista por las calles granadinas'—'Alert those who walk by of the feminist struggle in the Granada streets.'
– Heidi Specht
I'm currently studying abroad in Granada, a city in Andalusia. I first learned about the rise of Spanish conservatism in one of my politics classes, and I've quickly seen the results for myself.
On March 8, countries around the world celebrated International Women's Day. This day was especially significant in Spain—Abascal had just added the criminalization of abortion to the party's platform, "suppressing radical feminist organizations," and eliminating the Ley de Género (Gender Law).  Passed in 2004, it serves to protect women from domestic violence.
Retaliation against Abascal and his comments has been remarkable. On International Women's Day, the streets of Granada were packed with more than 6,000 people decked out in purple, demanding equal rights for women, including equal pay, the end to violence against women, and bodily autonomy. And it wasn't just young women on the street marching—all kinds of people were out in protest, from University of Granada students, to tourists stopping to take photos, to young parents pushing their children in strollers, to groups of grandmothers decked out in purple glitter, all showing their support for women everywhere.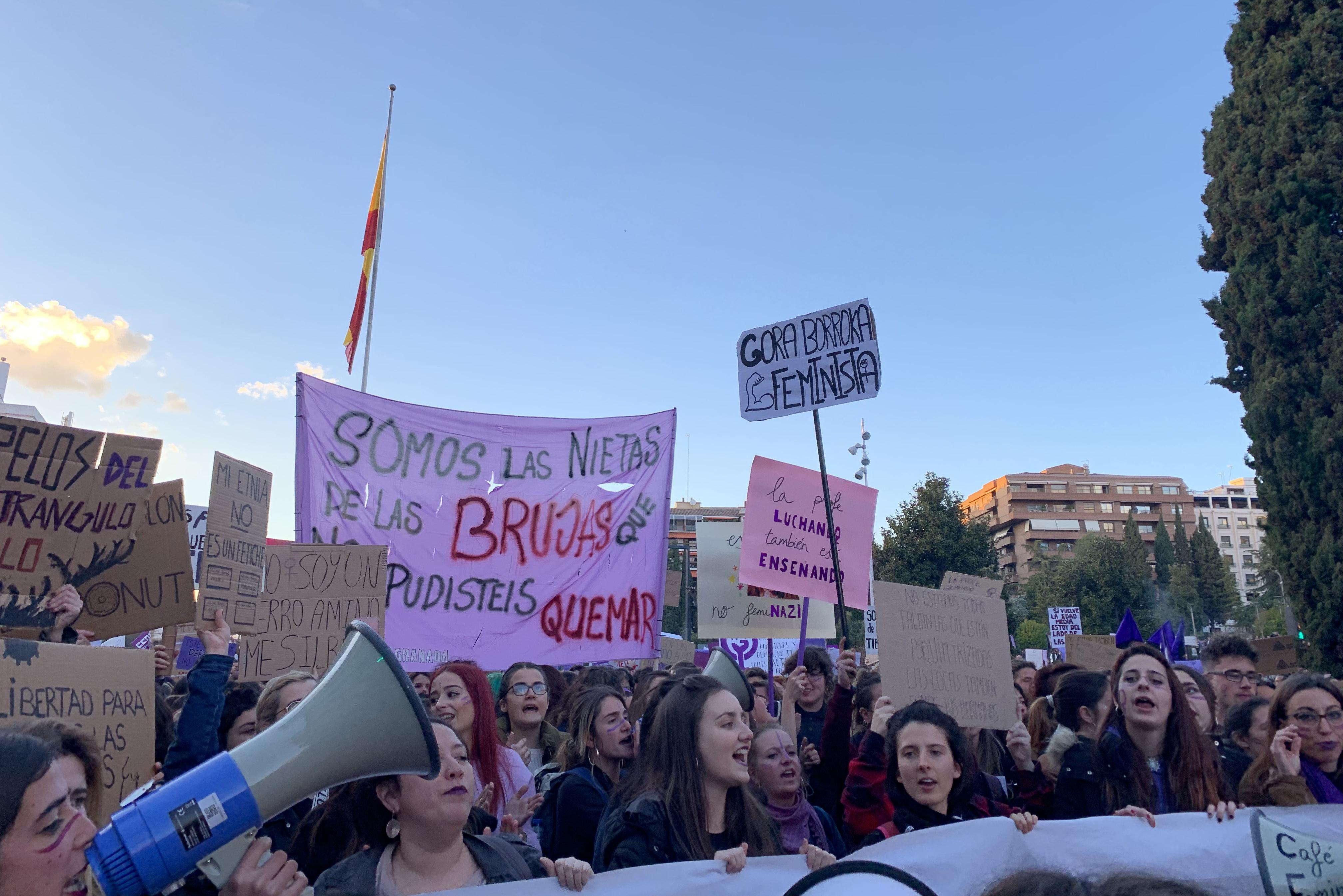 And while the march wasn't specifically a protest against Vox, the anti-Vox sentiment was thick in the air. You could see signs with slogans like "Respect my existence or expect resistance," "You can't negotiate with our rights," and "Sorry to bother you, but we're being assassinated for being women." My favorite was "Alerta al que camina, la lucha feminista por las calles granadinas"—"Alert those who walk by of the feminist struggle in the Granada streets."
Vox's response was mostly negative, slamming the protests for not being more inclusive of conservative women's views. When it comes down to it, Vox will say anything to discredit the feminist movement in Spain (after all, it publicly categorizes itself as being an anti-feminist party). But the idea that one can be both conservative and a feminist raises the question: Does every opinion have a place in the feminist movement? Can someone who believes that women should have an inferior role in society be considered a feminist? And if so, how wide can feminism stretch before it no longer can be called feminism at all?
With Abascal only just getting started, many more questions than answers are likely to emerge.