Laugh a Little, Live a Little
Living as both a resident assistant and student is probably like living as a student-athlete— well, very different, but similar in the level of exhaustion. But not everything has to be solemn, and sometimes a little laughter in between stressful times is necessary.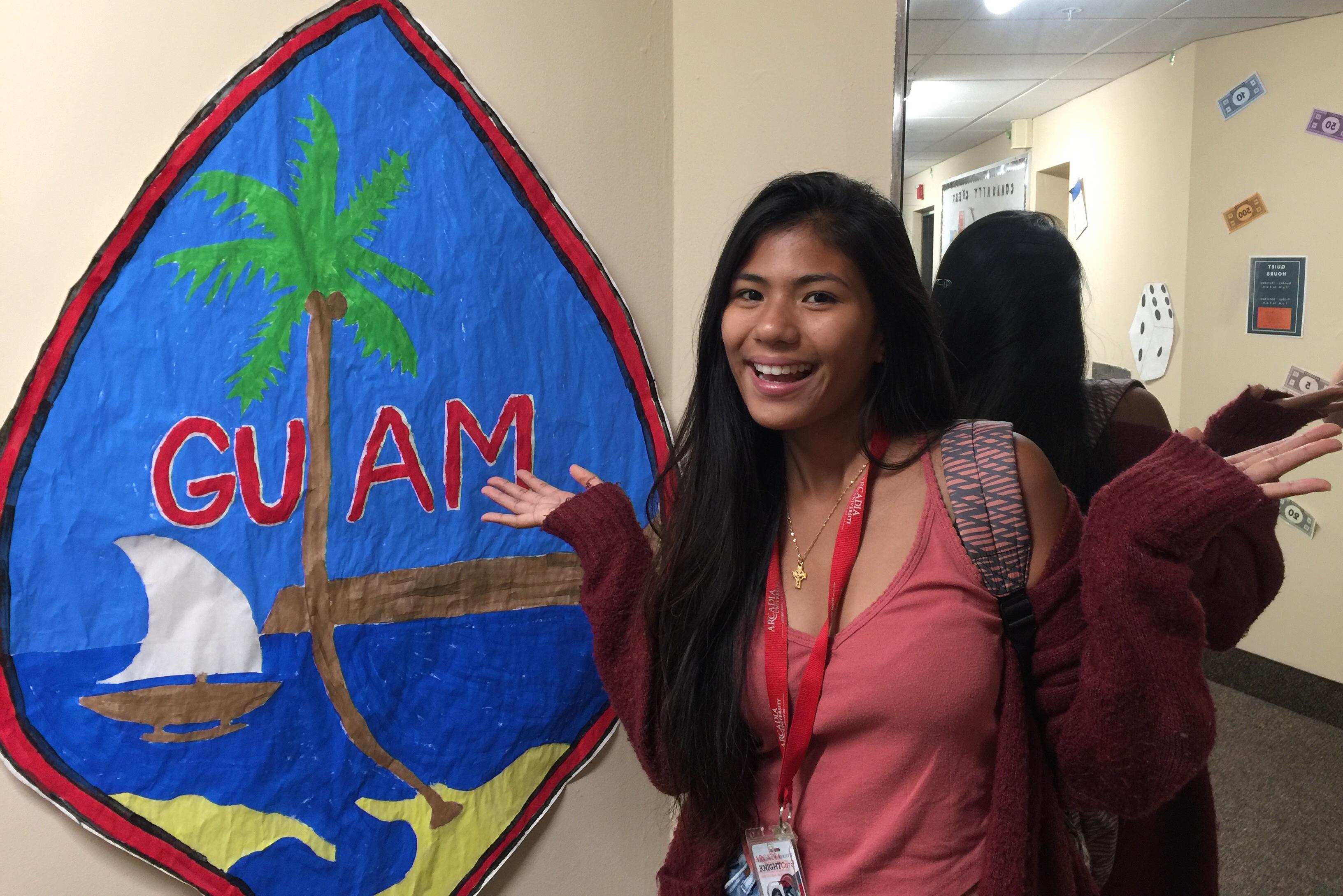 My friend posing in front of my hall decorations, representing my home country.
Arriving back on campus. I looked around and felt the familiarity of the atmosphere. I did not know if I was glad to be back, but here I was. I dropped off my excruciatingly heavy luggage in my room, went to the Commons, and knew in that moment that campus life staff training had already begun.
I looked at the faces of new colleagues whom I would collaborate with to build a community. At first I thought, "Wow, look at all these friends I could make." But as training stretched into two long weeks, I started to feel overwhelmed and discouraged. In the midst of running to back-to-back sessions and making hall decorations on top of all of it, I thought that maybe training did not have to be like this: tedious and tiring.
So I reminded myself about who I am, and what I have to offer to people. I knew that everything I did was fun and funny, and with this serious training happening, I figured out what I had to do.
At every meeting, I would offer a comment with the intention of making people laugh. Take, for example, our serious meeting about policies and proper etiquette. Since Arcadia is a "wet campus" for those who are of the legal drinking age, I interjected a little humor.  "We know first-years are most likely going to do illegal things." I said, "but they shouldn't be dumb enough to get caught." Of course, I wasn't trying to promote or encourage those kinds of activities, but my co-worker poked me and said, "Justin, you're not supposed to say that!" The room broke out in laughter.  
As an RA, I try to create a positive vibe. Even if there is nothing to do, we make something out of nothing.
– Justin Tai
As an RA, I try to create a positive vibe in other ways, too. In stressful times, I always suggest something fun to do. Even if there is nothing to do, we make something out of nothing. All I need is company, and a good time is guaranteed to follow. People will end up feeling comfortable if you give them the impression that they are welcome to share a laugh, especially when times are tough.
Training does not always have to be serious, and the time goes by faster when levity is mixed with reality. As for what Jessica Derr mentioned in her blog post "Jurassic Distractions," the best of times come from living a little rather than focusing too much on the sternness of priorities.