New Perspective, New Commitment
When my group and I arrived at the University of Sciences, I was amazed at the architecture. As a Pre-engineering major, I became fixated on the buildings, which attracted me with their modern and high-tech nature. I got so carried away adoring Philadelphia's architecture, I almost forgot why I was there.
Although I was with a group of mainly International Studies and Political Science majors, I didn't feel out of place. We were there for the same reason: to learn and experience Amnesty International.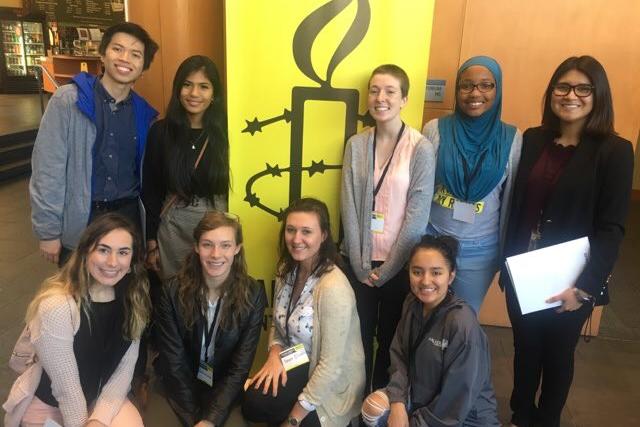 Arcadia's Amnesty International representatives.
I never knew what Amnesty International was, but when I asked a friend to explain, the words "advocate" and "human rights" stood out to me. I knew from that moment that it was something I didn't want to miss out on.
In short, Amnesty International conferences give students and activists the opportunity to discuss social injustice and public policies that conflict with migration and affect refugees and asylum seekers. Being a son of immigrants, it was easy for me to relate to individuals who have experienced these hardships.
Most importantly, I learned that I was willing to take my passion for helping others to the next level.
– Justin Tai
The presentation that stood out to me was about the death of Marcus-David Peters, a graduate of Virginia Commonwealth University and high school biology teacher who was shot to death by a police officer in Richmond, Va. Peters was unarmed, naked, and disoriented when he encountered police. This goes to show that corruption exists in our society and world, and that advocacy and promotion of human rights are powerful tools for starting a revolution of change.
Arcadia's Amnesty International club had the chance to sit in and listen to presenters, network with professionals, and interact in a caucus.  Most importantly, I learned that I was willing to take my passion for helping others to the next level. Being an advocate for human rights is one thing, but doing something to make a change is another, which is a choice that I know I won't regret.