The Ins and Outs of In-Country Orientation
It's been two weeks since I landed in London.
Visiting the Tower of London, a (free!) Arcadia orientation event. Photo by Elizabeth Gillen.
Though at times it's still hard to believe this vibrant, cosmopolitan city is my new home, I already feel incredibly in sync with the tempo of London life. True, I'm hopelessly lost without the help of Google Maps, and often find myself looking the wrong direction for oncoming traffic. But sometimes, when I bump into one of the swarm of commuters hopping on or off the tube, I find  my "sorry" sounding almost British.
The transition has been far smoother than my previous international experience studying in Sydney, Australia. My jet lag was less horrendous, the weather more like home (unfortunately), and local customs more familiar. So far, London seems a bit like a European version of New York City: all of the wonderful opportunities, but with more history and less sewer stench.
Without a doubt, though, the biggest contributor to my feeling of ease has been the number of students I've been able to meet through Arcadia. There's almost 40 of us Americans, from all parts of the U.S., living in the same accommodations. You can hardly walk down the hallway without seeing a friendly face. In a way, it's almost like freshman year of college again, all of us desperate to make new connections and find travel buddies. Luckily, we've had almost an entire week of not-so-exciting orientation sessions to bond over.
Don't get me wrong— I'm not turning up my nose at the free trip to the Tower of London, show tickets, and transportation card that came along with the in-country orientation process. But after 20+ hours of slideshows reminding us to, basically, use common sense, sitting in a lecture hall for actual coursework is starting to sound almost thrilling.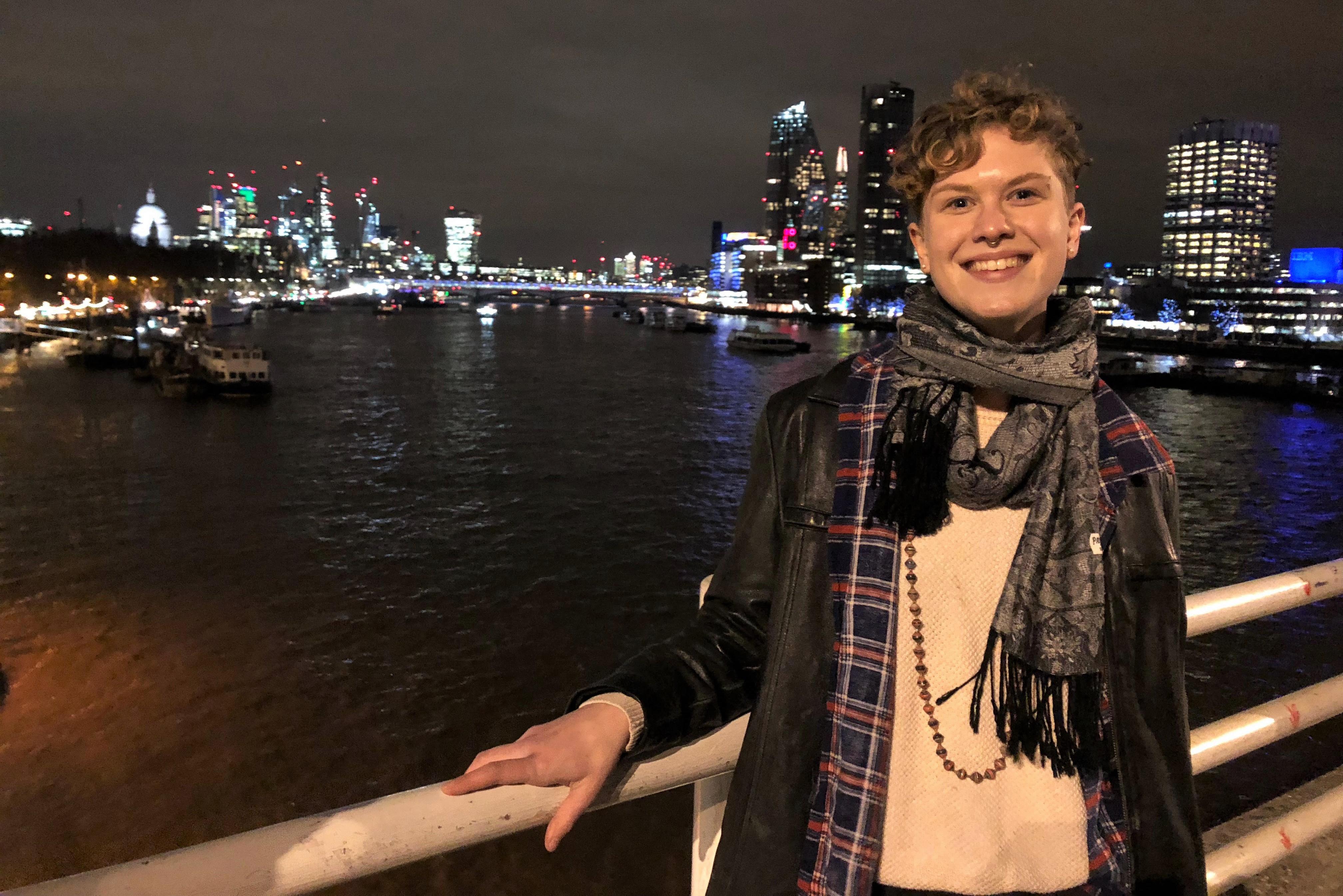 Cheesin' on the Waterloo Bridge! Photo by Caroline Hancock.
There have certainly been a few helpful tips along the way— undercover pubs to explore, handy apps to help navigate in the giant foreign metropolis— but overall, I've found that in-country orientation felt a bit flat. Perhaps it's because this is my second semester abroad, or maybe it's simply due to my independent nature. Ultimately, though, I think what it boils down to is this: You can't prepare someone to entirely uproot their life and study in a foreign country. No matter how many Prezis I watch on culture shock, or how many British trivia questions I answer, studying abroad will still be difficult at times. The in-country staff's aid is invaluable, but despite all the careful consideration and planning behind the orientation, it doesn't seem to be most efficient use of time.
Without a doubt the most valuable aspect of the in-country orientation sessions, despite much eye-rolling and heavy sighs, was that I had the chance to get to know other students studying abroad through Arcadia. This forced bonding, paired with a seven-day unlimited metro pass, led to a week full of exploration and camaraderie that has continued into the beginning of the semester. And really, at the end of the day, a couple days of dull in-country orientation is a small price to pay. After all, it's thanks to Arcadia I have the opportunity to call this incredible new country home.