Hello, friends! As we are all doing our best to social distance, I figured it was prime time to recommend some of my favorite books and share my reading list with you. I thought it would be fun to assign books to majors, so here we go.
Creative Writing
The Poet X by Elizabeth Acevedo
If you love slam poetry, this book is for you! Written in verse, we follow as "a young girl in Harlem discovers slam poetry as a way to understand her mother's religion and her own relationship to the world." I highly recommend the audiobook if you have access to it. It is narrated by the author, and it's so moving. Definitely a quick, but powerful, read. I just wanted to mention there are heavy themes of racism, misogyny, parental abuse, and forced involvement in religion, so if any of those trigger you, maybe steer clear. Remember to always practice self-care when consuming new media!
Art/Art History
Blood, Water, Paint by Joy McCullough
Another book written in verse, following the true story of Artemisia Gentileschi. "By the time she was seventeen, Artemisia did more than grind pigment. She was one of Rome's most talented painters, even if no one knew her name. But Rome in 1610 was a city where men took what they wanted from women, and in the aftermath of rape, Artemisia faced another terrible choice: a life of silence or a life of truth, no matter the cost." This is one of my favorite books of all time. Artemisia's story has stuck with me. I think about this book all the time. Another content warning for sexual assault, misogyny, suicidal thoughts, violence, brief physical torture, victim-blaming, slut-shaming, murder, and betrayal. 
Biology/Health Sciences
An Adult Sci-Fi/Fantasy that explores the origin of superpowers. "Vicious is the story of a villain and a hero. This is a book that explores the hero/villain dichotomy and promptly shatters it to pieces." The novel follows two characters from the day they became friends in college to present day, now sworn enemies. After discovering their ability to develop superpowers, the friends turn on each other. If you love morally gray characters, this is the book for you. I seriously could not put it down. 
Middlegame by Seanan McGuire
This is one of my favorite books of all time. It also has the most brilliant synopsis: "Meet Roger. Skilled with words, languages come easily to him. He instinctively understands how the world works through the power of story. Meet Dodger, his twin. Numbers are her world, her obsession, her everything. All she understands, she does so through the power of math. Roger and Dodger aren't exactly human, though they don't realise it. They aren't exactly gods, either. Not entirely. Not yet. Meet Reed, skilled in the alchemical arts like his progenitor before him. Reed created Dodger and her brother. He's not their father. Not quite. But he has a plan: to raise the twins to the highest power, to ascend with them and claim their authority as his own. Godhood is attainable. Pray it isn't attained." I really enjoyed the relationship between Roger and Dodger. You could almost feel their connection through the pages. Again, this one follows morally gray characters and a discovery of superpowers. Seanan McGuire is one of my favorite authors, and the magic in this world is super interesting. 
This book is chock full of amazing quotes. Evelyn is one of those characters who feels so real, and hearing her story was enthralling. There was so much intrigue, and I just wanted to know more. It was impossible to put down. 
– Rikki Rosenthal
Music
Daisy Jones and the Six by Taylor Jenkins Reid
Told through a series of interviews, this book follows the fictional band Daisy Jones and the Six from the sixties and seventies, from the formation of the band to their inevitable split in 1979. These interviews reveal the truth behind the band's demise. I highly recommend the audiobook for this. It has a full cast and is extremely entertaining. 
Media and Communication (Cinema Studies)
The Seven Husbands of Evelyn Hugo by Taylor Jenkins Reid
Evelyn Hugo is the epitome of an old Hollywood actress from the golden age of film. Throughout her career, she was in and out of relationships with men. No one knew why, until now. When Evelyn offers a tell-all interview with a nobody reporter, Monique is thrilled but skeptical. As Evelyn tells her story, she and Monique develop an unexpected friendship. But when the story starts to conclude, it becomes evident that the choice of her as the reporter for Evelyn's life story is no mistake. "The Seven Husbands of Evelyn Hugo is a mesmerizing journey through the splendor of old Hollywood into the harsh realities of the present day as two women struggle with what it means—and what it costs—to face the truth." This book is chock full of amazing quotes. Evelyn is one of those characters who feels so real, and hearing her story was enthralling. There was so much intrigue, and I just wanted to know more. It was impossible to put down.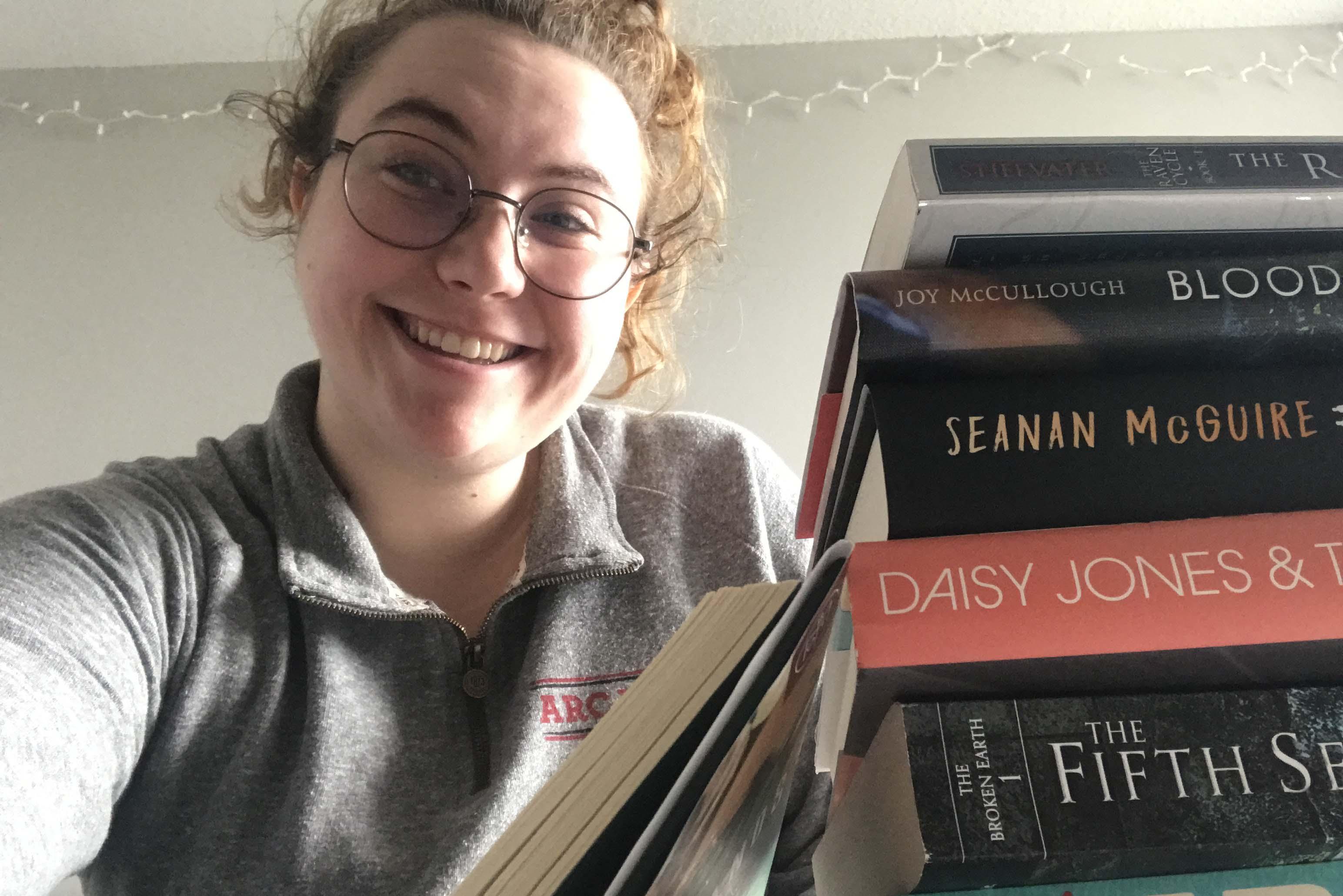 Lightning Round
If you love domestic thrillers like Gone Girl and Big Little Lies, you will love My Lovely Wife by Samantha Downing. 
For fans of Game of Thrones, I highly recommend the Broken Earth series by N.K Jemisin. The first book is The Fifth Season. 
If you're looking for a cute LGBTQIA+ Romance, you can't go wrong with Red, White and Royal Blue by Casey McQuiston. 
If you're looking for a funny and weird graphic novel, I highly recommend Sex Criminals by Matt Fraction and Chip Zdarsky.
For those who love to read about a strong friend group with a little bit of paranormal magic, I highly recommend The Raven Boys by Maggie Steivatter. 
Finally, if you're in the market for an interesting non-fiction book, I recommend Gut by Guilia Enders and From Here to Eternity by Caitlin Doughty.