Arcadia University Dedicates Dan Aaron Stay Fit Clinic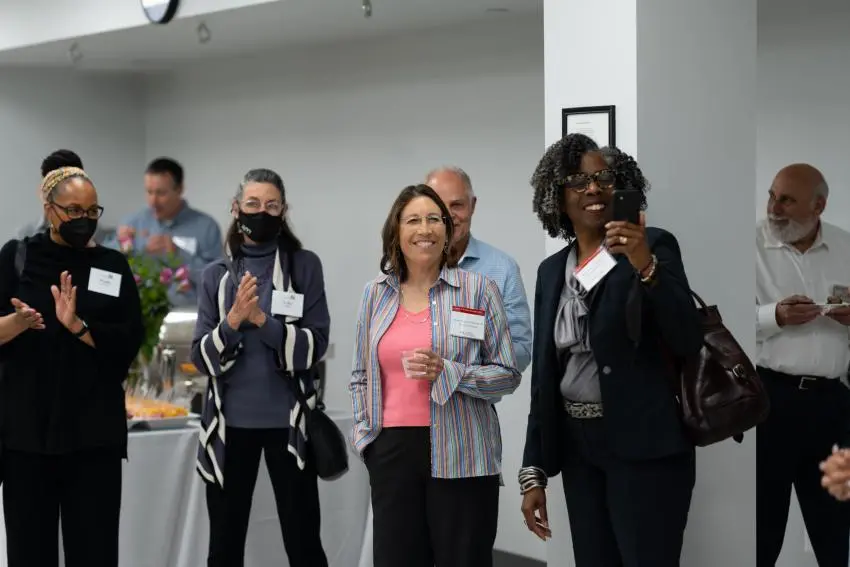 On Thursday, May 5, 2022, Arcadia University re-dedicated the Dan Aaron Stay Fit Clinic and celebrated the unveiling of the new custom-made sign. Joined by members of the Madsen and Aaron families, University leaders, trustees, Physical Therapy faculty and staff, students, patients, and caregivers honored the cherished legacy of the late Geraldine "Gerri" P '85 '14H and Daniel "Dan"' P '85 Aaron and their transformational philanthropic support and dedication to Arcadia University.
The Aaron family name is one that resonates throughout the Arcadia community. An inspiring philanthropist and community activist, Gerri Aaron received an honorary Doctor of Humanities from Arcadia in 2014. Her husband, Dan Aaron, was one of the originating founders of Comcast. Together, after Dan was diagnosed with Parkinson disease, the influential couple created the Dan Aaron Parkinson Disease Foundation (now The Parkinson Council).
Following Dan's passing in 2003, Gerri and her family founded the Dan Aaron Stay Fit Exercise Program through the Dan Aaron Parkinson Disease Foundation. Since its inception in 2004, the program has operated with two important goals: To provide a safe environment for Parkinson patients to maintain and improve their endurance and mobility; and for Arcadia's Physical Therapy students to experience extended learning, under supervision, with people who are actively managing Parkinson disease.
For nearly two decades, the Dan Aaron Stay Fit Exercise Program has improved the lives of countless patients and caregivers in the local community. Participants note substantial improvement in endurance and mobility exercises, either maintaining or improving, for example, gait speed, sit-to-stand movements, and balance.
To commemorate the Aaron family's philanthropy and service, Arcadia President Dr. Ajay Nair announced the unveiling of a new sign for the Dan Aaron Stay Fit Clinic, which serves as a main vessel for the growing Dan Aaron Stay Fit Exercise Program.
"Such a clinic and program should have a name befitting its excellence," said President Nair. "It should bear a name that captures the impact that it aims to have on individuals and communities; a name to which we as a University can aspire: Dan Aaron."
Throughout the ceremony, guests marveled at the program's growth and success while sharing memories of Gerri's keen interest, generosity, and care for others.
"It did not take me long to appreciate Gerri's passion for the Stay Fit Program and her strong desire to make a difference for people with Parkinson," said Director of the Dan Aaron Stay Fit Exercise Program Dr. Janet L. Readinger. "She liked to hear about the big picture, such as our overall attendance numbers and staffing, but she also appreciated hearing about the individual participant's story. She was so very pleased that her charitable support was improving our ability to serve these individuals."
Although both have passed away, Dan and Gerri leave behind a lineage of philanthropists, including their daughter Alison Aaron Madsen '85, a distinguished alumna of Arcadia. Appointed to Arcadia's Board of Trustees in 2009, she assumed the role of Board Chair in 2017, providing stalwart leadership and steady vision for the University during an important time of transition. Madsen also has a long personal tradition of generously supporting her alma mater, beginning with her first gift in 1989.
Recently, Madsen and her husband Howard made the launching gift to the Arcadia Financial Aid Initiative, a program designed to enhance the University's scholarship portfolio. The Madsens have also supported the President's Discretionary Fund and are proud annual donors of The Fund for Arcadia. As natural leaders, the Madsens are one of two donors of the Trustee Circle, the highest level of recognition in the Jones Poundstone Society.
For Madsen, it is a dream come true to see the impact of the Dan Aaron Stay Fit Program stretch far and wide. "My father didn't want to have Parkinson disease, but he dealt with it like he dealt with everything in his life: very gracefully and with an iron will," said Madsen. "It was important to him that people have access to care in the community. My father and mother's vision has been fulfilled in many ways in this space."
Inspired by the example of her parents, Madsen, in a surprise announcement, contributed $20,000 to the Dan Aaron Stay Fit Exercise Program. To date, the Aaron family has committed over $1 million to the program since its founding in 2004.
"Without support, we would not be able to serve so many individuals or touch so many lives," said Dr. Readinger. "Over the years, we have served over 200 patients, dozens of caregivers, and over 1,400 students. The Aaron family started it all…they wanted to make a difference for people with Parkinson disease and they have certainly done that through our program."
To learn more about the Dan Aaron Stay Fit Exercise Clinic, visit arcadia.edu.